A Review of the Chuwi Hi8 Air Tablet PC
The present gen of gadgets is all about scaling the tide of technological advancements to offer users advanced products with cutting-edge functionalities. Numerous companies are tapping the potential of newest technological developments to create devices par excellence, and Chinese manufacturer Chuwi is definitely part of this league. Its newest offering, the Chuwi Hi8 Air tablet PC, with dual boot functionality is a strong case in point of Chuwi's persistent efforts to introduce advanced products in the market.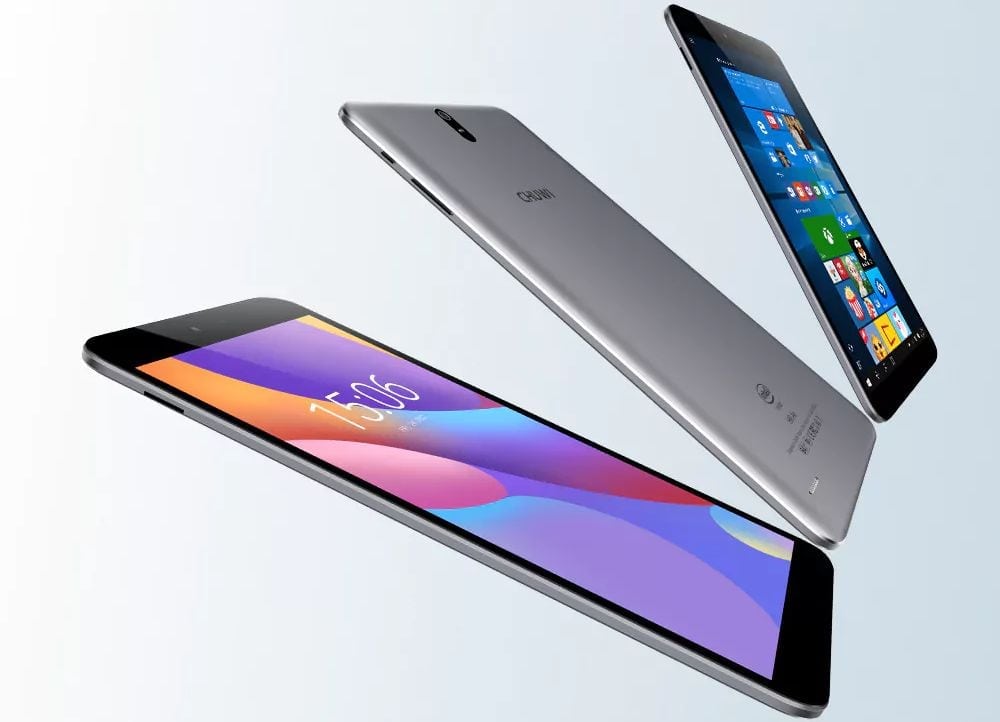 After all, it isn't very common to come across dual-boot tablets available at an affordable price, and that's exactly what Chuwi has done with the Chuwi Hi8 Air. The tablet that supports both Windows and Android platforms – Windows 10 and Android 5.1 – is the kind of gadget that needs to be on the radar for users who want a premium product without an elephantine price tag.
Design
The Hi8 Air sports a uni-body metal frame with a silver finish on the rear. You can also spot Chuwi and Intel logos on the back side of the frame. In a breakaway from the current trend of bezel-less designs, the front of the Chuwi Hi8 Air comes with broad bezels that lend it a common appearance. The tablet PC comes with an OGS laminated LCD screen, which is quite an advanced offering for a budget-range offering and is loaded with connectivity features that include a micro HDMI port with a 1080P output, a micro USB port, 3.5 mm headphone jack and Bluetooth 4.0 support.
The fully laminated 8-inch LCD screen comes with a 16:10 aspect ratio. When coupled with a fine 1920×1200 pixels of display resolution and a pixel density of 283 PPI, the screen accord impressive clarity and color display. The inclusion of IPS technology brings wide viewing angles to the screen, making the overall display of this tablet remarkably striking.
The Hi8 Air is all about a high-performance display with 66.5 color gamut and 16 M colors. The natural finger touch capabilities of the screen make handling this device a near seamless experience. In terms of design, the Chuwi Hi8 Air is all about novelty, as long as you are willing to look past the broad bezels running around its screen.
Features
The Chuwi Hi8 Air is powered by the Intel X5 Cherry Trail Z8350 processor capable of running at 1.44 GHz. There is also a Turbo mode in the tablet that fires up the processor at 1.92 GHz. The Intel Cherry Trail Z8350 is a processor designed to pack in high performance. With a range of 1.44–1.92GHz, the processor delivers ample power for a speedy run.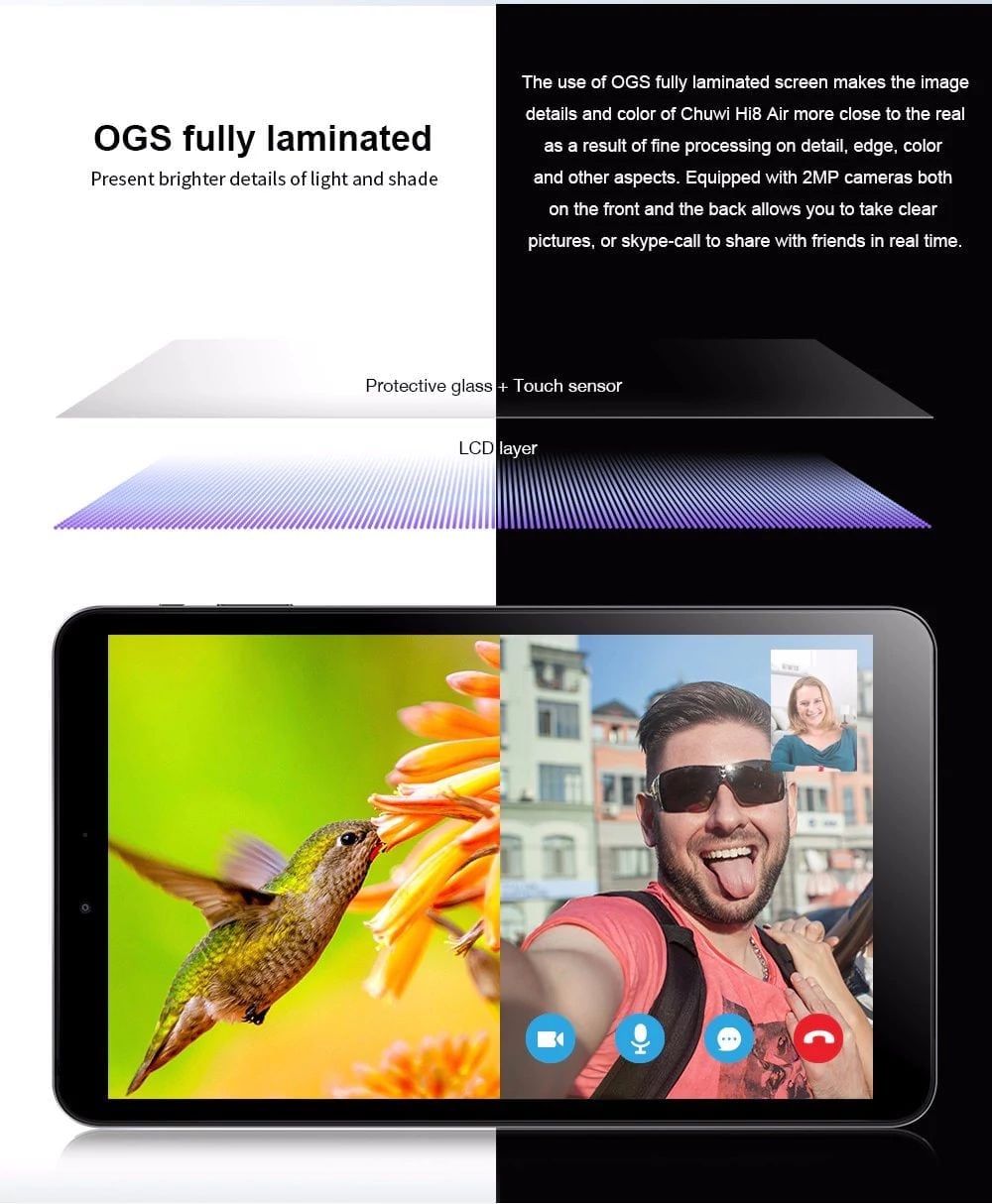 In terms of memory space, the Hi8 Air comes with some pretty standard features. While there is nothing extraordinary here, there is enough space for your data needs. The operating memory or RAM on this device is 2 GB, which is good enough for handling the fast processing speed of its processor and offers quick loading time. The internal memory is 32 GB, some of which is already used up by the processor and pre-installed apps on the device. However, there is a provision to expand the storage capacity of this tablet by up to 128 GB with an external memory space through a TF card that can be slotted on the device.
Related: https://www.androidtipster.com/category/tablets-on-sale/
Chuwi Hi8 Air comes with a robust 4,000 mAh battery that offers a standby time of 65 hours and a run time of 5 hours with continued, uninterrupted usage. The device can be charged using a micro-USB interface and requires a charge time of nearly 2.8 hours to get a completely drained battery up to a full charge. Key connectivity features on the tablet include 3.5 mm audio jack, a micro USB port, a micro HDMI connector, a microSD slot for expanding the memory, OTG function to allow a keyboard, projector, and mouse connectivity, and WiFi and Bluetooth 4.0 support.
Operating System
This is hands-down the biggest drawcard of the Hi8 Air tablet. This Chuwi offering comes with dual-boot functionalities, which means it is equipped to support Windows as well as Android operating system, giving users the best of both worlds on a single device. You get all the classic Windows functionalities, and then some of your favorite Android app on a single tablet.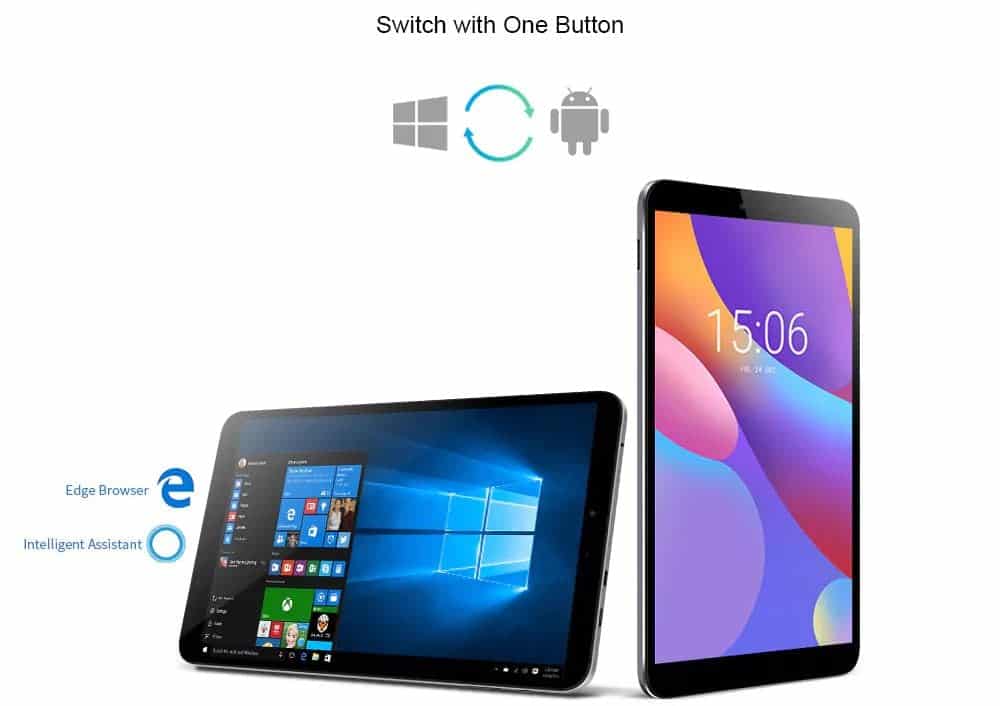 As mentioned before, the device supports Windows 10 and Android 5.1, and in that sense, is an improvement on its predecessor, the Hi8 Pro. The Windows OS allows you to access features such as games, music, and video, in addition to some of the basic Windows programs, whereas the Android OS packs in some interesting apps and interfaces.
The inclusion of features such as the Edge Web browser that is a new Windows 10 functionality allows you to mark up relevant web pages with ease and keep them on your screen, whereas the Android 5.1 offers enhanced connectivity. To support the dual operating systems, the Chuwi Hi8 Air also comes with a two screen set up that can be used to access both the operating systems side by side or just to get an enhanced view of things displayed on your screen.
Camera
The cameras aren't really the strongest feature of the Hi8 Air tablet PC, as it sports a 2 MP camera each on the front and the rear. The rear camera is equipped with an LED flashlight feature to enhance the clarity of images and videos, even so in a time and age where makers are adding dual 13 to 20 MP rear cameras to devices, a 2 MP resolution on a rear camera does disappoint. But then again, the Hi8 Air is a budget offering and cutting a few corners is an impending necessity to keep costs low. A tablet PC isn't anyway a device one relies on for high-definition outdoor shoots, so making peace with a lackluster camera isn't entirely implausible.
Verdict
Just like any other budget offering, the Chuwi Hi8 Air is a mix of specs and features that impress and disappoint. While features like bezels around the screen, camera and internal memory in the Hi8 Air have a lot of room for improvement, the best and most striking thing about this device is its dual-boot functionality. Just for bringing that to the table for as little as $144, the Chuwi Hi8 Air is highly recommendable.