We'll help you find the best android keyboard in 2016
Making calls on your smartphone is so 90s! Today, everyone texts. This requires a keyboard on which we now 'swipe' because typing is now uncool again. For these reasons and more we'll need a review of free keyboards for android phones on the market, so check back from time to time. New to the list is the Thumb Keyboard: a special keyboard to write with your thumbs; Hacker's keyboard; the GO keyboard and MyScript Stylus with which you can use your own handwriting on to make entries.
Flash Keyboard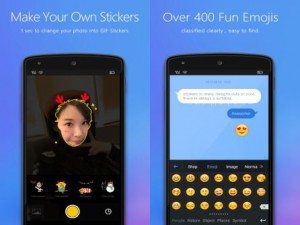 This is our personal favorite on this list. Flash keyboard is a fast Android keyboard that supports multiple languages. It provides massive skins, emoticons, emoji, stickers, and that's not all, you could even make your own unique sticker. Your typing experience will be much more fun with Flash Keyboard! Get it now and see by yourself!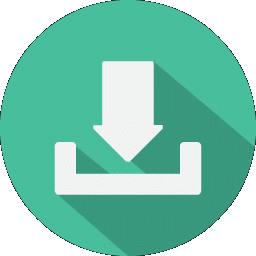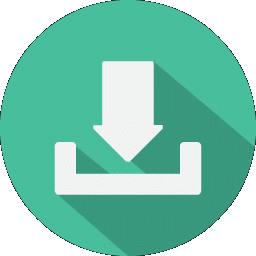 Thumb Keyboard
For whom is this best android keyboard app suited? People who are comfortable using both thumbs to type on their smartphones or tablet.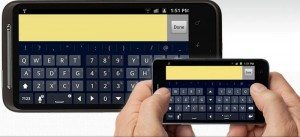 The layout of the Thumb Keyboard is specifically customized for using your thumbs so that at first glance you will see a split keyboard. According to the developer, this feature ensures that you can reach the keys better and thus also write faster. When using the landscape mode, some buttons on large displays may be difficult to reach it. Here Thumb Keyboard provides a remedy and conveniently arranges both the letters and the numbers and makes them easily accessible. Several different keyboard layouts are available, including for one-handed usage of large displays.
There are numerous free keyboard themes available that you can use to customize visually your keyboard.


MyScript Stylus (Beta)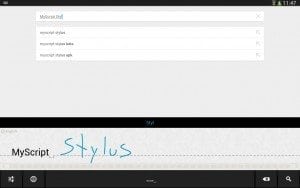 For whom is this keyboard apps for android phones? For Android users who prefer the handwritten input with a stylus pen.
MyScript Stylus has been in the beta phase for some time, but it is worthwhile to try out. Those who prefer to write with the stylus pen will enjoy using this app mainly because it responds well to handwritten input, especially for Messenger messages.
The settings are very clear and there are few customization options, but they're enough. One can determine the text size and color in the box to customize the writing thickness and also choose how fast the input field scrolls when you get into the flow of writing.


NovaKey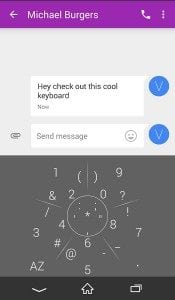 For whom is this best Android keyboard suited? For the adventurous and those who like to walk the path not walked by many.
There comes sometimes Android keyboards that will open your eyes to new experiences. NovaKey does exactly that, but this new experience has its price: a steep learning curve. Here you typed less than you swipe, however, this has little to do with the familiar Swype concept. The letters are arranged apparently at random in different areas, each letter has its own gesture, which is incredibly fast and intuitive, you will be amazed when you see it for the first time. Nonetheless, NovaKey is still in its beta stage but you can get it for free on the Play Store. And what should I say? It rocks!


Google Keyboard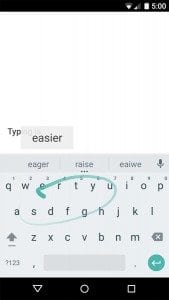 For whom is this best Android keyboard suited? For the average user who is not planning anything crazy with his smartphone and seeks just a conventional, simple and clear way to compose his occasional SMS and chats, maybe even an e-mail now and then.
The Google keyboard shouldn't certainly immediately come to mind when you're thinking about the best keyboards in the world, but I think it deserves some recognition. This keyboard has developed so well over the years that 90 percent of smartphone users probably do not need any other if they have it. Writing by swiping gesture has now been integrated, a very good voice input and the Predictive text input is not bad at all and profits from Google's insight into everything you write on Google services like Gmail. Visually it also looks good if you're running the latest custom ROMs since Lollipop.
Hacker's Keyboard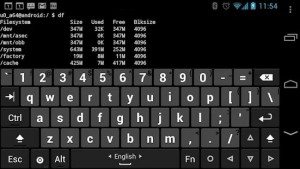 For whom is this best Android keyboard suited? For users who own a smartphone with a huge screen or to a tablet and those who need a PC keyboard on their mobile device.
The Hacker's Keyboard has more keys than keyboards for regular smartphones. It is based on the AOSP Gingerbread keyboard software and not only does it provides all PC keys, but the keys can also be customized down to the last details: change rows of keys, determine the size of the keyboard or modify the vibration or audio feedback.

GO Keyboard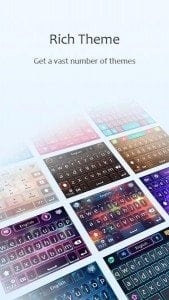 For whom is this best Android keyboard suited? For people who use a lot of Emoji and would rather send digital snaps than write long messages. People who put great emphasis on customizing their Android device to the last details will love the GO keyboard.
The GO keyboard stands out above all other with its very large variety of Emoji and setting options for design. It offers nearly 800 Emojis for chatting that can be selected from more than 10,000 available additions which of course will cost you some money. The AutoCorrect works well and it also supports more than 60 languages.


Swype Keyboard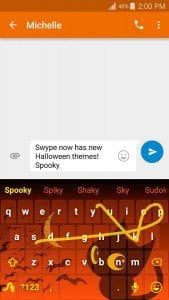 For whom is this best Android keyboard suited? For people who don't fancy using conventional keyboards and prefer to 'swipe' instead.
We swipe by sliding the finger from one letter of the keyboard to the next. Indeed, almost any keyboard has the swipe feature, but Swype offers more than just this feature. When you register you can synchronize your personal dictionary and the learning status of the keyboard with all your devices so that you can have your settings at the same level everywhere. The predictive text input when swyping is still one of the best and the gesture control of additional functions is outstanding. The parallel speech recognition is limited to two languages, and overall the keyboard has become outdated while its competitors have caught up. Nevertheless, Swype keyboard remains one to be recommended. The trial version is free while the full version currently costs 75 cents.


Google Handwriting Input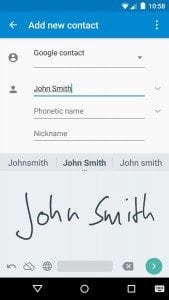 For the first time, Android learns to read your handwriting. You can set up the on-screen handwriting input on your Android keyboard and simply swipe around on you tablets or smartphones. Since this is version 1.0, you shouldn't expect the ultimate in usability. I'm still not sure how one inputs the 'space'. A tutorial would be helpful here. But the first test run shows that the recognition is already very good, even if you write a mixture of languages.

ai.type Free Keyboard + Emoji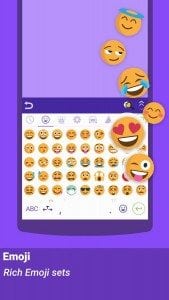 The app ai.type Free keyboard firmly set itself forth as a fast and intuitive keyboard for your smartphone. So in order to set up quick messages, you just need to swipe only the letters and the app will immediately recognize what you want to tell the world. In addition to auto corrections and various setting, possibilities ai.type Free keyboard offers numerous styles for customization of your smartphone according to your ideas.
Anyone who writes a lot, whether for business or pleasure and also likes to use emoji, is in good hands with this truly excellent app.


SwiftKey Keyboard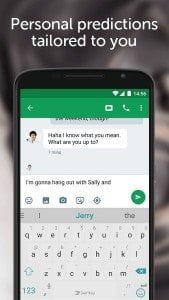 For whom is this best Android keyboard suited? For users who appreciate a conventional keyboard, but want more possibilities than what Google Keyboard offers.
SwiftKey is one of the most used keyboards, perhaps the most. Fast and accurate text entry are its strengths. Three different modes are available: thumbs, compact and full. Thus, the writing on various display sizes will be easier. If you frequently text in more than just one language you can store up to three languages simultaneously. A very important keyboard factor is, of course, its word recognition. Here SiftKey quickly learns to do so if you allow it, even whole sentences can be predicted. The look of the keyboard can be customized to correspond to your ideas and there are 30 themes that can be downloaded additionally. Here, however, are costs to be considered. Basically, SwiftKey is, however, free and available to download.


Fleksy Keyboard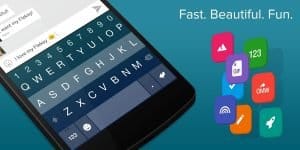 For whom is this best Android keyboard suited? For the hardcore Tipper, where it's all about one thing: speed.
Fleksy prides itself as the fastest keyboard in the world and has even managed to secure a place in the Guinness Book of World Records. Here Fleksy is actually quite conventional, no swyping, no obvious tricks – a normal Tap is all that is required here. A nice feature is the mini-app launcher, which is positioned directly above the row of numbers and allows for lightning fast switches directly from the keyboard into your favorite apps. Many theme colors are available, just as other useful extensions that allow, among other things, to switch from the keyboard to search for GIFs – the new way to express themselves, if a smiley is no longer sufficient. You can test this keyboard for 30 days or buy it from the play store.

App of the week:

Android File Manager