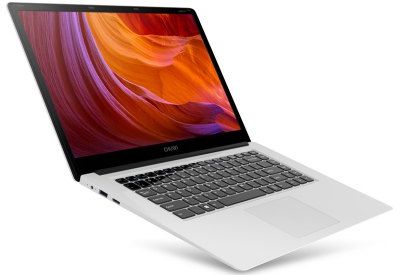 The CHUWI LapBook Windows 10 Laptop is the latest entry from budget Chinese manufacturer CHUWI and their first in the laptop category. And while many of us haven't heard of this brand they've actually been making products under the CHUWI brand since 2007.
There is a certain subset of buyers that don't need the latest top spec laptop from HP or Lenovo. They need to be able to do general tasks and do them well or they just need a second machine for school or around the house. The CHUWI LapBook Windows 10 Laptop is a great choice for these buyers and I think that the conversation around this machine needs to always be shrouded in the context of its value.
Design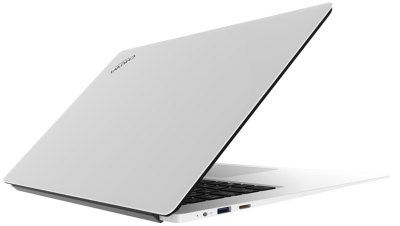 From a design perspective, the CHUWI LapBook strikes a bold stance and opts not to look like most of the other Mac copies out there, while maintaining the clean thin lines that Apple and others have made popular. Its beautiful white case displays a conservative CHUWI label on the corner and maximizes this clean aesthetic with an ultra thin 22mm profile. The screen opens easily and displays a very large 15.6" screen that runs a full 1920×1080. The colors are clean and balanced, but I noticed that viewing angles were rather limited. Another design element that struck me as odd was the that the left bezel is 4mm shorter than the right. Whether this was a design choice or an engineering one won't matter to most people, but it was glaring once I noticed it.
The chiclet keys have decent travel and the trackpad was responsive but both of them revealed that this is a budget machine. They both felt soft and mushy, nothing that would get in the way of hashing out hundreds of words but it is noticeable.
Performance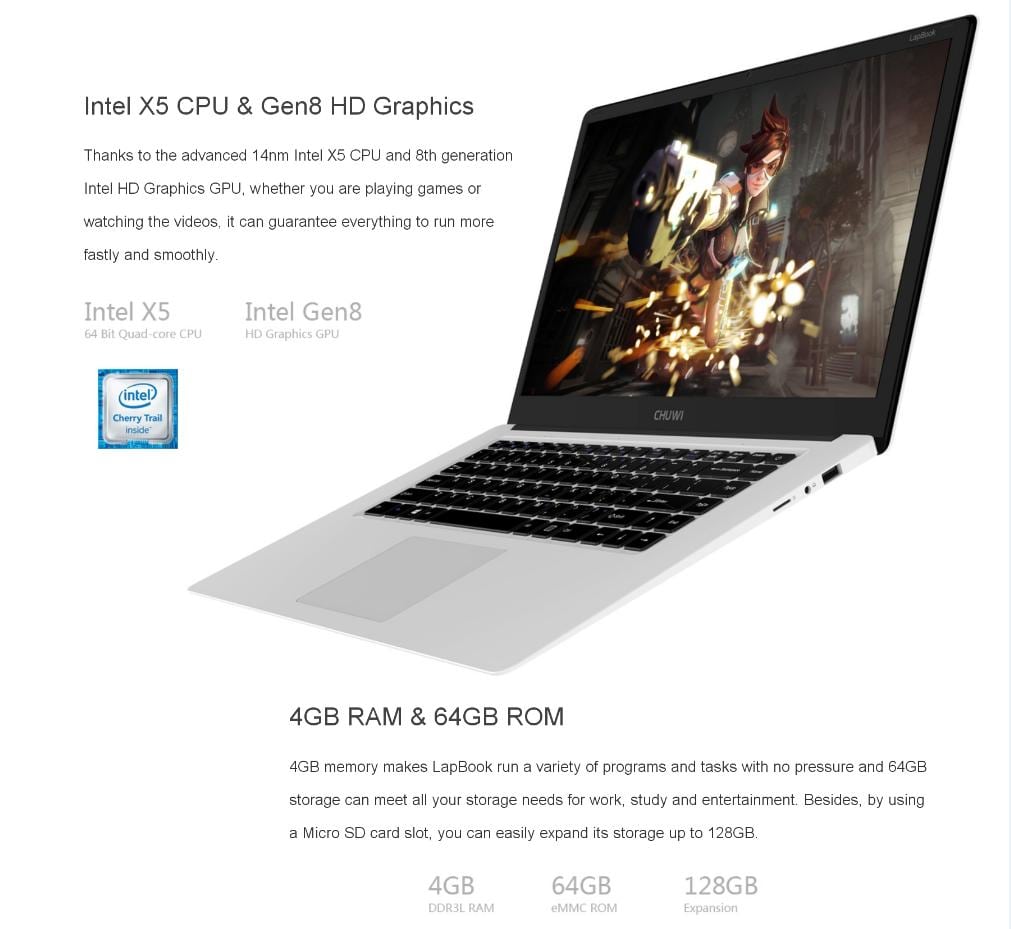 Performance on the CHUWI LapBook is very smooth thanks to the Intel Cherry Trail Atom processor. These new power efficient chips promise twice the graphics performance of the older Bay Trail chips and it shows. The integrated HD graphics is based on the Intel Gen8 architecture and supports DirectX 11.2. The CHUWI LapBook Windows 10 Laptop won't run the latest VR applications but for many games, it ran well (Real Racing 3 ran fine). The Cherry Trail Z8300 is a quad core SOC running at 1.44 GHz but can boost to 1.84 GHz. Its performance is on par with the Qualcomm Snapdragon 801.
These new Cherry Trail processors have also allowed for twice the RAM of the Bay Trail processors which capped out at 2gb. The CHUWI LapBook takes full use of this and packs in 4gb of DDR3L ram which should be the bare minimum for anyone looking in this category as running windows on 2gb of memory will show serious performance issues.
Storage
Many of the machines in this category shipped with 32GB of flash storage. After installing windows at 15gb and updates, users were sometimes stuck with less than 17gb left for everything else on these smaller machines. The CHUWI LapBook is equipped with 64 GB of storage. While this is less than many phones come with now, for a laptop in this category this is an improvement of almost 3 times of useable storage vs a 32GB machine. This can be supported with an additional microSD card and is expandable to another 128 GB.
In order to keep the machine as slim as possible, the CHUWI LapBook is equipped with two ports on either side. A micro SD card, micro HDMI, and one USB 2.0 and one USB 3.0. It would have been nice to have two USB 3.0 ports and that's something I hope they add to the next generation. This may mean that you have to carry a micro SD to SD adapter if you are going to be porting over images from your camera.
The front-facing camera is a 2.0 MP for video conferencing or selfies and unlike the iphone 7, this does have a 3.5mm headphone jack! It also supports Bluetooth 4.0 for various peripherals (wireless headphones, mice etc).
Battery life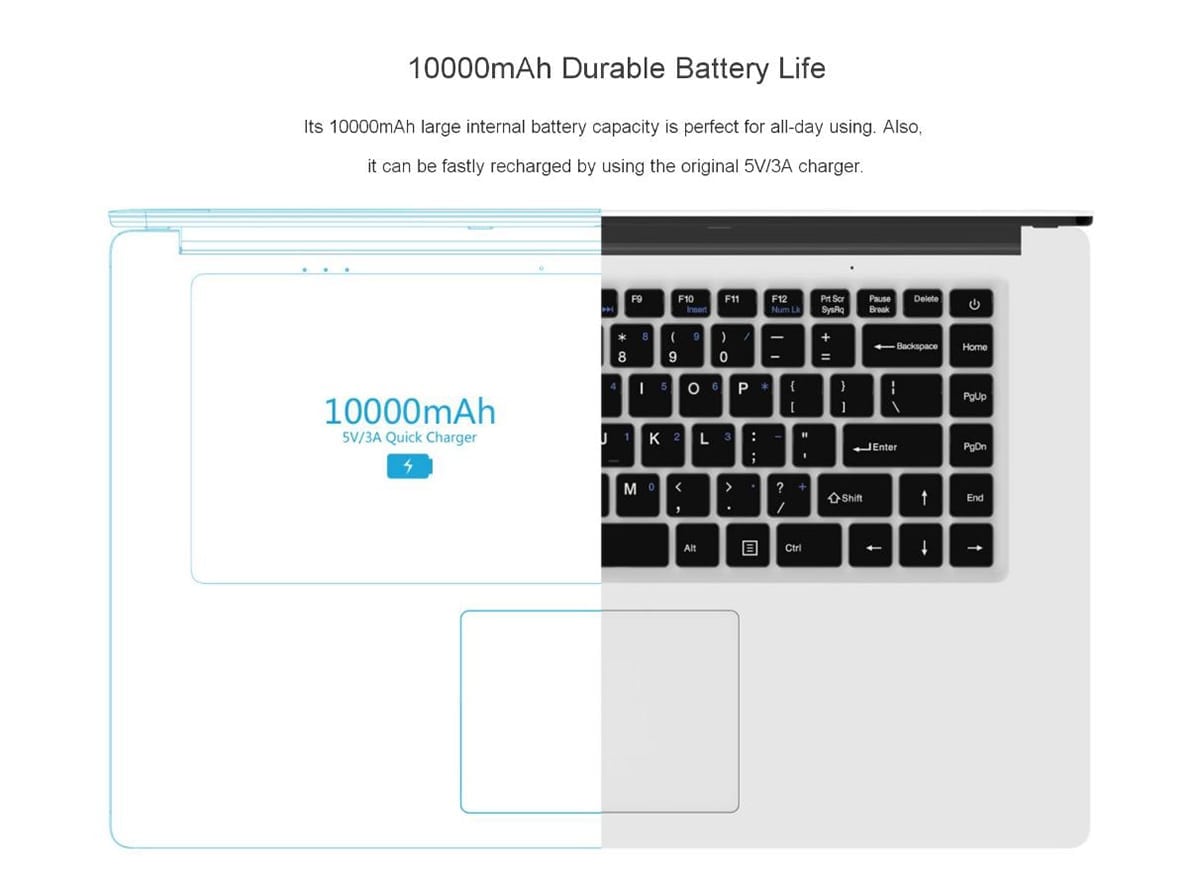 Battery life was decent and the 10,000mAH battery is rated to last 7-8 hours on standby although I usually find these estimates over-optimistic and I got about 5 hours of regular usage, which would last me the whole day (I'm on and off the computer and 5 hours of use is plenty for me). The included quick charger is nice and can top off the machine to 80% in 30 minutes.
Bottom line
The budget laptop market is a crowded place and is full of many unknown names. The CHUWI LapBook is a great contender in this space. As I stated earlier, each of its pros and cons needs to be stated in the context of its price. It has enough ports and standard specs to be a primary machine and this is where I think the real silver bullet of the CHUWI LapBook lies.
Its beautiful design is reminiscent of higher end machines and they've managed to squeeze a huge display and some powerful tech into a smaller package. It's gleaming white case boasts a nobility usually found on much more expensive machines. It comes in at just over 4 pounds ruling it out of the 'ultrabook' classification (marketing semantics I say), but not enough to deter someone from slipping it into their bag or briefcase and using it all day. The lack of ports, and the softness of the keys are small arguments against the great value of the CHUWI LapBook Windows 10 Laptop and I look forward to more hardware by CHUWI in the future.