Android Tipster participates in the Amazon Affiliates program and may receive a small percentage of a sale at no extra cost to you when you click some links on our site
Best Instagram automation
There are plenty of social media automation tools available in the market today. And if you're particularly interested in automating on Instagram, determining the best Instagram automation tool can be a daunting task.
I have tested quite a few social media automation tools in the last three and a half years. They include FollowLiker, Instagress Gramdominator, GMT2, and Jarvee.
The problem with most Instagram bots, however, is, many are not updated frequently enough to keep up with the changes Instagram continues to make on a regular basis.
This may sometimes put your account at risk of getting banned.
The one tool for me that has kept up with these frequent changes is Jarvee. I now have all my Instagram accounts running on Jarvee.
I'm confident Jarvee is the best Instagram automation tool available in the market today. It's not just that it gets updated frequently but it also comes with a myriad of features and its user interface is much friendlier than that of most other Instagram bots.
How Jarvee works
Jarvee works in two ways. It imitates smartphones so that Instagram sees it as though your Instagram account is being accessed from a smartphone.
You also have the option in Jarvee to use an embedded browser to perform certain Instagram activities like to follow a user. The embedded browser imitates Google's Chrome browser. This makes it appear as though the action was performed on a personal computer.
How many Instagram accounts can you run on Jarvee?
There are three packages of Jarvee to choose from:
Starter (10 accounts)
Regular (30 accounts)
Professional (70 accounts)
If you intend to run more than 70 Instagram accounts, you can always reach out to their support and they'll be able to upgrade your copy to run more accounts.
Can you use Jarvee on a Mac?
Jarvee was designed to run on Windows computers, however, Mac users can use Jarvee by running it on a VPS. A VPS (Virtual Private Server) is basically a computer that can be accessed through the internet and is provided by companies that offer hosting services.
How to use Jarvee on Mac
If you intend to run less than 10 Instagram accounts, you probably don't need to pay for a VPS. I have written this tutorial on how you get a VPS for free from Amazon to use for a whole year. But if you intend to run more than 10 Instagram accounts, the free VPS from Amazon might be a little underwhelming.
There are plenty of VPS providers that you can choose from. You can find quite a few by running a google search. I'm currently using one from a private provider. I can recommend them to you if you reach me on Skype: Diablo2562.
When you order for a VPS, it usually takes a few minutes to have it ready. You can then Install Jarvee in it just as you would any other software.
Will Jarvee get you banned?
Jarvee is simply a social media automation tool and it will only do what you instruct it to. Jarvee itself won't get you banned on Instagram but what you actually do on there might. If you use Jarvee to automate your Instagram activities, you want to have it operate just like a normal Instagram user would.
A normal Instagram user would not follow 10,000 users in 24hrs. You want to make sure to observe Instagram limits in order to avoid getting in trouble.
How to use Jarvee for Instagram
First, download and Install Jarvee on your PC or on a VPS. Once you've installed it, start Jarvee and log in with your email and the password sent to your email when you first registered.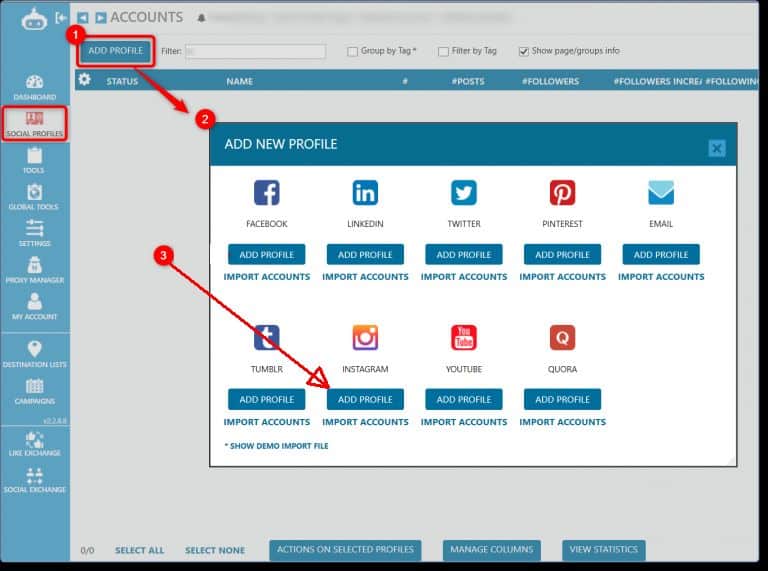 Now go to Social Profiles > ADD PROFILE and pick Instagram.
You can then fill in your Instagram account's email and password and then click on VERIFY ACCOUNT. If there aren't any issues with your account it should show 'Valid' in green.
Now that your Instagram account is properly set up on Jarvee, you can now go into TOOLS and set up what activities Jarvee should automatically perform for you.
That is all you need to get started with Jarvee. If you got stuck and need some help, please feel free to write to me on Skype.