Planning to upgrade your gaming gears? If yes, then this could be the best time to do so. GearBest is offering heavy discounts over a wide range of PC Gaming accessories to enhance your gaming experience. Be it a gaming keyboard or a mouse to the components that you would need for building a gaming PC yourself, GearBest has got them all covered under the new flash sale. Here are some of the hottest PC gaming accessories from "The Happy New Year Computer Peripherals Flash Sale" on GearBest.
Gaming Keyboards
Motospeed CK888 Mechanical Keyboard + Mouse Combo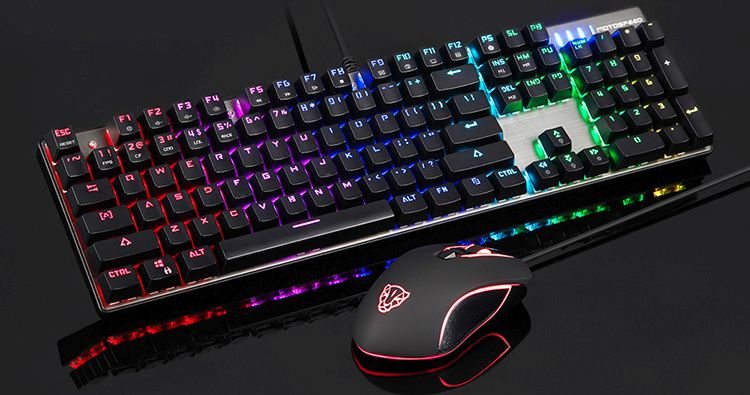 Motospeed obviously needs no introduction from us. Motospeed is a popular Chinese company that manufactures gaming peripherals including keyboard, mouse, and pads. Motospeed CK888 is a premium mechanical gaming keyboard that sports RGB backlight to let you enjoy the game even in the dark. Apart from being a gaming keyboard, it also features multimedia function keys, thus maintaining a perfect balance between work and game. It's a plug and play device, so you don't have to worry about downloading and installing device drivers from the internet. And the best part is that you are getting a free gaming mouse (V30) along with the keyboard for just $46.99.
Pros
RGB backlight present
Very responsive keys
Great build quality
Plug & Play; easy to use
Multimedia function keys present
A free gaming mouse
Cons
Motospeed CK108 Mechanical Keyboard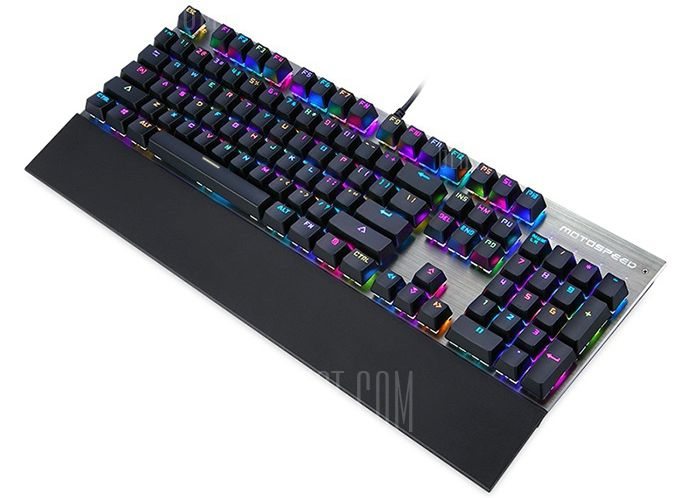 Here's another Motospeed keyboard that is up for sale. The Motospeed CK108 boasts a solidly constructed body plus the RGB backlight. If you're into gaming, this keyboard might just suit you. It's worth mentioning that unlike the MotoSpeed CK888, this one doesn't have any multimedia function keys. Also, the keyboard supports 6 kinds of themes for backlighting. The CK108 is easy to use; thanks to its plug & play feature. It's available for the lowest price of $36.48 on GearBest.
Pros
RGB backlight present
Ergonomic design made for gamers
Plug & Play; easy to use
Great build quality
Comparatively affordable price
Cons
E-3LUE K751 RGB Mechanical Keyboard
The E-3LUE K751 is a budget keyboard aimed at gamers. It uses Kailh Brown switches and supports multicolored backlighting. The top of the case is brushed steel, while the bottom is a matte acrylic with blue under-lighting. For $43.99, you wouldn't be disappointed with what this keyboard has to offer. The keyboard sports an ergonomic arc and slope design, adding to the comfort of using it. Interestingly, the wrist pad of the device is completely removable.
Pros
Supports macro control and custom color settings
Full-size removable wrist pad
Aluminium alloy panel, built-in dual PCB for maximum stability
Decent build quality
Plug & Play
Cons
JamesDonkey 619 Mechanical Keyboard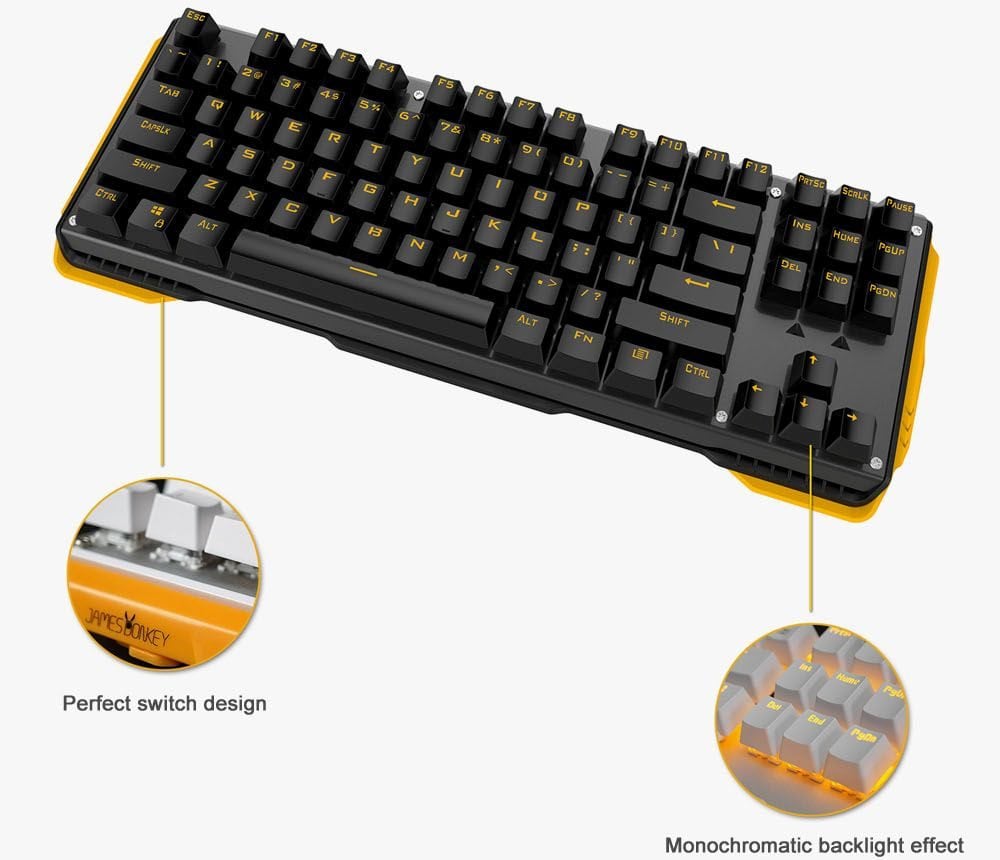 JamesDonkey 619 is another affordable keyboard featured in the GearBest sale. Priced at $43.99, the keyboard comes with clicky switches for tactile and audible feedback to improve typing speed and accuracy. Unlike other keyboards in the sale, this one does not sport multiple backlight options. It comes only with yellow LED backlight.
Pros
Simple but elegant design
Aluminium alloy-made-upper cover; durable
Yellow backlight present
Addition of multimedia function keys
Ergonomic design for gamers
Plug & Play
Cons
Multiple backlight colors not available
Slightly pricey
Gaming Mouse
JamesDonkey 007 DIY USB Gaming Mouse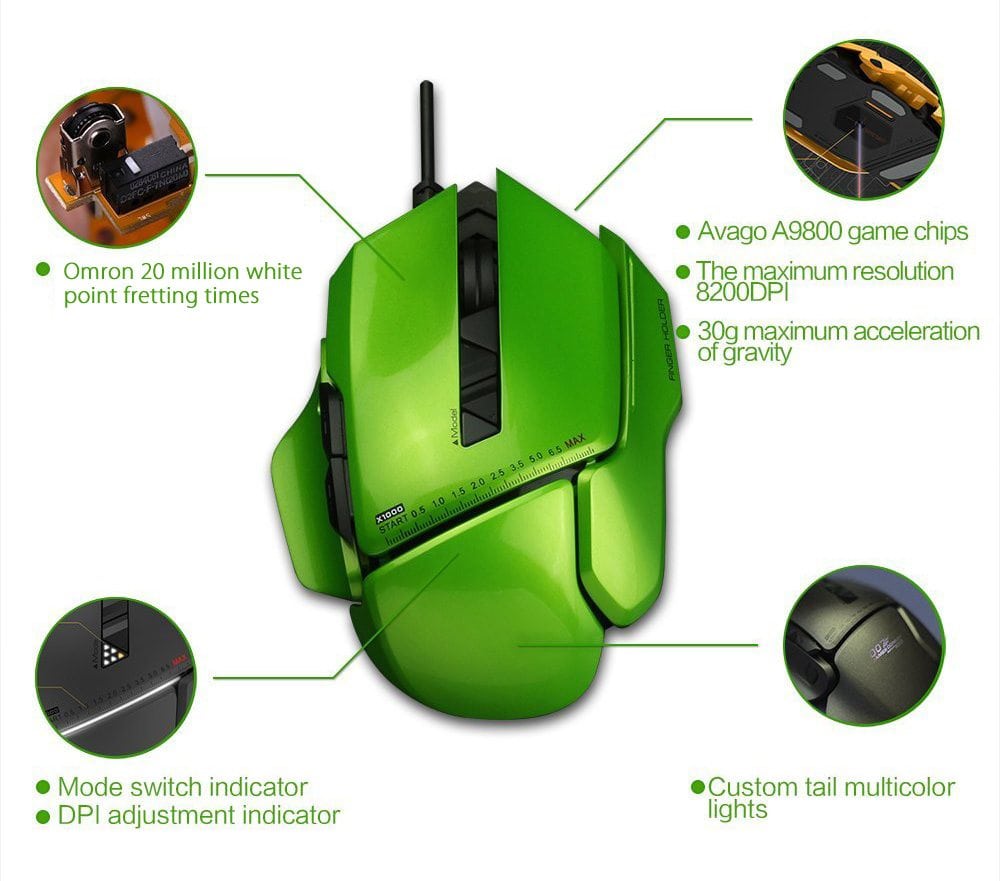 The JamesDonkey 007 is a funky gaming mouse that offers numerous external, swappable pieces which lets you customize the feel and fit. The mouse, in my opinion, is well designed and sports a solid build quality. Interestingly, the JamesDonkey 007 mouse provides interesting features such as lighting, that offers additional small touches, further making it more appealing to the user. If you are a pro gamer, this high-performance mouse will fit all your gaming needs. It's got 8 programmable buttons, 5 DPI sensitivity modes, multilevel adjustment from 600 to 8200 DPI and supports up to six different user-defined configuration settings. You can now get the mouse for a whopping 56% off on GearBest, at a price of $45.99.
Pros
Perfect build quality
Superb design
Highly customizable mouse parts
LED lights present offering 10 different colors
Plug & Play
Cons
Not suitable for office use
Motospeed V30 Wired Optical USB Gaming Mouse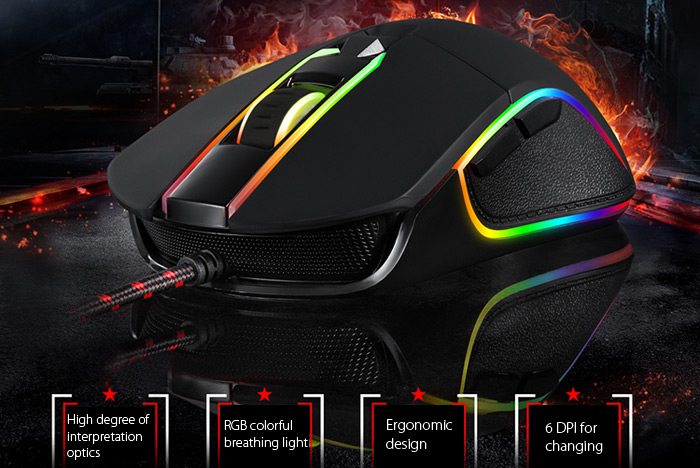 Motospeed's gaming mouse V30 provides great value for the money. Costing just $15.99, the Motospeed V30 is definitely one of the top budget-priced mouse designed for gamers. The device features a new ergonomic design and is rich in body surface light elements, that supports RGB lighting options. To take your gaming experience to a higher level, the mouse sports a built-in PMW3320 IC professional game laser chip and 6 programmable buttons.
Pros
Super Affordable price
Perfectly fits your palm; thanks to new ergonomic design
Plug & Play
Excellent design and build quality
Cons
Not suitable for office use
Computer Cases
Segotep Warship EVO Mid Tower Gaming Computer Case – Standard Version (Orange)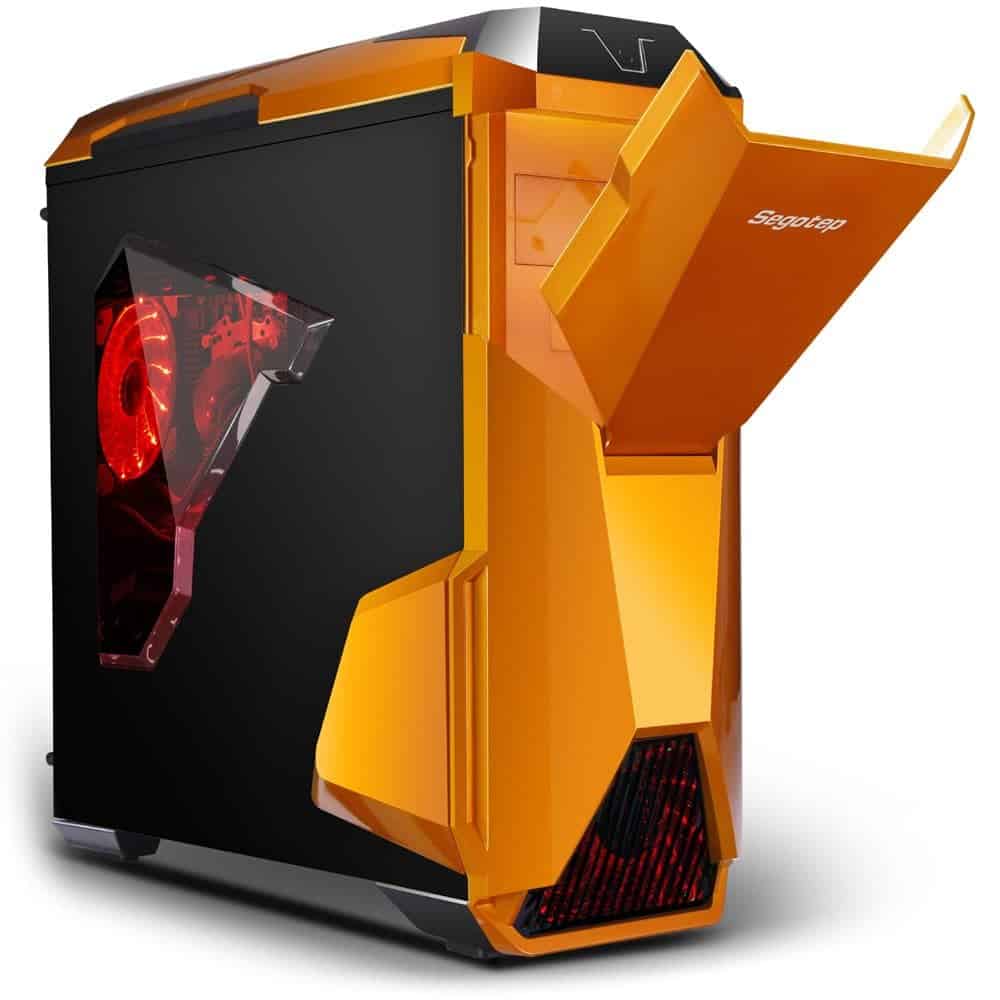 Planning to build a gaming PC and not willing to spend more than 70$ on a computer case? Then this one might just be for you. Available for just $69.99 on GearBest, Segotep Warship Evo Mid Tower computer case supports ATX, E-ATX, ITX, and M-ATX motherboard. It supports 1 x 5.25 inch Optical Driver, 3 x 3.5 inch HDD, 2 x 2.5 inch SSD, and 1 x 3.5 inch floppy driver. Additionally, it extends support to I/O ports including USB 3.0, USB 2.0 and HD Audio I/O interface ports. Check out other specifications below.
Fan Install Position : Front-2 x 12cm, Rear-1 x 12cm, Top-2 x 12cm
Product weight : 5.600 kg
Product size : 48.50 x 20.50 x 50.00 cm
Pros
Great design
Good build quality
Easy to install drives
Multiple fan installation positions
Cons
Not so affordable
Liquid cooling not supported
That's pretty much the deals on the gaming PC gears. Are you planning to grab any of the offers from GearBest's flash sale? If yes, do let us know about it in the comments below.