Best Gaming PCs under 500 Dollars for 2020
As technology grows, owning advanced gaming PCs is becoming increasingly more affordable than ever before.
If you are a gaming enthusiast, you'd know that not so long ago gaming PCs were a premium offering with a hefty price tag. Even today, some of the best offerings in the segment are priced upward of $1,500.
But with the markets teeming with a wide cross-section of technologically empowered products, finding a decent gaming PC under $500 isn't as improbable as it was a couple of years ago.
Of course, you have to be willing to do a fair share of market research and open to making a few compromises, but you can land a pretty robust PC within this price range.
We simplify the process of narrowing down on the best gaming PCs under $500 with this detailed rundown.
But before you get down to the specifics of different competent entry-level gaming PCs, it is crucial to understand what makes a gaming PC tick, where you can cut a few corners and which aspects of configuration and specifications are absolutely non-negotiable for above-average performance.
Here are a few things to keep in mind when assessing the components of a good gaming PC in the sub-$500 categories:
The Processor
What the processor is capable of doing determines the end performance of your PC, especially when running gaming software.
It is for this reason that considering the specifications of the processor is crucial when buying a gaming PC on a budget.
Your choices in the under $500 subcategories are fairly limited here, as most high-end processors cost truckloads of money.
It eventually boils down to choosing between dual processors or a robust quad-core. However, the latter is slightly pricier.
If there is room to stretch your budget just a tad or if you can find a quad-core powered device in this price range with some other specification compromised, it is definitely worth a consideration.
Hardcore gamers typically love octa-core processors for their sheer strength and speed. Needless to say, those won't fit into the gaming PCs under 500 budget range.
Another bankable option is Intel's hexacore, which adds great value to gaming machines without escalating the costs.
The Motherboard
Another important factor to consider is the motherboard. The focus here must be on identifying the right configuration and size of the motherboard inside your gaming PC.
If it is too large for the PC's framework, it'll eat into precious space, which means other components of the machine will inevitably be compromised.
A small structure element motherboard is the ideal choice when you are working with a conservative budget.
It's alright to settle for a device with a low-cost motherboard if it means you can get a device with a better performing GPU.
The GPU
Equally important as the processor is the Graphical Processing Unit (GPU), also known as the video card. After all, it is the GPU that brings games alive on your computer screen by accelerating image creation within a frame buffer, resulting in impressive, life-like graphics.
To be able to do this job well, the GPU relies on a rapid alteration and manipulation of memory. In lay terms, this simply boils down to the fact that a faster video card is capable of delivering better graphics smoothly and in real-time.
Clearly then, no avid gamer would want to settle for a low-end sub-standard GPU. Here again, it comes down to choosing a gaming PC with the best possible GPU in the limited budget range.
The two front-runners in manufacturing video cards or GPUs have been Nvidia and AMD. However, not all their video cards are created equal, which also explains the wide price range in which these products are available.
Not every gamer has a background in computer sciences or sounds technical know-how, which makes telling a well-performing video card from a sub-standard one all the more challenging.
The other important consideration here is memory. If you are into low-resolution games that run below 1080p, you can make do with 1 GB of memory.
Anything above 1080p requires at least 2GB of space to run seamlessly. For heavy-duty games, you need a minimum of 3GB on the GPU, even though 4GB of space would be ideal.
Both Nvidia and AMD have quite a few options in this segment.
A gaming PC fitted with the AMD Radeon R9 380 or Nvidia GTX 960 is equipped to do its job well without overshooting the budget range.
It is hard to say which one of the two is categorically better than the other. That's a close call, and personal preferences play an important role in it.
The RAM
Of all the crucial components of a well-performing gaming PC under 500, finding solid RAM space within the affordable range will be the easiest.
RAM is no longer the priced entity it used to be a decade ago. Finding a gaming PC with a robust 32 GB of RAM space in the sub-$500 categories is no challenge at all.
However, the question to ask is whether you'll need that kind of memory space at all, given that most games being developed today are designed to run on as little as 8GB of RAM.
If it helps in bringing down the cost or allows you to go in for a gaming PC with a better GPU or processor, it is perfectly all right to settle for one with 16 GB RAM.
The Screen
The final aspect to consider is the gaming monitor or screen. For a completely immersive gaming experience, you must opt for the biggest screen you can get in the under-500 bucks segment.
Another aspect to consider is the contrast ratio. There are two prime choices that fit the bill – TN-based screens and IPS-based screens. But they come with their own share of pros and cons.
The TN-based ones, for instance, deliver on the size and contrast ratio aspect at a low cost, whereas the IPS-based ones offer extensive viewing angles and better color quality but come out a tad slower in terms of responsiveness.
Here again, picking one over the other is a matter of personal preference.
Now that you are versed with how to assess different components of a good gaming PC under $500 so that you get the maximum bang for your buck, let's move on to our top picks of best gaming machines in this price range:
Shinobee Ultra 6-Core Gaming PC
This offering from Shinobee is unadulterated gaming power.
The PC is powered by a hexacore processor, the AMD FX 6100 6 Core, capable of a base clock speed of 3.3 GHz and can scale up to 3.9 GHz with help of the AMD Boost Technology.
This coupled with 8 GB of RAM space lends this machine enough power to run different applications simultaneously, offering a seamless user experience.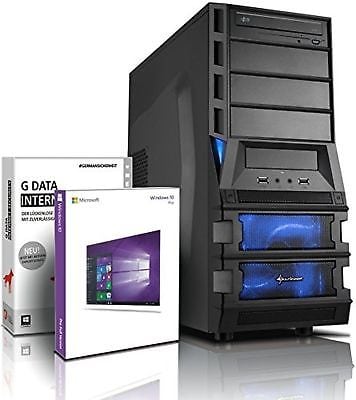 The inclusion of GEFORCE graphics through the NVIDIA Geforce GTX 1050 5GB DDR5 video card makes running some of the most popular PC games on this machine a delightful experience.
With a whopping 1 Terabytes (TB) of a hard drive, you can also use this gaming PC for storing all your data and perform several other computer-related tasks, apart from gaming.
The PC runs Microsoft Windows 10 Pro, which comes pre-installed, so your device is ready to start functioning straight out of the box. There is also a complimentary office suite pre-installed on this device.
Another highlight of this PC is that it is essentially a noise-free device with a silent CPU fitted with a fan to keep things cool at the processing end and an equally quiet power supply unit, allowing you to concentrate on your favorite games without being distracted by the constant buzzing from different parts of the PC.
The DDR3 memory, which is at least 20 percent faster than the preceding DDR2, contributes a great deal to the swiftness and speed of operations in this device.
It's available to order here.
CybertronPC Patriot TGM1293D Gaming PC
Designed in trendy red, the CybertronPC Patriot TGM1293D pretty much offers everything you need to make your virtual universe come alive.
The gaming PC is powered by an AMD A4-5300 3.40 GHz dual-core processor, along with an AMD Radeon HD 7480D GPU.
Apart from offering an impressive gaming experience, the machine also delivers powerful performance when it comes to making the web browsing experience look stunning and toying with computerized photographs.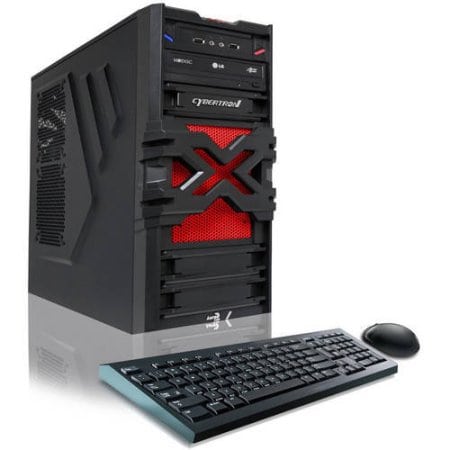 The inclusion of dedicated 1GB video memory makes running video content on this PC rich and subtle.
The multitasking prowess of this gaming PC is enhanced manifold by the adaptable 8GB of DDR3 memory network, which can be expanded up to 32 GB via external memory devices that can be linked to the computer through the HDMI port.
In addition to this, the DVD±RW/CD-RW drive in multi-format facilitates twin layer backing that allows recording 4 hours of uninterrupted video or storing 8.5GB of data.
Furthering the storage capabilities of this device is the 1TB hard drive, which offers enough room to store all your personal data, programs, movies, music and more.
The Patriot TGM1293D runs Microsoft Windows 8 and is lined up with 6 USB 2.0 ports that make the transfer of data quick and hassle-free.
You can order it from here.
Lenovo X315 Gaming Computer
The Lenovo X315 is all about great value for money.
The PC comes loaded with all the right kinds of components such as the AMD A8-7600 quad-core processor, which is capable of packing in performance par excellence when coupled with the right video card despite being dated.
The AMD Radeon R9 360 graphics card, which is a top-of-the-line product for this price point, does that job perfectly.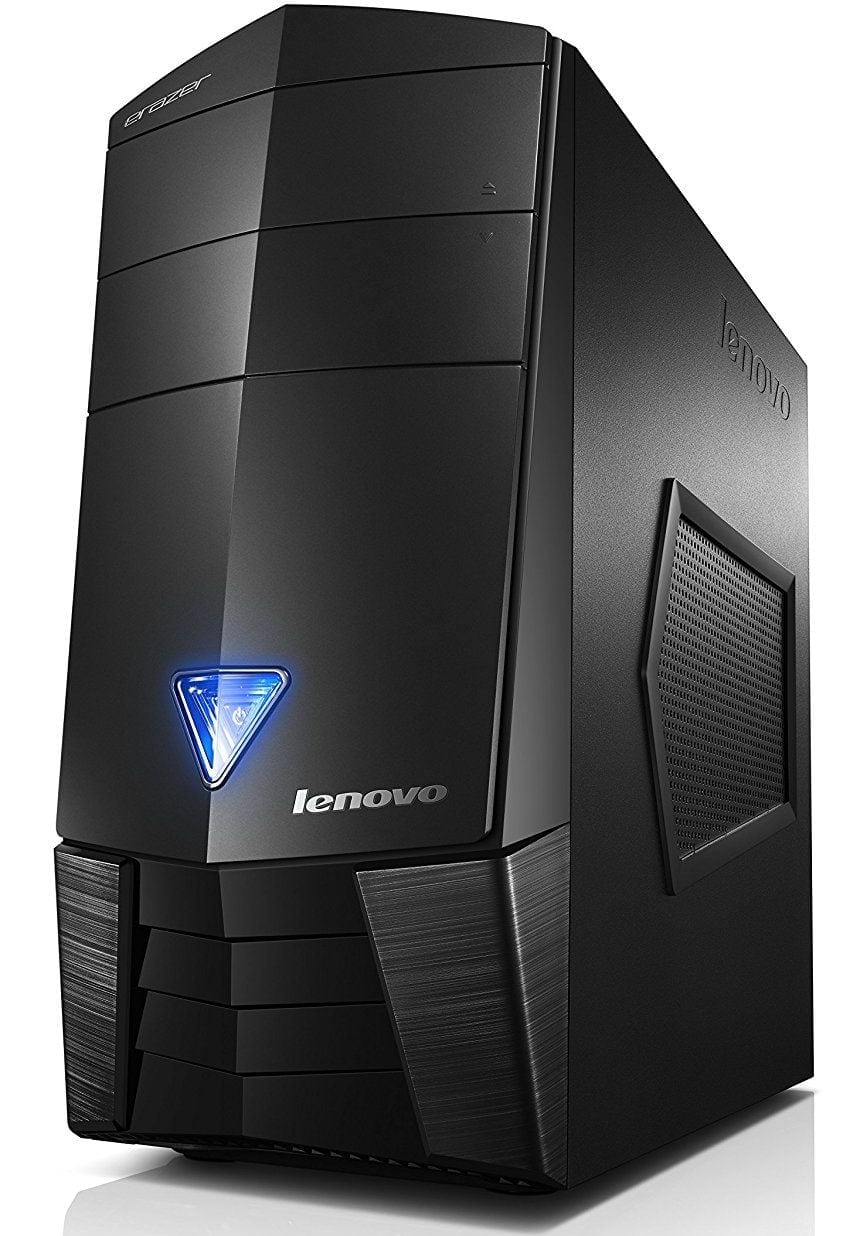 The inclusion of 8 GB of DDR3 memory makes this computer a premium offering capable of replicating the performance of devices that are far more steeply-priced.
This 8GB memory is in itself great storage space, which is further enhanced by a 1TB hard drive that can accommodate all your personal data.
The SSD is large enough to hold the operating system, and doing so, improves the basic browsing and file processing experience manifold.
This Lenovo gaming PC supports the latest Windows 10 version, and even though the OS does not come pre-installed on the device, you do get a copy that you can install on the SSD.
All in all, the combination of AMD A8-7600 processor and AMD Radeon R9 360 video card make for an idyllic combination that supports games in 1080p resolution perfectly.
Some of the recent PC games can even be run at 30 fps and above on this device. A gaming PC for $500 doesn't get much better than that.
HP Pavilion 550-110 PC Under 500
One of the biggest drawcards for the HP Pavilion 550-110 gaming PC is its 1 TB hard drive with 7200RPM storage and 8GB of DDR3 RAM.
The PC runs Intel HD Graphics 4400, which utilizes a solid chunk of 1203MB total graphics memory made available by Windows 10, to create great visuals on screen.
The inclusion of fourth-generation Intel Core i3-4170 processor contributes immensely to uplifting the overall performance of this machine, making the end-user experience nothing short of sheer delight.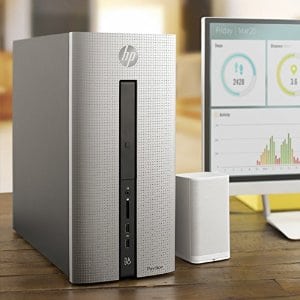 The dual-core processors on this HP offering make visuals dazzling, multitasking seamless and speedy. There is also a heightened sense of security when working with this machine to indulge in an immersive gaming experience.
HP has included some advanced connectivity features such as Integrated Bluetooth 4.0 and Wireless LAN 802.11b/g/n that makes wireless transfer of data, both online and offline, an easy and uncomplicated affair.
In addition to these, there is also an ultra-slim SuperMulti DVD Burner tray, along with four USB 3.0 and two USB 2.0 ports, that further assist all your data transfer needs.
The HP Pavilion 550-110 PC is ideal for anyone who wants a single machine for both gaming and other uses.
Lenovo IdeaCentre 300s Gaming PC
This is a gaming computer that delivers powerful performance riding on an eclectic mix of incredible components and ergonomic space configurations.
This gaming desktop PC from Lenovo in a slim avatar is an ideal choice for anyone looking for a host of advanced features in a budget offering.
The framework comprises a 2.9GHz Intel Core i5-4460s that is revved up by the Turbo Boost Technology to offer an impressive speed of up to 3.4GHz.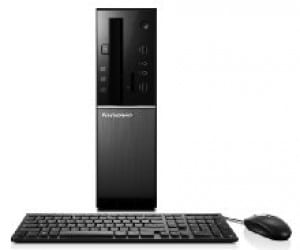 Furthering its quick performance and speedy conversion rates is an 8GB DDR3 memory and a humongous 1TB hard drive that turns at 7200RPM, according to both high speed and limits.
The IdeaCentre 300s also sports an Intel HD Graphics that offers astounding visual clarity and impressive interactive abilities of media functionalities all at once.
The gaming PC's ability to deliver top-notch video quality is further enhanced by the HDMI port that allows you to view content linked to an HDTV.
The DVD drive incorporated in the device makes watching and stacking DVD and CD record hassle-free. For quick and seamless data transfers, the Lenovo offering sports an Ethernet port and offers WiFi support.
PS: Prices for gaming PCs continue to fluctuate due to the shortage of GPS caused by cryptocurrency miners, but we'll attempt to keep up nonetheless.