Top 4 Best Gaming PCs Under $900
When it comes to buying gaming PCs on a budget, the key is finding the most powerful machine with advanced specs and impressive performance in a limited price point.
Of course, higher the budget, better the chances of landing a gaming PC capable of delivering beastly performance. So, you stand a much better chance of owning a machine designed to impress at around $900 than you do on a $500 budget.
But even so, getting the best deal for your money involves in-depth research and sifting through seemingly endless options.
Exasperated and spoilt for choice, most buyers often give up mid-way and settle for the next seemingly decent gaming PC that comes their way.
To make sure you don't have to settle for anything less than the best, we have put together this list of best gaming PCs under $900:
SkyTech Shadow AMD-1060-I Gaming PC
The SkyTech Shadow AMD-1060-I Gaming PC packed in the under $900 category is one of the ideal gaming desktops for people working with a budget.
The computer has earned itself quite a fan following among the gamers community for a range of impressive features it offers at a competitive price point, making it worth every dime you spend on this device.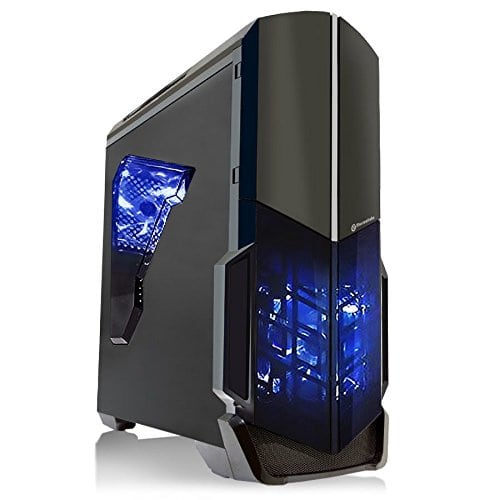 The fact that despite keeping the prices low, SkyTech has managed to deliver a high-performance PC that has managed to add several new buyers to its kitty.
Priced in the $800-900 range, the gaming PC matches the performance of several devices that come with a $1,000 price tag, so you get envious features and save yourself a good $100.
The gaming PC is powered by the Nvidia GeForce GTX 1060 3GB GDDR5 graphics card, which facilitates mid-level gameplay even in the highest settings, including some high-level 3D PC games.
In addition to this, the SkyTech offering boasts of a high-end FX-8350 4.0 GHz 8-Core processor, 8GB DDR3 of memory, 120GB SSD and 1TB HDD storage.
It runs the latest Windows 10 Pro and has VR support capabilities. To keep the device cool during long hours of gameplay, the PC has been fitted with light fans.
Getting your SkyTech Shadow AMD-1060-I home, however, maybe a little trying on your patience, as the device may take around 2 weeks to ship. If you are willing to wait in order to make a significant saving, this computer is worth it.
CyberPowerPC Gamer Ultra GUA 570
When it comes to packing in great functionalities in budget gaming PCs, quite no one does it like CyberPowerPC and the specs that its Gamer Ultra GUA 570 comes loaded with just reinforce that belief.
The gaming PC comprises an AMD FX-8320 3.5GHz processor, NVIDIA Geforce GTX960 2GB graphics card, 16GB DDR3 of memory and a solid 2TB hard drive. It runs the Windows 10 Home Premium 64-bit OS.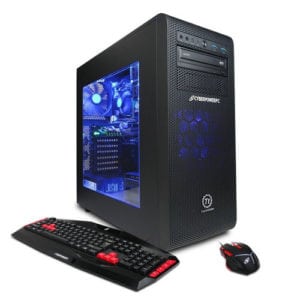 The use of AMD FX-8320 3.5GHz processor makes the GUA570 an outstanding masterpiece, capable of outdoing the performance of its predecessors by 15 percent.
In addition to an immersive experience with most extreme gaming, the inclusion of system-intensive applications makes this device perfect for multi-tasking, performing complex video edits and HD video playback.
The GUA570 also comes loaded with connectivity features, sporting 8 USB ports, HDMI port, and Bluetooth 4.0 connectivity, which means syncing this computer with a host of devices simultaneously is an effortless process.
Apart from its ability to produce advanced video graphics, the GUA570 also accords great sound quality that further uplifts its full HD immersive gaming experience. This gaming PC is designed to deliver a visual delight whether you use it for gaming or watching video content.
iBUYPOWER Chimera AM001i
At under $900, the iBUYPOWER Chimera AM001i just about fits the $900 price point perfectly and that should be delighting for gaming enthusiasts given the impressive features this gaming PC comes loaded with.
The Chimera AM001i is fired up by an Intel i5-7400 3.0Ghz processor, NVIDIA Geforce GTX 1060 3GB video card, 8GB DDR4 of memory space and a generous 1TB 7200RPM HDD in addition to 120GB of SSD storage.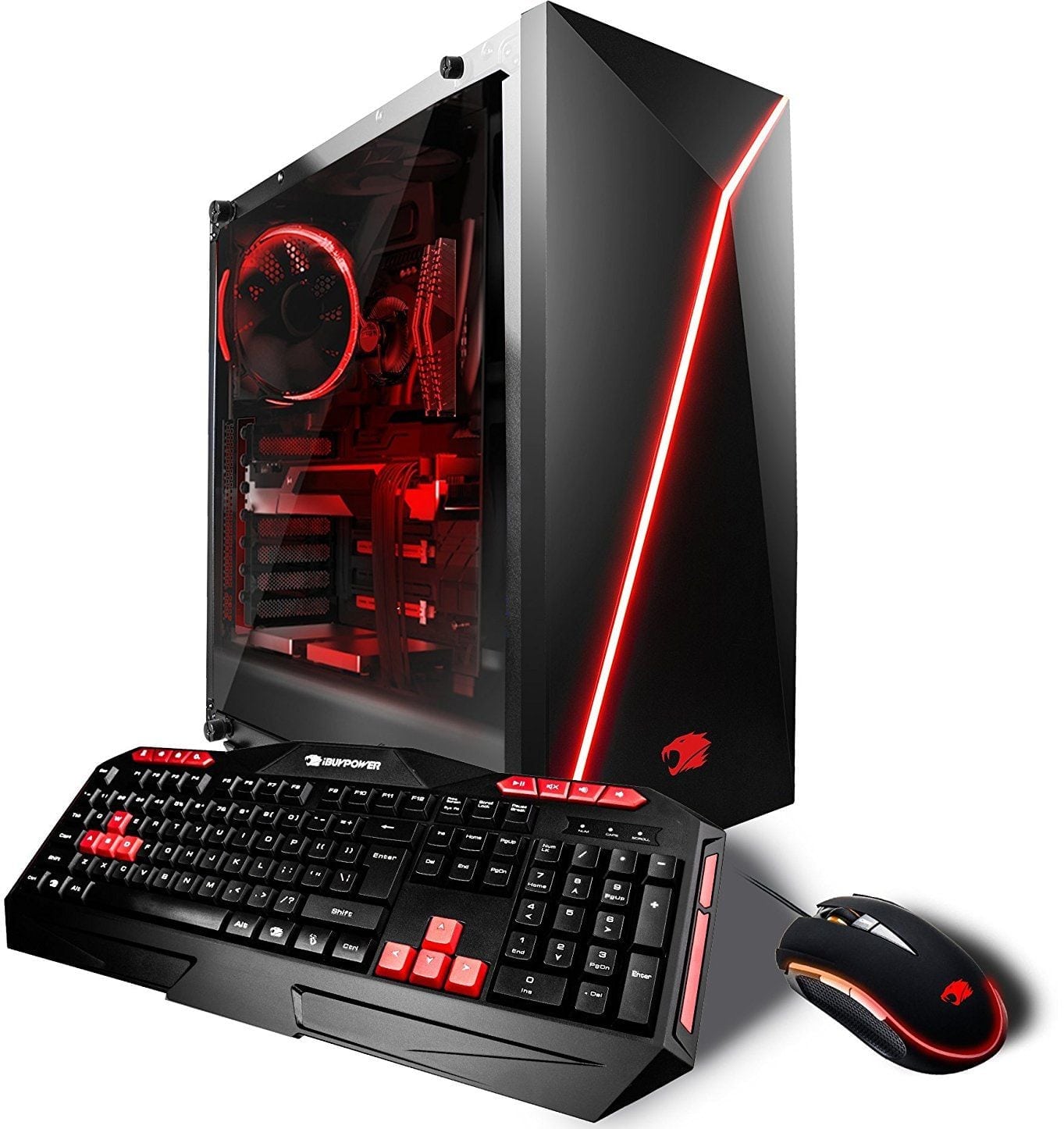 All these features make the Chimera AM001i well-suited for high-level gaming in more than decent settings.
If you are looking for a gaming PC that adds a big bang to your gaming experience, this iBUYPOWER offering fits the bill perfectly, which more than justifies its pricing being on the higher side.
The combination of the Intel Core i5-7400 quad-core processor and NVIDIA GeForce GTX1060 3GB graphics card itself makes this a powerful beast capable of enviable performance.
Add to the mix abundance of RAM and storage memory – we are talking 1TB HDD and 120GB SSD here – and it is hard to find fault with this gaming desktop.
You can run several programs at the same time and multitask with ease, without noticing any lag in the computer's speed. The Chimera AM001i runs the Windows 10 Home OS and comes with WiFi and USB connectivity options.
The cherry on the cake is the VR Ready capabilities of this gaming PC that set you up for fully immersive gameplay.
CybertronPC Hellion GM1213B
Loaded with an AMD FX 6300 3.50 GHz Unlocked 6 Core Processor, NVIDIA GeForce GT640 2GB graphics card and a sizeable 16GB of DDR3 memory, the Cybertron Hellion is a gaming desktop that won't disappoint even the most serious gamers.
The inclusion of 1TB of internal memory means there is enough space for all your digital data on this computer and then there is a DVDRW optical drive that comes in handy when backing up data or installing new software.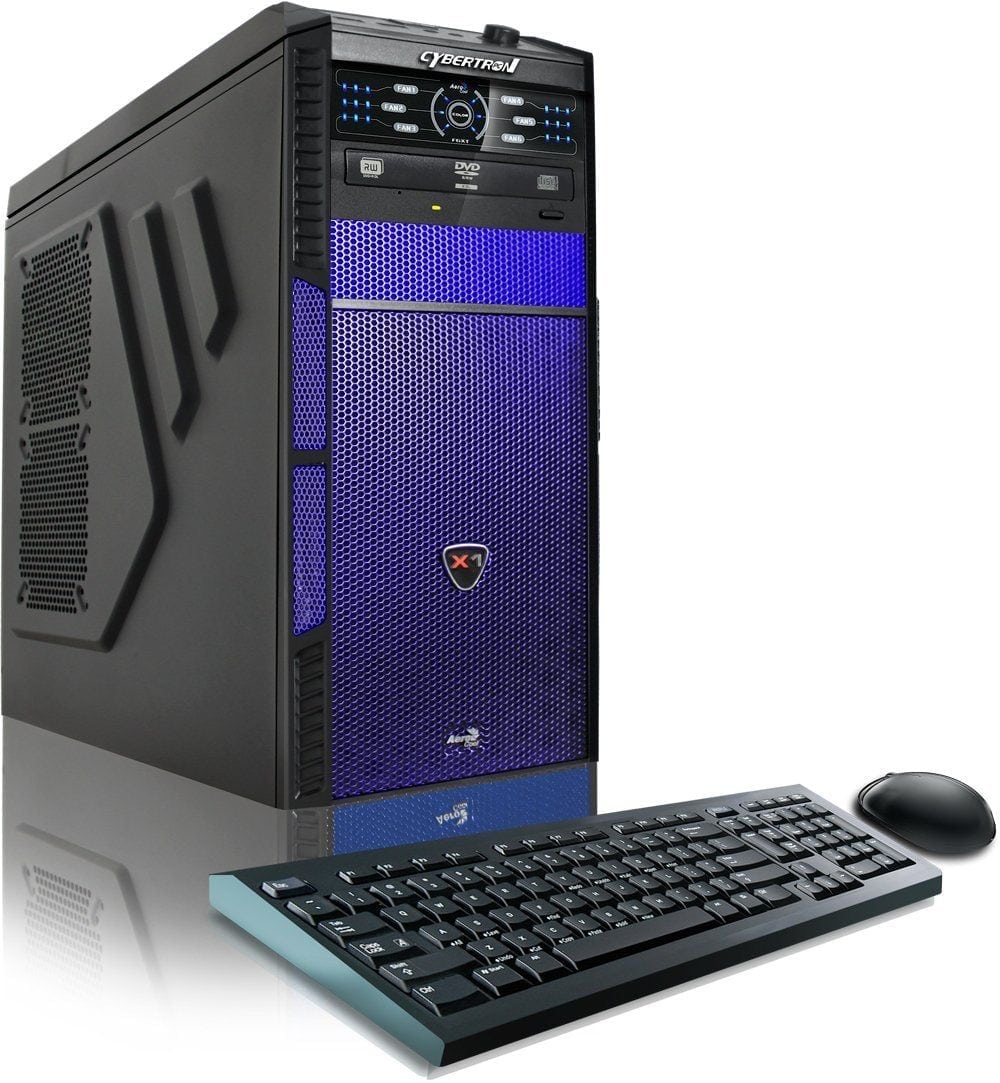 The Hellion GM1213B is fitted with fan controls right in the front with which you can control up to six fan speeds settings to keep it cool during prolonged usage.
The best thing about the positioning of the fans inside is that you don't get that constant buzzing sound, which can get a tad distracting and even annoying at times. Even in terms of build, this Cybertron offering has a premium feel to it.
The looks are enhanced by its aluminum panel in diamond-cut and two LED color variants. Made from high-quality components, this is a sturdy piece you can have for the long haul.
It is a machine meant to elevate user experience by bringing high image quality, lightning-fast responsiveness, and advanced performance to the table. And does so without being an energy-guzzling monster.