Everyone who draws knows that the process to the final design goes through a lot of mistakes and drafts, which means using up a lot of paper and also losing a lot of precious rough sketches in the process. And so, most people who draw have also at some point wished for a virtual alternative. That wish has actualized with the entry of graphics tablets and tablet PCs dedicated to drawing. However, drawing on a tablet or a tablet PC is very different from drawing on paper, it comes with a learning curve, and takes quite a bit of getting used to. But once you get there, the ease and functionalities of these tablet PCs for drawing are unmatched.
What to Look for in a Tablet PC for Drawing
Buying a digital canvas, so to speak, involves an intricate-decision making process to be able to choose a tablet PC from a sea of options that suits your needs and meets your budget. Knowing what to look for in terms of performance, specifications, brand value, and comparing these vis-a-vis the price points of different devices is vital to making an informed choice. Taking the following factors into consideration will help simplify your choices to a great extent:
Size of Screen
The size of the tablet screen is a crucial deciding factor when you are investing in a tablet PC primarily for the purpose of drawing. Of course, a bigger screen means greater surface area and more space to draw on. Tablet PCs with bigger screens are also equipped with more practical shortcuts and have better input qualities. While this directly translates to more efficient working, it also means a steeper price tag. So, it is essential to consider the size of the tablet with respect to your individual needs. If your work entails illustrations, then the fine details are non-negotiable, and a tablet PC with a bigger screen certainly helps. On the other hand, if you pursue drawing more as a hobby, you can work with a smaller screen and save yourself some space and money.
Pressure Sensitivity
A tablet PC captures what you draw by tracking the motion of the pen, and so, applying the right kind of pressure – not less or more – is crucial to the accuracy of results. Best tablet PCs designed for drawing track come with pressure sensitivity feature that helps in tracking pressure information and translating it into the thickness of a line. Simply put, when you press your drawing pen harder on the surface, it renders a thicker line. Different devices in this segment come with different pressure levels, and obviously, a tablet PC with say 2048 pressure level is capable of capturing a higher level of detail than one with 1024 pressure levels. Once again, it is essential to analyze these specs with your personal usability and budget in mind.
Controls
Every tablet PC comes with some functional keys or controls that can be customized to suit a user's individual needs and preference. The only difference lies in the placement of these controls. While in some devices these controls are placed on the tablet PC monitor, in others these are located on the pen. A lot of users prefer them on the pen as it makes for a more practical placement and increases the accessibility of these controls, which basically work as shortcuts. However, there is also a section of users who don't mind navigating these controls on the tablet. It all boils down to personal preferences.
Connectivity
You would want your tablet PC to have some of the latest connectivity options to be able to seamlessly transfer data from one device to another. While most high-end devices offer a host of connectivity options – you name it and they've got it, you probably won't be using them all. Having connectivity options such as HDMI and USB support, however, is critical, almost non-negotiable, in today's time.
Accessories
The screen is the most important part of a drawing tablet PC, but it is not the only important part. It is equally essential to pay attention to other accessories that impact the performance and accuracy of the device. How good is the stylus? Is the size of the device comfortable for you to work with? What drivers and software does the tablet use? Which are ones it is compatible with? These are a few basic questions to ask before you zero-in on a drawing tablet PC.
Price of Tablet PC for Drawing
In the end, the ultimate deciding factor is always the price tag that a device comes with. Today, more and more brands are coming out with affordable tablet PCs, designed to reach not only artists but also amateurs, students, and kids. Of course, the performance of the device varies according to the monetary value and professional tablets PCs for drawing cost significantly more. While the performance of a device is crucial to the results of your artistic explorations, it is best to go in for one that meets and not exceeds your needs.
Best Tablet PCs for Drawing
With these parameters in mind, we bring you this rundown on the best tablet PCs that blend in the natural feel of drawing on a paper with digital prowess without burning a hole in your pocket:
Lenovo Yoga Book
The Lenovo Yoga Book is an exciting device in Yoga series not just on account of being relatively inexpensive but even more so for blending in the functionalities of a laptop and a tablet in a way that remains unprecedented. This tablet PC also marks the ushering in of an era of hinged keyboards and fully digital trackpad completely free of travel.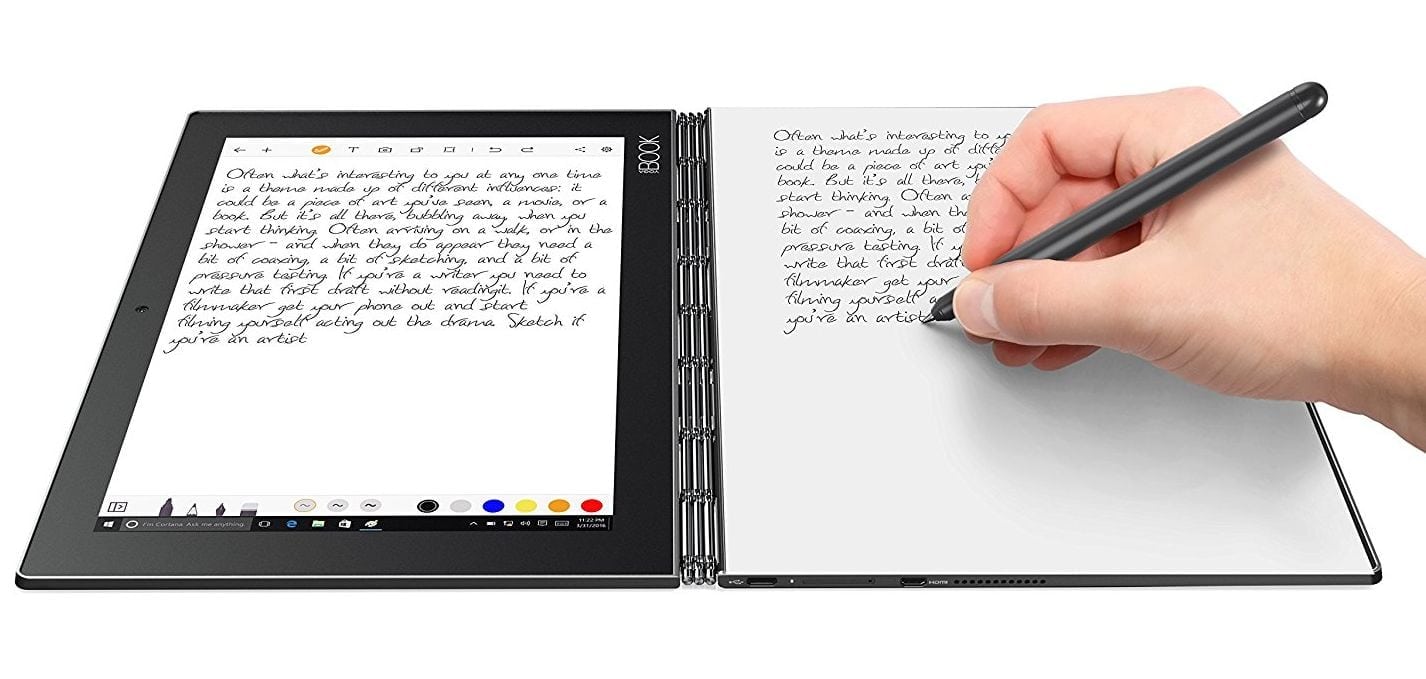 The tablet PC sports a 10.1-inch screen with a resolution of 1920×1200 pixels. The ability to display 16.7 million colors in HD coupled with 400 nits of brightness make your creations come alive on this screen as if you were watching them in flesh and blood. The in-plane switching offers wide viewing angles and also a greater surface area to draw on. This versatile 2-in-1 offering from Lenovo is also great for taking notes, watching videos, and performing regular computer tasks by bringing the Halo keyboard into actions.
Related: https://www.androidtipster.com/category/tablets-on-sale/
The stylus pen included with the tablet PC for drawing is designed to work with real ink and without it too, allowing you to take notes or make quick sketches on paper and then digitize them instantly. That means never having to lose track of brilliant ideas due to lack of access. The long battery life of the pen further assists that cause. The Create Pad and the Real Pen with 2048 pressure levels are designed to offer precision and control akin to drawing on paper. The tablet PC has been mindfully designed to help you keep track of your creation as you go without your hand blocking the view. With 4GB LPDDR3 RAM and 64GB eMMC internal storage capacity, the device is well-equipped for multi-tasking.
ALLDOCUBE Mix Plus
The Mix Plus 2-in-1 tablet PC is a bankable device with solid construction, great display, and fast processing speeds. The device sports a 10.6-inch screen with a display resolution of 1920×1080 pixels. It is powered by seventh generation Intel Kaby Lake 7Y30 processor, 4GB RAM, 128GB SSD and HALL Switch. This ALLDOCUBE offering is a modern bridge linking art with technology and doing so efficiently.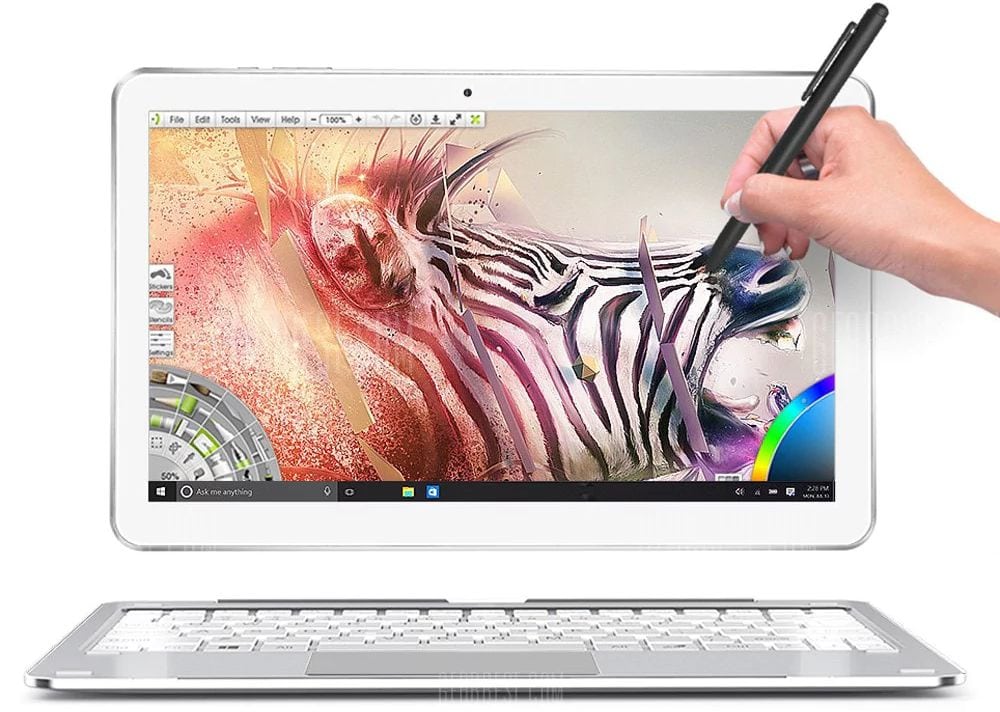 The 2-in-1 tablet PC comes with a Wacom stylus pen with 1024 pressure levels that offer fairly decent accuracy while drawing, sketching, and writing. The pressure sensitive performance of this device is meant to support multiple painting techniques, making it your go-to digital drawing board for all your artistic explorations.
The full HD 1920×1080 resolution of the screen also enhances the overall drawing experience, offering a vast gamut of colors, wider viewing angles, adjustable color temperatures, and vivid display. The clarity of display on the screen eliminates the need for making readjustments and corrections to your designs, as the fluent flow helps you get it right in the first attempt provided you have the skills to make that happen. The Mix Plus is enabled with Bluetooth and WiFi support, besides hosing TF card, Type-C and USB 3.0 ports, which means connectivity is never going to be an issue with this device.
Teclast Tbook 16 Power
Calling the Tbook 16 Power a Microsoft Surface 3 clone with some interesting features thrown into the mix would be an apt description for this tablet PC for drawing from Chinese manufacturer Teclast. And the best part is that the manufacturer makes no attempt in covering up where the inspiration for this device comes from. The convertible tablet PC designed to double as a laptop and a standalone tablet comes with 11.6-inch screen offering a display resolution of 1920×1080 pixels and a classic aspect ratio of 16:9. It is fired up by an Intel Atom x7-Z8750 64bit Quad Core, which is quite impressive for a tablet in its price range and makes navigation between screens and apps nearly seamless at a frequency of 1.6GHz.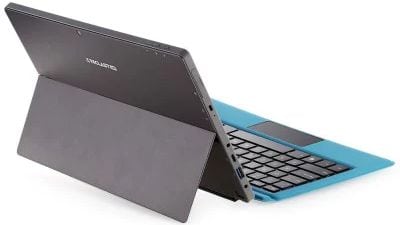 With 8GB RAM and 64GB of internal storage, the Tbook 16 Power has abundant space to store all your creations, designs, drawing, apart from your personal data files. The inclusion of a stylus with a precision clear disc designed to make the drawing experience smoother and more natural clearly pegs this tablet as one meant for drawing and the sensitive screen with vivid displays further assists that capability. The tablet PC also comes with a multi-position kickstand, so you can customize its positioning as per your convenience and drawing style. In terms of connectivity, you get HDMI ports and Bluetooth 4.0 support.