Android Tipster participates in the Amazon Affiliates program and may receive a small percentage of a sale at no extra cost to you when you click some links on our site
Looking to buy Instagram followers? Should you even?
If you're looking to buy Instagram followers because having a lot of followers is an essential part of your Instagram success, you're not alone.
In fact, a study conducted by ICMP found that famous people, who are capable of gaining millions of real Instagram followers at no cost, were found to sometimes have up to 50% fake followers.
Gaining a lot of followers on Instagram, whether fake or real is perceived as a good strategy for creating brand awareness, and so, you'll find that many small businesses are willing to spend some money on buying followers before they can spend on Instagram ads.
There are plenty of websites that sell Instagram at a very cheap price, obviously, before you buy followers, you want to make sure the website has a good track record of delivering followers that won't drop in a few days.
You also want to make sure their system delivers followers in a manner that won't cause Instagram to flag your account, which is something that could eventually lead to your account getting disabled.
Famoid is such one site that I personally used particularly because they provide real Instagram followers.
I don't know how they do it and I was equally surprised when I first started using them. Ultimately, before buying Instagram followers, you want to interrogate your reason for wanting to have more followers.
What happens when you buy Instagram followers?
When you buy Instagram followers, you're basically putting on a facade that your page is popular. This can have some benefits but the negatives may far outweigh them if you don't have a better strategy for keeping up with it.
I had to deal with some of those negative effects when I previously bought fake followers from a less reliable seller. The following are just some of those effects:
Your post reach will decline drastically
Picture an account that has 30,000 followers but gets an average of 40 likes per post. Instagram algorithms may interpret this to mean your post is low quality (even if it's not) and will, therefore, show it to fewer people.
Instagram's intention is to keep users locked on their platform longer and anything that will discourage users from staying will get lesser exposure.
What if you bought a few thousand Instagram likes to complement the number of followers?
The thing is, those accounts that liked your posts were not following you, to begin with, there is no correlation as to how they found your post.
This will quickly lead to your account getting flagged and even if they don't disable it immediately, your growth will be limited and you will begin to notice an increase in prompts to verify your account.
There was a time you could easily reach the explore page for many hashtags by just buying followers, likes, and comments. Those times are long gone now as the algorithms are becoming smarter with every new Instagram update.
Your focus should be growing genuine followers and increasing engagement (likes, comments) on your content. I'll show you how you can achieve this.

See, Instagram's algorithm works like this: the more engagement (relative to the number of followers) on your post, the more exposure you will be rewarded with.
It's not easy to fake this today anymore.
Their systems can now read the pattern of activities of your followers and can easily tell if the engagement is genuine or manufactured.
If you have to buy Instagram followers, make sure you buy only real followers.
My strategy for gaining followers on Instagram
How to get more followers on Instagram
1. Pick a name that is catchy and is easy to remember
I'll be the first to admit that with Instagram users growing by millions every day, it's become increasingly tougher to come up with catchy usernames.
Here's what you can do to find a good username for your account: Visit Leandomainsearch.com, type in the niche/theme/topic of your account and allow it to generate a few good names that you can pick from.
2.
Find the most suitable image for your profile image
Pick 10 best performing accounts in a similar niche as your own Instagram account, observe the kind and quality of images they use for their profile. Once you think you 'get it', replicate the same for your own profile.
Remember that large accounts usually have experienced marketing teams behind them and by doing what they're doing, you'll be tapping into some really expensive knowledge, all free of charge.
3.
Create a theme for your page and provide value!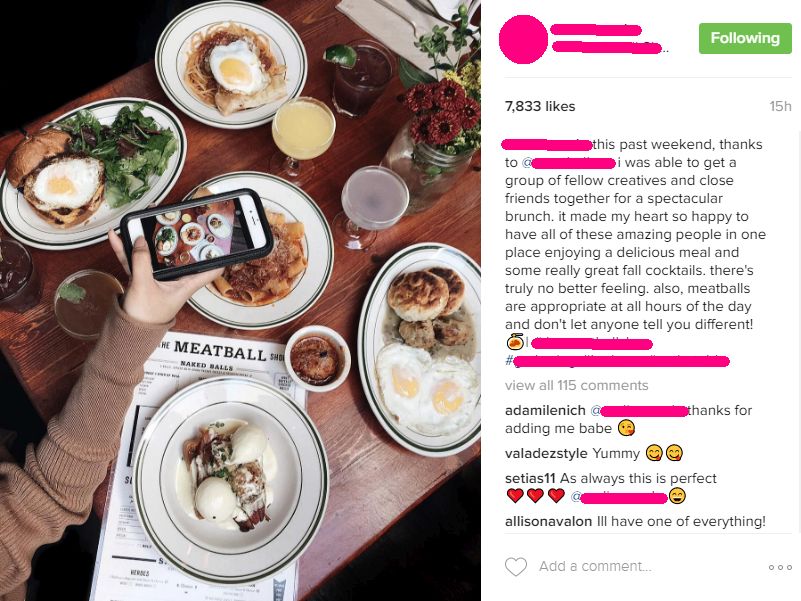 Posting great, shareable content is by far the most effective strategy long term. It's not enough by itself, but it will surely get you further.
Make use of apps like VSCO (Android, iOS) and Prisma (Android, iOS) to find the perfect filters for your images and create a theme for your page so that it looks neat and organized.
Stick with the theme that works for you. Of course, it isn't as fast as buying Instagram followers, but you'll be winning real followers that actually love what you post and will actively engage with you.
It might take longer to gain followers but once you reach the point at which your account starts to grow naturally and organically, it'll be worth it.
4.
Follow/Unfollow strategy
This is one of the most commonly used strategies for gaining real Instagram followers. Still, quite a number of people frown at the thought of doing this mostly because it requires time and effort while others perceive it as an ethical way of growing one's account.
Choosing your target accounts
Target accounts are those big and successful Instagram accounts whose followers you're interested in. This is where most people looking to grow their accounts go wrong. You're not going to gain much following by going after Justin Bieber's followers. Nothing personal against Justin.
The problem with accounts that big is, their followers are usually not very niche specific and maybe following for different reasons. Another main problem is, these accounts are targeted the most by bots and by following their followers you will find that a good number of those accounts that you followed are fake accounts run by automated software.
Instead, do the following:
make sure to collect target accounts in the same niche as you! This may sound obvious but we sometimes tend to forget.
your target accounts should ideally have between 100,000 – 300,000 followers.
they should have an average of between 8-10% engagement (genuine likes). You'll need to watch out for accounts that fake this!
While at it, take note of the type and quality of posts that receive the most engagement.
Follow, Unfollowing
Make sure to:
follow only accounts that are not private. You can only have 7500 accounts that you're following and cannot afford to wait until private accounts accept your request.
follow accounts whose ratio of followers to followings is close to 1:1. Users whose number of followings are close to the number of followers they have, usually don't have a problem following you back.
also, target likers and commenters of your target accounts. If they commented on other people's posts, they're likely to comment on yours as well and this will bump up your engagement and help you reach more users.
ensure you follow only users who have at least a few posts. This should help

weed out bot accounts

.
After following a user, like 1 recent post and 1 old post. They will see this as a sign that

you took your time

on their page and are genuinely interested in them.
Be sure not to exceed Instagram's follow limits.
5.
Your hashtag strategy
I have covered this topic much deeper in this article about hashtags and I recommend that you take a look at it.
6.
Engage with your followers to gain more exposure
Schedule time to comment on and like your followers' posts. Engage especially those with more followers. So say, for instance, they reciprocate, their followers will see their activity and are most likely to find your content interesting and follow you.
By being generous with your engagement, others will catch on and your account will get more engagement with little effort which we now know pleases Instagram's algorithms.
To keep your engagement growing, reply to every comment you get on your posts in a way that keeps the conversation going. You won't need to do that for too long as your followers will have began to have conversations of their own on your posts.
The strategies I've mentioned above have seen many people gain thousands of followers in less than 4 months. This is part of the reason why I felt compelled to share it with my own readers struggling to build a following on Instagram.
If you follow these strategies to the letter, I have no doubt you'll come back here to express your gratitude.
But if you're still looking to buy Instagram followers regardless of the consequences, the next section is just for you.
Where to buy Instagram followers

?
There are plenty of websites in 2020 offering services where you can buy Instagram followers and likes. However, you'll need to do your due diligence before settling on one. The main issue I have observed with many websites that sell Instagram followers especially recently is that the followers you buy drop quite drastically in a few days.
So where should you buy Instagram followers that won't drop?
Best site to buy Instagram followers in 2020
I was lucky to have stumbled upon FAMOID. Like I mentioned before, their services are more reliable than all the other sites to buy Instagram followers. It's actually the only website that you can buy Instagram followers that I recommend.
Other than FAMOID, if you're not limited by budget, you can always try other providers to find the one whose services appeal to you the most.
If you need any assistance, you can reach me on Skype: Diablo2562
Until next time!