In the world of IT, Cisco is a leading player. The company has a wide range of products and services designed to help businesses manage their technology needs and demand. In order to ensure that the professionals working on its products are equipped with the knowledge and skills required to solve the technological problems of customers and provide support for Cisco products, the organization offers the certification program with different levels. It starts at the entry level and ends at the architectone. It is essential to mention that the expert level applies only to certain certification specializations.
In this certification guide, we will focus on the specializations under the associate level. It is important to note that each credential requires the candidate to pass one or more exams. However, when it comes to preparing for your Cisco test, you can find a lot of useful resources at the Examsnap website. Suffice to mention that most of the Cisco exams are offered through Pearson VUE. Let's look at the certification specializations under the Cisco associate level.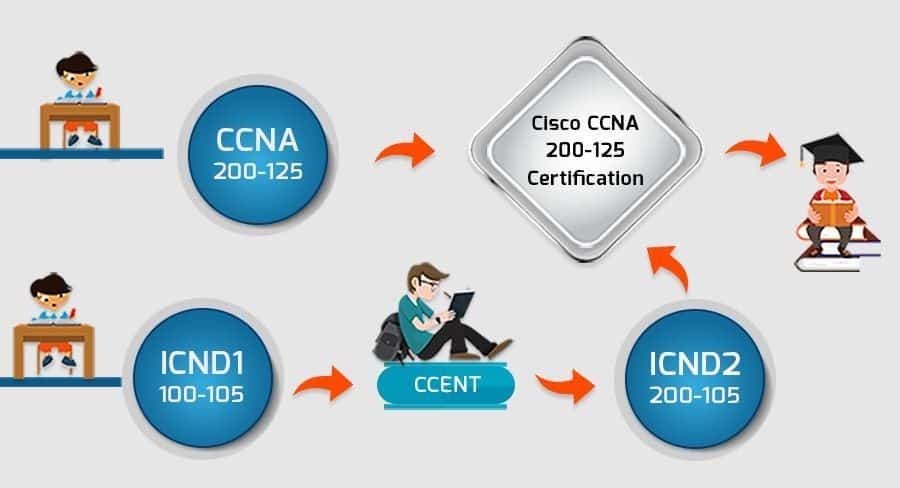 Visit Website https://www.examsnap.com/
Cisco CCDA
This certification is designed for network design engineers, support engineers, and technicians. It is aimed at providing them with a basic understanding of network design fundamentals. The curriculum of CCDA covers designing basic campus, voice, security, wireless networks, and data center. You are required to pass the 200-310 DESGN exam to earn this credential. You can learn more about the exam contents on the official certification page.
CCNA Cloud
This credential is designed for Cloud engineers, network engineers, and Cloud administrators. The certification validates the skills and knowledge of candidates and helps to positively impact their organizations. With the CCNA Cloud certificate, you will develop the skills and knowledge necessary to carry out entry-level provisioning, while supporting Cisco Cloud solutions. To earn this certification, you are required to pass the 210-451 CLDFND and 210-455 CLDADM exams. You can develop competence in the tests taking process by going through the Examsnap platform to explore resource tools.
CCNA Collaboration
This certificate is aimed at network video engineers, IP network engineers, and IP telephony specialists. These are professionals who desire to advance and develop their video and collaboration skills. This is in relation to the convergence of mobile applications, data, video, and voice. To earn this certification, you are required to pass the 210-060 CICD and 210-065 CIVND tests. Details of the exam topics and overview can be found on the official certification page.
CCNA CyberOps
With the growth in vulnerability and cybersecurity issues, the demand for the CCNA CyberOps certified professionals has grown sporadically. The certificate prepares the individuals who want to launch a career as a cybersecurity analyst in SOCs. It is important to mention that this credential is approved by the United States Department of Defense. To earn the certificate, the candidates are expected to pass two exams: 210-255 SECOPS and 210-250 SECFND.
CCNA Data Center
This credential offers the expertise needed to install, maintain, and configure data center technology. The individuals with this certification are equipped with in-depth knowledge of data center infrastructure, storage networking, network virtualization, data center networking concepts and technologies, unified computing, Cisco Application Centric Infrastructure, and Data center automation & Orchestration. To earn this certificate, you must pass the 200-150 DCICN and 200-155 DCICT exams. If you are looking for resources to help you with these tests, Examsnap is the perfect platform for you.
CCNA Industrial
This certificate is aimed at traditional network engineers, control system engineers, and administrators in the industries of manufacturing, gas and oil, and process control. These professionals are involved in the convergence of industrial networks and IT. The exam candidates will be equipped with the skills and knowledge necessary for implementing and troubleshooting the commonest industry standard protocols. It also offers them the skill sets needed to function under the best practices required in today's connected networks. The students pursuing this certification must pass the 200-601 IMINS2 exam.
CCNA Routing & Switching
In today's technological world, enterprises are migrating toward controller-based architectures. With this development, the skills and role needed by core network engineers are consistently evolving and becoming more crucial than ever. The CCNA Routing & Switching credential is designed to prepare the professionals with the knowledge and skills in foundational technologies. To earn the certification, you are required to pass a couple of exams. You can take one test as a composite or take two ones separately. If you want to take the composite exam, you will be required to write a single test, 200-125 CCNA. If you prefer to take two different exams, you will have to write: 100-105 ICND1 and 200-105 ICND2.
CCNA Security
This certification equips the entry-level professionals for job roles like a Network Security Specialist, a Network Security Support Engineer, and a Security Administrator. As a matter of fact, it is the prerequisite for the CCNP Security certificate. To earn this Cisco credential, you have to pass the 210-260 IINS exam.
CCNA Service Provider
This credential is aimed at service provider network engineers, support personnel, and technicians who desire to implement and configure robust baseline Cisco Service Provider IP networks for the next-generation technology. The certification centers on the recent trends and core networking trends and technologies in the Service Provider industry. You are required to pass two exams to earn this certificate. They are 640-875 SPNGN1 and 640-878 SPNGN2.
CCNA Wireless
The certificate validates your ability to implement, support, and implements wireless LANs with the use of Cisco equipment. To earn the credential, you are required to pass the 200-355 WIFUND exam. Although it is a single test, you have to study hard to be able to pass it. You have nothing to worry about though, Examsnap is the perfect platform to access all the preparation materials that you need for this Cisco certification exam.
Conclusion
We have highlighted all the certification specializations under the associate-level program. Depending on your passion and area of interest, you can choose any of the paths to grow your career. You can be assured of great career potentials with any of these Cisco certificates. When you are ready to prepare for your exams, Examsnap offers you a wide range of tools to make your preparation process as seamless as possible.