Ever wondered if you can get a decent specced Windows-powered tablet for a price less than $200? Well, now you can get one. The Cube iWork 1X is a budget-friendly tablet with an 11.6-inch display, 4GB RAM, and Intel Atom X5-Z8350 processor. This 2-in-1 tablet can now be purchased from GearBest, for a highly discounted price of $187.99. As an icing on top of the cake, you are also getting a free Cube iWork 1X keyboard along with the tablet.
First Impressions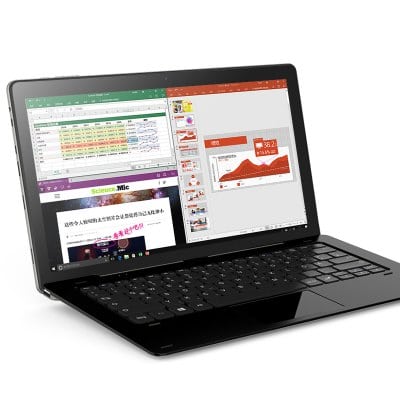 Design wise, the Cube iWork 1X looks just like a regular tablet with no fancy additions. They definitely could have done more in this area. There is nothing extraordinary about the design element of the tablet.
However, the rear side of the device is colored space gray which seem spellbinding for office use.
Design and Build Quality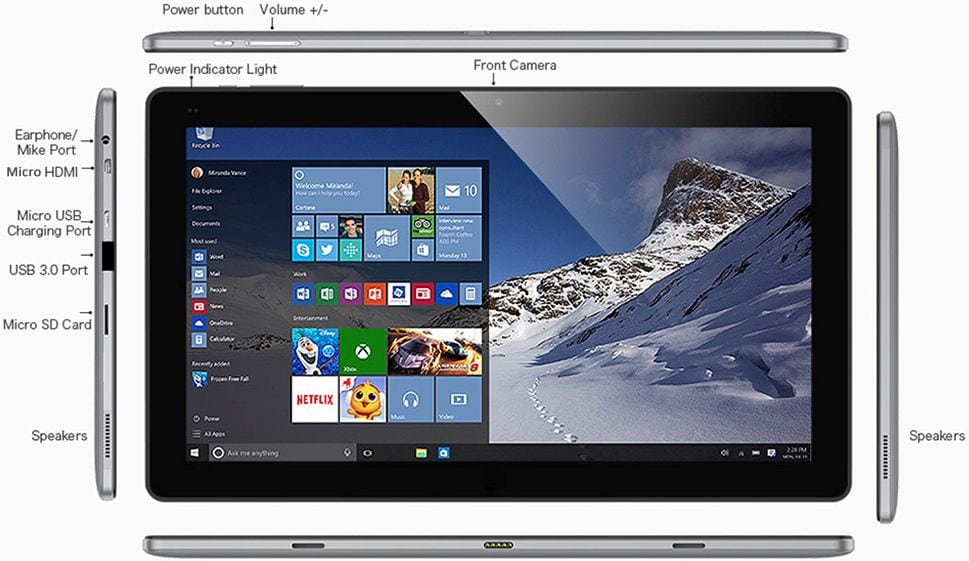 As I already mentioned earlier, the design and build quality are definitely not the best part about the tablet. It has got huge bezels and the whole tablet is made out of plastic.
The tablet sports 29.96 x 18.06 x 1.02 cm dimensions and weights just 740 grams. It has a 2 MP front facing camera, that lets you capture selfies and video-chat with friends and family.
Talking about the connectivity ports, the device comes with a USB 3.0 port, a mini HDMI port, a micro USB slot, a TF card slot and a 3.5 mm headphone jack on the right side. You can find the power button and the volume rocker on top of the device. It's worth mentioning that this 2-in-1 tablet sports dual built-in speakers, each on the right and left sides. The portability of the tablet is appreciable and can be carried into anywhere without any mess; thanks to the compact sized screen (11.6 inch screen) and thin body (thickness is just around 1.02 cm).
The tablet is designed in such a way that you can turn it into a laptop anytime you want; also thanks to the magnetic keyboard docking feature available on the device.
Display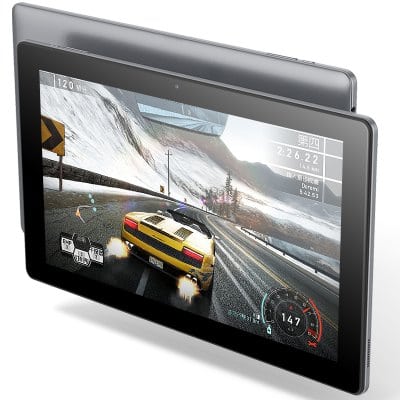 The Cube iWork 1X boasts a 11.6 inch IPS display with resolution of 1920 x 1080 pixels (Full HD). The touchscreen is not very smooth on this tablet and touch accuracy is something to be questioned. Keeping the touchscreen issues aside, the IPS display provides decent viewing angles and the 1080p screen boasts impressive colors. Also, the screen can automatically adjust screen brightness, according to the lighting conditions around it.
Performance
This low-budget tablet is powered by quad Core 1.44GHz Intel Atom X5-Z8350 processor along with Intel HD Graphics GPU. It is backed by 4GB RAM and 64GB eMMC storage, which can be expanded up to 128GB via a TF card slot.
In our review, the tablet struggled to run even the low graphic-centric games, including the Subway Surfers and Beach Buggy racing. However, daily activities like browsing the internet, video calling, reading eBooks didn't seem to be an issue on the device.
Battery Life 
The iWork 1X is supported by a 4.35V / 8500 mAh battery that promises 5+ hours of video playing time. The tablet can stay longer, for around 7-8 hours, if you're just using it for less power hungry activities like reading an eBook or listening to music.
Sound Quality
The tablet has got two Hi-Fi speakers, with one each on the right and left sides. Unlike other Chinese tablets that falls within the budget range, the sound quality of this device is pretty impressive, creating a rich, wide and detailed sound experience.
Wanna watch your movies on a bigger screen?
Are you dissapointed with the smaller screen on the tablet? Now you don't have to be. It has got an HDMI port that lets you connect it to your larger monitor / TV at home and enjoy movies to its fullest.
Quick Recap of the Specs
Processor – quad Core Intel Atom X5-Z8350 processor, clocked at 1.44 GHz
GPU – Intel HD Graphics
RAM – 4GB (DDR3L) | Internal Storage : 64GB eMMC flash (expandable upto 128GB via TF card slot)
OS – Windows 10
Camera – 2MP front facing camera
Connectivity – Bluetooth 4.0, Wi-Fi 802.11 b/g/n
Battery – Built-in 4.35V / 8500 mAh Li-ion polymer battery
Ports – a USB 3.0 port, a mini HDMI port, a micro USB slot, a TF card slot & a 3.5 mm headphone jack
Pros
Incredibly cheap
Full HD screen
Higher battery capacity
Works pretty good for daily activities, including video streaming, browsing the web, reading mails
Cons
No rear camera
No stylus
Not recommended for gaming
Box Contents
The tablet
1x USB cable
1x English manual
iWork 1X Keyboard (free)

Why Should You Buy?
If you're looking for an entry-level 2-in-1 tablet that fits your budget of around $200, then you should really consider the Cube iWork 1X on your list. Even though the tablet may not impress you in gaming and other graphic-hungry tasks, daily activities like browsing the web, streaming videos and reading emails works butter smooth on the tablet. You can now purchase the device from the on-going GearBest flash-sale, where it is now offered for 50% discount at just $204.92 (as of writing this article). Along with the tablet, you get an iWork 1X keyboard for absolutely free. So, make sure to grab the offer before it's gone.
About the iWork 1X keyboard (free)
On top of the 50% off on the Cube iWork 1X tablet, you are also getting a free keyboard: iWork 1X keyboard. The keyboard is priced around $64 and is one of the premium keyboards you can get in the markets today. It comes with magnetic docking interface design that lets you connect it to tablet PCs easily. It is known to be ideal for typing e-mails, chatting and playing games.
Related: https://www.androidtipster.com/category/tablets-on-sale/