A Review of Teclast 98 Octa Core Tablet PC
The Teclast 98 Octa Core, as the company calls it, doesn't exactly feature bleeding edge technology. But, for a price of $129.39, this budget Android tablet is one hella a deal you can't afford to miss. If you are looking for a cheap tablet with a big screen to essentially use it as portable TV, then you won't find a better deal than the Teclast 98 with a 10.1-inch 1920x1200p display.
The other main highlight of the device is that it comes with the support for dual 4G networks. Now, that is definitely not something we have come to expect from budget-friendly tablets, which usually are WiFi-only devices. Even Teclast's X3 Plus with $223.99 price tag, that we reviewed last year, doesn't feature a SIM slot for connectivity.
Design and Build Quality
Design wise, the Teclast 98 Octa Core tablet PC looks strikingly similar to Huawei MediaPad M2, except that the former doesn't have a home button. And, that's not a bad thing at all, the design looks sleek and classy if I am to say. Also, I am happy that Teclast didn't go for an iPad-like design like most other Chinese manufacturers out there!
Similar to other Teclast tablet models, the rear of this device is a mixture of metal and plastic, which gives it a premium look and feel to the tablet while holding it in hand. Weighing only about 0.466 kg, the 98 tablet feels incredibly light in hand.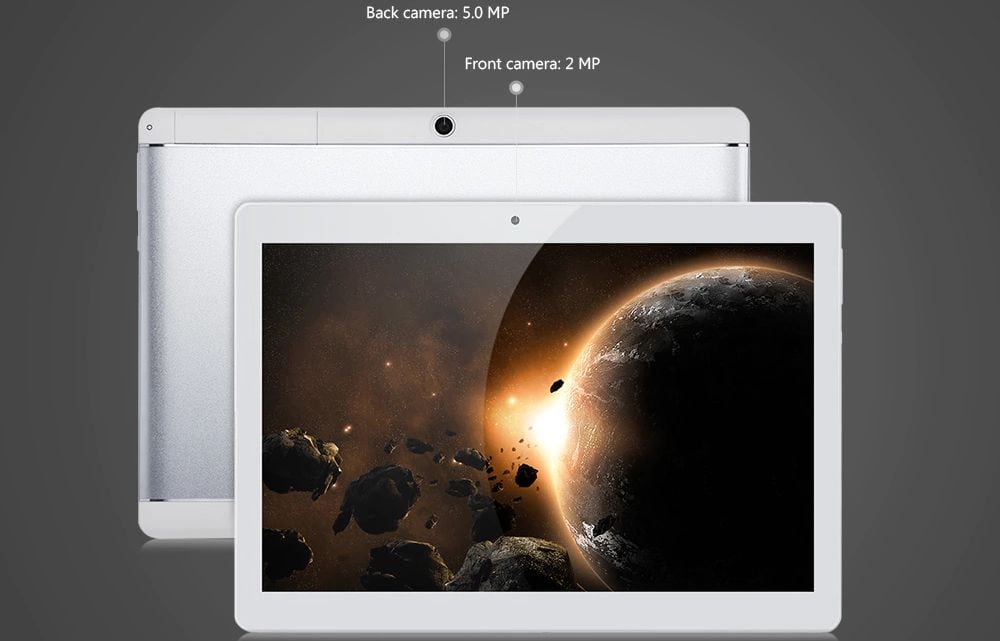 The tablet features a dimension ratio of 9.45 x 6.69 x 0.37 inches. In terms of imaging, it comes with a 5MP shooter on the rear and a 2MP snapper on the front. The micro USB port, for charging and data transfer, is located at a rather unwelcome location on the top. While on the right of the device, you'll find the 3.5mm headphone jack, volume rocker, and the power button. The slots for inserting SIM cards and microSD card are hidden behind a removable plastic cover on the rear.
One of the things I didn't like about the device is the placement of speakers. Located on the bottom part of the rear, the dual speakers are slightly inaudible for the most part, unless the device is turned upside down. However, if you're a headphone-person, this shouldn't be much of an issue.
Display
Up front, the Teclast 98 Octa Core features a large 10.1-inch IPS screen with a display resolution of 1920 x 1200 pixels (WUXGA). It's worth noting that, unlike the majority of Chinese tablets in the market, the Teclast 98's display looks pretty bright, sharp and offers decent viewing angles even when exposed to direct sunlight. Also, the display supports multitouch with up to 5 fingers at a time.
Performance
Internally, the Teclast 98 houses 64-bit octa-core MediaTek MTK6753 processor along with 2GB DDR3 RAM. Internal storage is 32GB, however, there is a microSD card slot that lets you expand storage up to 128GB. As I've mentioned earlier, this shouldn't be the tablet you're looking for if you're into professional gaming and video editing.
In our review, we tried running high-end games such as Asphalt 8 and Modern Combat 5. And unsurprisingly, the tablet couldn't deliver decent frames per second for the aforementioned games. However, less graphics-intensive ones in the form of Temple Run 2 and Subway Surfers didn't show any issues at all.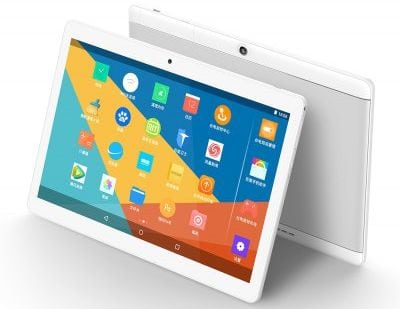 With only 2 gigs of RAM onboard, multitasking on this tablet is beyond the bounds of possibility. The tablet couldn't handle any more than five apps running in the background without lags. So, if you're a power user who does a lot of multitasking, it wouldn't be a good idea to get this budget tablet or any other budget tablets for that matter!
Related: https://www.androidtipster.com/category/tablets-on-sale/
On the flip side, if you're anything like me that uses the tablet for browsing, streaming videos, and reading emails, you wouldn't get a better tablet than this one for the price range. To be honest, you really can't find a tablet, budget or otherwise, for a price of $130 in the market these days. Taking that fact into consideration, the Teclast 98 Octa Core is definitely a value for your hard-earned money.
Camera
In terms of imaging, the device comes with a 5MP camera with AutoFocus feature and a flashlight. While on the front, there is a 2MP snapper for taking selfies and video calling. The camera sensors on the device actually performed better than I thought it would. In our review, we were able to capture some reasonably decent shots in daylight using the rear 5MP camera. The low-light shots, however, were of mediocre quality, which is quite expected from a cheap device. The 2MP camera on the front is good enough for video calling and the selfies I took using it turned out to pretty decent, too. So, in terms of camera quality, I'm sure you wouldn't be unsatisfied with this Chinese tablet.
Battery
To keep the lights on, the Teclast 98 houses a massive 4900mAh battery under the hood. The battery life, of course, isn't the best, however, you should be able to get around 4 hours of video playback on a single full charge. Of note, the battery charges from 0 to 100 percent within about 5 hours of time.
Teclast 98 Specs Recap
Display: 10.1-inch 1920x1200p IPS display
Dimensions: 9.45 x 6.69 x 0.37 inches
Processor: 1.5GHz octa-core MTK6753 (64-bit)
RAM: 2GB DDR3
Storage: 32GB eMMC
Camera: 5MP rear, 2MP front
Battery: 4900mAh (offers 4 hours video playback)
Connectivity: 4G (dual SIM), WiFi 802.11 b/g/n, Bluetooth 4.0, GPS
Ports: 3.5mm headphone jack, micro USB, two SIM slots, one microSD slot
Pros
Decent camera performance
Good display quality
High value for money
Cons
Not ideal for gaming
Battery life could have been improved
Not ideal for power users
Teclast 98 Octa Core Review: Verdict
As I've mentioned earlier, if you're a power user who does a lot of gaming and video editing, it'd definitely be a better idea to go for the Teclast X3 Plus. However, on the flip side, if you're looking for a tablet that you can use for performing simple day-to-day activities such as streaming videos, browsing the internet, and reading emails, and the one that won't break your bank, then Teclast 98 Octa Core is definitely something worth giving a shot.
Moreover, popular online retailer Amazon has this product