It's simple: Why should you choose the Teclast X10 Plus as your next tablet? There are many good reasons to get one, and we'll attempt to show them to you, so you can see why we consider it to be a high-value tablet.
As usual, let's start by reviewing the most relevant specifications for the Teclast X10 Plus:
CPU: Cherry Trail Z8300, 1.44 GHz Quad Core
GPU: Intel HD Graphic(Gen8)
OS: Android 5.1
RAM: 2 GB
Storage: 32 GB
Wi-Fi: Yes
Bluetooth: Yes
Dual Camera: Yes (2MP)
Dimensions: 10.19 x 6.42 x 0.37 inches
Weight: 580 grams
Screen Size: 10.1 inches
Screen Resolution: 1280 x 800
Battery: 7200mAh
Now, what more can you expect to get with this 2 in 1 tablet?
The Pros of the Teclast X10 Plus 2 in 1
Perfect Dimensions
This tablet has the perfect dimensions. With its 10.1-inch screen, you will never have to complain when watching movies, playing games or checking all sorts of documents. The good thing is that the 10.1-inch Teclast X10 Plus is spot-on, because it's size doesn't feel too small nor too bulky.
What's more, you can get it for only $128 using the coupon code "EBTEX1TP". Take advantage of this offer before it runs out!
Beautiful and Powerful Graphics: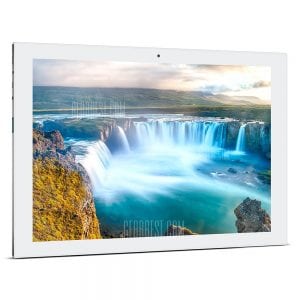 You need a tablet with a generous screen, but also beautiful and powerful graphics. You can get both things thanks to the Intel HD Graphic (Gen8) GPU. But that's not the only thing because the Teclast X10 Plus Tablet also has an excellent 1280 x 800 resolution. Remember you're getting tons of value regarding these features for only $128!
If you want to use this tablet exclusively for watching movies, videos or playing games, then you won't feel ripped off, because you will have invested in a high-end tablet.
Elegant Design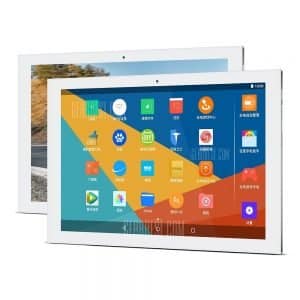 One of the things that stand out about the Teclast X10 Plus is the elegant design, which is a typical thing in Teclast's products. Even though it's around 580 grams in weight, it's very light, and the design will make you feel that way. We also have to note that the build quality is spot-on.
This tablet has opted for a minimalistic design, which is great. The beautiful pure white in the front, along with the elegant gray in the back, are a perfect match which as a result presents us with a tablet worth the money.
Decent yet Solid Performance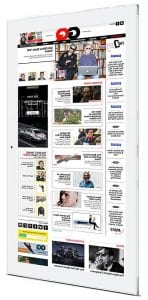 The Teclast X10 Plus is powered by a Cherry Trail Z8300 CPU. This will give you a very decent yet solid performance. It's supported by a 2GB RAM, which is just perfect for:
Watching videos
Watching movies online
Playing games
Checking and editing documents
Checking social networks
and much more.
The trick here to get the most out of your Teclast X10 Plus 2 in 1 is to don't open many apps at once. This tablet works the best when you limit yourself to opening 1-2 large apps at the same time, for smaller apps you won't have any issues.
Are you worried about the battery? Then you shouldn't, because it will last for quite long if you are responsible with its usage.
These are all the pros for this tablet. Now it's time to check the cons.
Related:Teclast X89 Kindow Reader Tablet PC Review and Promo
The Cons: Why the Teclast X10 Plus may not be the device for you
Don't buy it for camera purposes. A dual 2MP camera won't cut it for you, so if you want to buy it for camera purposes, you will be very disappointed.
Wish it had more RAM. 2GB RAM is cool, but in my opinion, I'd have liked if it was 4GB. But for such a low price, you can't really complain.
Conclusion
We can say that the pros overwhelmingly surpass the few cons. If you are looking for a very budget-friendly tablet, then you have found the right one. Get it on Gearbest, But be quick, because this offer will end soon!
Related: https://www.androidtipster.com/category/tablets-on-sale/