What's the best Wacom tablet to buy?
Whether you are looking to communicate visually with sketches and diagrams, enhance and edit your photos, or pursue artistic interests such as drawing, painting, or animating. Wacom has the perfect tablets that are just right for you.
To enhance your skills and productivity in art, you need to invest in the best tools. The best Wacom Tablet offers a seamless experience and enables you to move your career or hobby to greater heights.
There're many Wacom tablets on the market and getting the best might be a difficult task but not to worry because whether you're a beginner, a professional designer or just a hobby enthusiast, you're on the right track.
This article will help you identify the best Wacom Tablet on the market today.
Best Pick:
Wacom Cintiq 27 QHD Creative Pen and Touch Display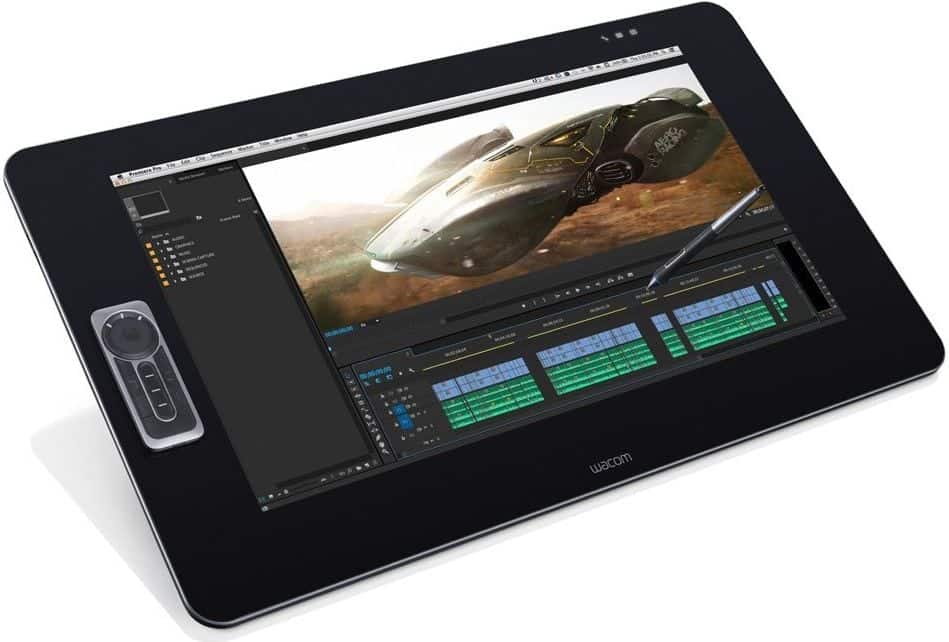 The Cintiq 27QHD Creative Pen & Touch Display Wacom Tablet is a supreme choice for drawing, painting, and image editing and creating 3D animations, all on professional levels.
The new ExpressKey Remote encourages a faster, more flexible workflow with a Touch Ring that helps you scroll, zoom and rotate with ease. Put it on the screen, beside your keyboard or right in your hand. Spend less time searching for what you need and more time getting lost in your ideas.
The Wacom Cintiq 27QHD Pen &Touch Display Tablet offers true-to-life color on a high-resolution display giving you clarity and color sensitivity in creative areas like image editing, 2D/3D animation, Game Development, Print and Pre-Press Proofing, and Graphic Design.
The Pro Pen offers ultra-fine precision through 2048 levels of pressure sensitivity, tilt recognition and comfortable ergonomic design. A selection of interchangeable nibs provides a range of different feels and possibilities.
The Cintiq 27QHD and 27QHD touch are not only incredible tools for creating art, but also offer color so precise that there is no need for a second color reference monitor for color-critical workflows – saving you time and money.
Enhance your comfort with an optional stand, which provides multiple possibilities designed to give you the natural feel of working on an easel or drafting table.
Wacom Cintiq 27QHD Specs
Type:

Pressure-sensitive, cordless, battery-free

Model number:

DTH-2700

Screen size:

27 inch (68.6cm)

Resolution:

5080Ipi

Weight:

19.8 lbs. without stand (9 kg) and 55.1 lbs. with stand (25.1 kg)

Expresskey remote continuous operation:

Up to 160 hours

Expresskey remote charge time:

Up to 2 hours

Displayable colors:

1.07 billion colors

Contrast ratio:

970:1

Aspect ratio:

16:9

Response rate:

12ms

Viewing angle:

178° horizontal/178°

vertical

Active area:

23.5 x 13.2 inch (596.7 x 335.6 mm)

Multi-touch:

Yes

Pen:

Pro Pen

Pressure level:

2048, both pen tip and eraser

System Requirements:

PC: Windows® 7, 8, & 10 and Mac: Mac OS X, 10.10, 10.11, & 10.12

PC and Mac Connection:

USB

Display Connection:

Display port and HDMI
Pros
Advanced design

QHD resolution

True-to-life colors

Pen-on-paper feel

Instant access to customized shortcuts and on-screen controls

Work in comfort

Pencil holder with 10 spare tips and a tool to extract the tips
Cons
Expensive

Heavier than the earlier versions.
The high-quality resolution of the screen enhances the super color clarity and makes the artwork so conspicuous and beautiful. I am very certain all professional artists will love it.
Runner-up:
Wacom Cintiq 22HD touch pen display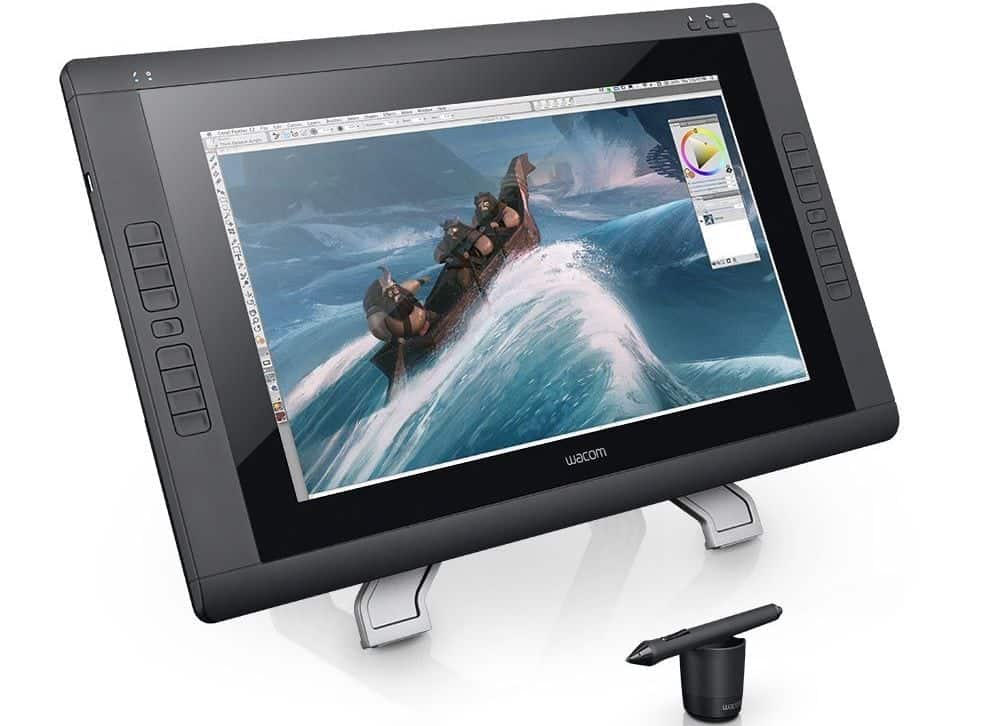 The Wacom Cintiq 22HD touch offers a seamless, on-screen creative experience for artists that want to work with both a pen and touch. Switching between the pen and your fingers feel smooth with little to no delay.
The 21.5" display features a full HD 1920 x 1080 resolution and feels like nothing less than a natural extension of your senses. The Wacom grip pen recognizes 2,048 levels of pen pressure, helping you create natural, subtle artistic details.
The Wacom Cintiq 22HD touch pen display is probably the most desirable drawing tablet in the market, it allows you to draw directly onto its screen. It is equipped with 16 programmable Express Keys that put convenient, application-specific keyboard shortcuts and modifiers at your fingertips.
You can easily accessorize it with a lot of compatible pro pens, pen tips as well as grips. You can choose any pen which is compatible with the device and can use it according to your own convenience.
Wacom Cintiq 22HD touch Specs
Screen size:

21.5"

Screen resolution:

1920 x 1080

Express keys:

16 user-assignable

Touch strips/Rings:

2 touch strips

Processor Count:

1

Product dimension:

25.5 x 2.2 x 15.7 inches

Weight:

18.7 pounds

Input:

Pen and multi-touch

Pressure level:

2048

Viewing Angle:

78° horizontal / 178° vertical

Colour:

Over 16.7 million colors

Contrast ratio:

900:1

Response Time:

14ms
Pros
The touchscreen is very responsive to the pressure-sensitive pen.

Full HD touch display

Efficient stand- it comes with an efficient stand that can be adjusted to your own preference

Configurable Express keys

Two-finger sensitive-touch strips

Three Years Manufacturer Warranty

Compatible with both Mac OS X and Windows

The stylus is well made and has an eraser function
Cons
Expensive, but its best in class.

Heavy
Overall this is the tablet to have for professionals who work on their tablets all day. Saving time without letting go of accuracy, control, and artistic principle, users can simply opt for the Cintiq 22HD touch pen display.
Best Graphics:
Wacom Intuos Pro-Large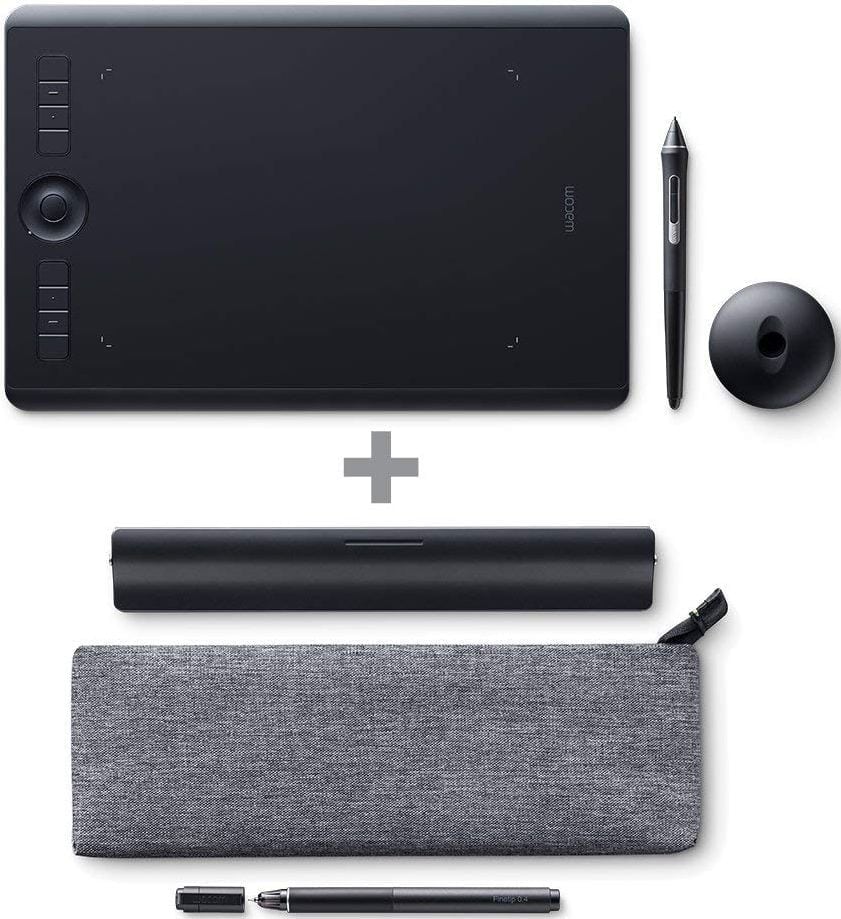 Generally, Wacom Intuos Pro tablets come in two sizes, medium and Large. But for the context of this article, we will discuss the Wacom Intuos Pro Tablet Large. It is manufactured with high precision materials and amazing designs.
It is one of the recent creative tablets on the market. In coordination with its high precision materials and amazing designs, it comes with built-in Bluetooth connectivity and a sleek new design that aids in the set-up and makes it look great on your workbench.
Wacom solved the connectivity bottleneck of various versions by discarding the USB WIFI dongle that aid in the wireless connection of other accessories to the tablet.
It comes with a built-in Bluetooth that allows you to connect to your Mac or Windows Pc, install drivers and prepares you to work in the software of your choice. The ultra-responsive Wacom Pro pen 2 allows you to connect creative work.
Finally, the quality materials and compact design give you the perfect drawing space.
The new Wacom Pro pen 2 fits as a natural extension of your hand. It gives you the control you need to take your work to the next level through its sensitivity and responsiveness.
The pen is outstandingly sensitive to pressure, supports natural tilt, has no lag, doesn't use batteries or needs recharging. Furthermore, the pen puts control at your fingertip using its three customizable buttons.
It lets you tumble objects, pan, zoom, model, sculpt or change creative tools in 3D and 2D applications. It comes with a new steel based pen stand that stores your spare nibs and has a built-in tool to make replacing them easy.
Wacom Intuos pro allows you to customize your work style using the Customizable Express keys and Touch Ring that offer quick and easy shortcuts for everyday tasks. Wacom pro pen's side switches put shortcuts and controls at your fingertips.
It also has Multi-touch gestures that allow you to navigate around your work just as if you're using your smartphone.
Wacom Intuos Pro-Large Specs
Active Area:

311x216mm/12.1×8.4in

Weight:

1300g/2.86Ib

Multi-Touch:

Yes

Stylus:

Wacom pen 2

Stylus Type:

Pressure-sensitive, cordless, battery-free, pen.

Pen pressure level:

8192, both pen tip and eraser

Tilt Recognition:

+/- 60 levels

Resolution:

5080LPI

Replacement Nibs:

10 per Pen 2 nibs (6 standards and 4 felt nibs in pen stand).

Pen Stand:

Yes

ExpressKeys:

8 customizable application-specific

Touch Ring:

Yes; 4 customizable application-specific

System Requirements:

USB port Windows 7 or Later (64bit) Mac OS 10.10 or later, Bluetooth classic for wireless connection to PC OR Mac, Bluetooth LE for wireless connection to mobile devices (in paper mode), internet connection to download and installation of the driver is required to make the product work.

PC and Mac connection wireless included:

Yes- Bluetooth classic for connecting to a PC or Mac; Bluetooth LE for connecting to mobile devices (in optional paper mode)
Pros
Delivers a fluid and responsive feel, decreased footprint and more robust connectivity

The paper edition adds the ability to sketch while disconnected
Cons
No application supporting its expanded pressure-sensitivity range and the paper editions. Fine tip pen ink doesn't last very long.
Best choice for beginners:
Wacom Intuos draw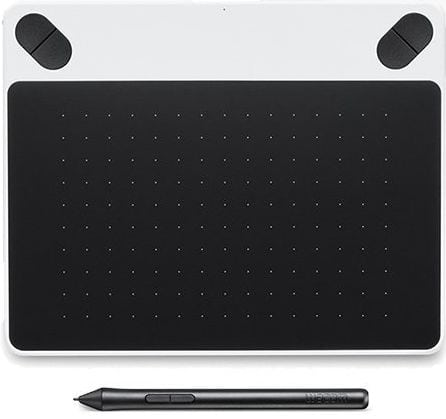 Wacom always provides an excellent user experience with any of its tablet PCs. The Wacom Intuos Draw is the perfect option if you are looking for a quality artist's tablet designed for beginners.
It's the best drawing tablet for artists in terms of price and value for money. This tablet is compatible with all major operating systems and can be used with programs such as Adobe Photoshop with ease.
The Wacom Intuos comes with a free drawing pack, which includes tutorials as well as the ArtRage drawing software. It also has four customizable Express Keys that put your favorite shortcuts like undo or copy/paste at your fingertips.
The drawing pen that comes with the tablet is battery-free, which is a great feature for those looking for a low maintenance device. They are fun, easy to use, and quick to set up. As for the performance, the tablet works great and does what is expected of it.
Wacom Intuos Draw Specs
Model Number:

CTL490DW

Software:

ArtRage sketching and drawing software.

Active Area:

152 x 95 mm (6.0 x 3.7 in)

Size:

8.25 x 6.7 in (Small)

Weight:

12.8 ounces

Display Size:

7 inch

Connection: USB

Resolution: 2540 lpi

Express key: 4

Pressure Level: 1024
Pros
Compatible with almost any computer.

Accessible and easy to use interface.

Pressure-sensitive pen.

Customizable Express Keys.

Lightweight.

Requires no battery

Perfect for early artists.

Free Drawing Pack Included.

Durability- Made of

high-quality

metal material.

Affordable
Cons
The small size and lightness of the pen make it difficult for people with large hands to draw with.

The stylus lags a bit especially when trying to draw quickly.
The Wacom Intuos Draw is a fantastic tablet for both beginners looking for their first tablet and experienced artists looking to upgrade their old ones and is very affordable.
An update to the best Wacom tablet

(2020)
Wacom Mobile Studio Pro 13

(Best for illustrators)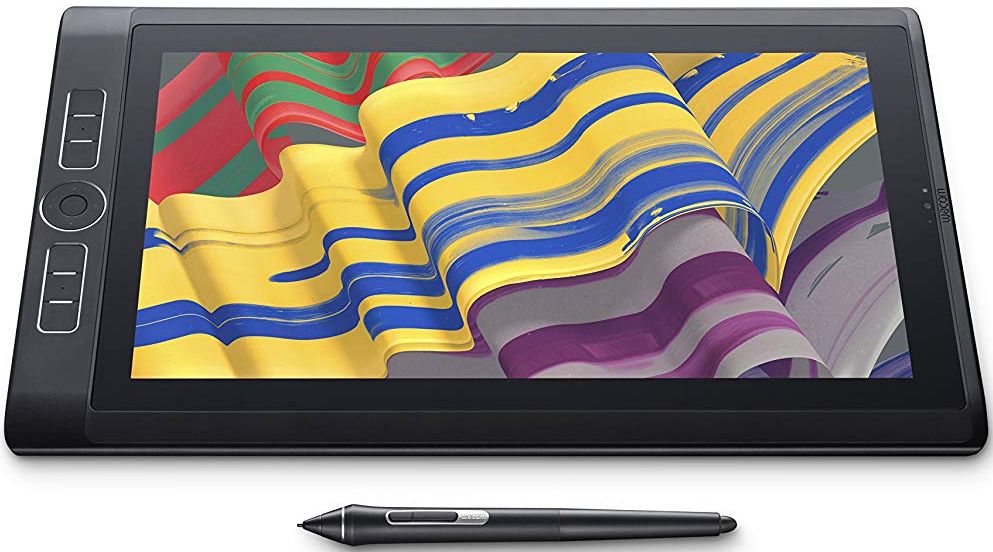 The Mobile Studio Pro 13 boasts the most idyllic digital stylus yet. The manufacturer built the Wacom Mobile Studio Pro 13 to be a creative tool, especially for illustrators.
Some of the reasons you'll love this tablet for include:
A Windows PC that is fully functional
Wacom Pro Pen 2 stylus: best on the market
Industrial Design remains strong
The display glass is matte, stops reflections
Display glass/stylus create perfect surface tension