A Review of the CyberPowerPC Gamer Xtreme GXIVR8020A5 Gaming PC
When considering a powerful gaming PC at affordable prices, CyberPowerPC Gamer Xtreme GXIVR8020A5 offering emerges as an obvious frontrunner.
CyberPowerPC has earned a reputation of building powerful machines with the latest, top-of-the-components and delivering them at a fairly inexpensive price point has repeated its trademark feat with the Gamer Xtreme range.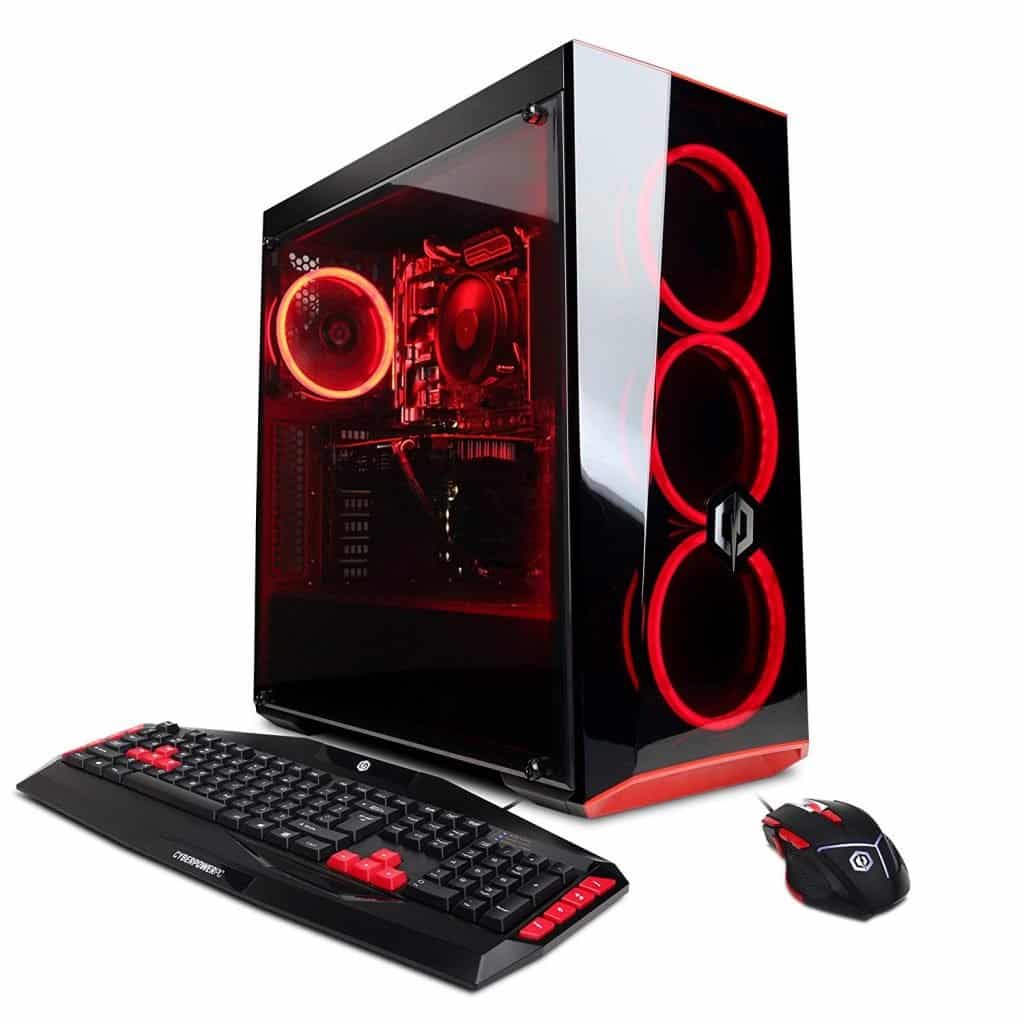 The GXIVR8020A5 gaming PC is a fine example of the hard-won standing of CyberPowerPC in the gaming community.
The Gamer Xtreme GXIVR8020A5, which fits between the high-end BattleBox Ultimate and CyberPowerPC's Gamer Master range, displays impressive muscle.
Even though the description makes it sound like the GXIVR8020A5 is a mid-range gaming PC, its performance and specs clearly defy that perception.
It is a well-loaded gaming rig with powerful components, a pleasing design, and even VR capabilities.
CyberPowerPC Gamer Xtreme GXIVR8020A5 Ratings
| | |
| --- | --- |
| Design– 4 Stars | Compact, elegant design jazzed up by red LEDs and easy access tinted glass panels on the sides |
| Performance – 4.5 Stars | Latest light generation Intel processor coupled with AMD Radeon RX 580 4GB graphics card make it a high power gaming computer |
| Connectivity – 4 Stars | Loaded with connectivity options but the optical drive is missing |
| Storage – 3.5 Stars | The missing SSD storage is the one clear flaw of this gaming PC |
| Overall – 4 Stars | A powerful with playability for the latest titles and VR capabilities. It can also be used for complex content creation tasks among other multi-tasking actions |
What Works
• Great design
• Excellent performance
• Latest Eight Generation CPU
What Doesn't
• Lack of an SSD Storage
A Quick Overview of the CyberPowerPC Gamer Xtreme GXIVR8020A5
The Gamer Xtreme GXIVR8020A5 by CyberPowerPC features the latest generation high-performance specs that put it right at the top of the league.
This gaming PC comes with Intel Core i5-8400 2.8GHz 6 Core processor, Intel B360 Chipset, AMD Radeon RX580 4GB graphics card, 8GB DDR4 memory, 1TB HDD and Genuine Windows 10 Home64-bit under the hood.
The latest Intel Core processors, along with ultra-quick DDR RAM, making it a robust gaming computer to handle system-intensive tasks such as gaming and high definition video playback smoothly.
The addition of a DVI, an HDMI and two Display Port, 6 USB 3.1, 2 USB 2.0, Audio 7.1 Channel and a gaming keyboard and mouse coupled with a powerful discrete graphics card, make the Gamer Xtreme GXIVR8020A5 a PC designed to support smooth multimedia and gaming experience.
If you are intent on destroying your competition, this CyberPowerPC will have your back!
Design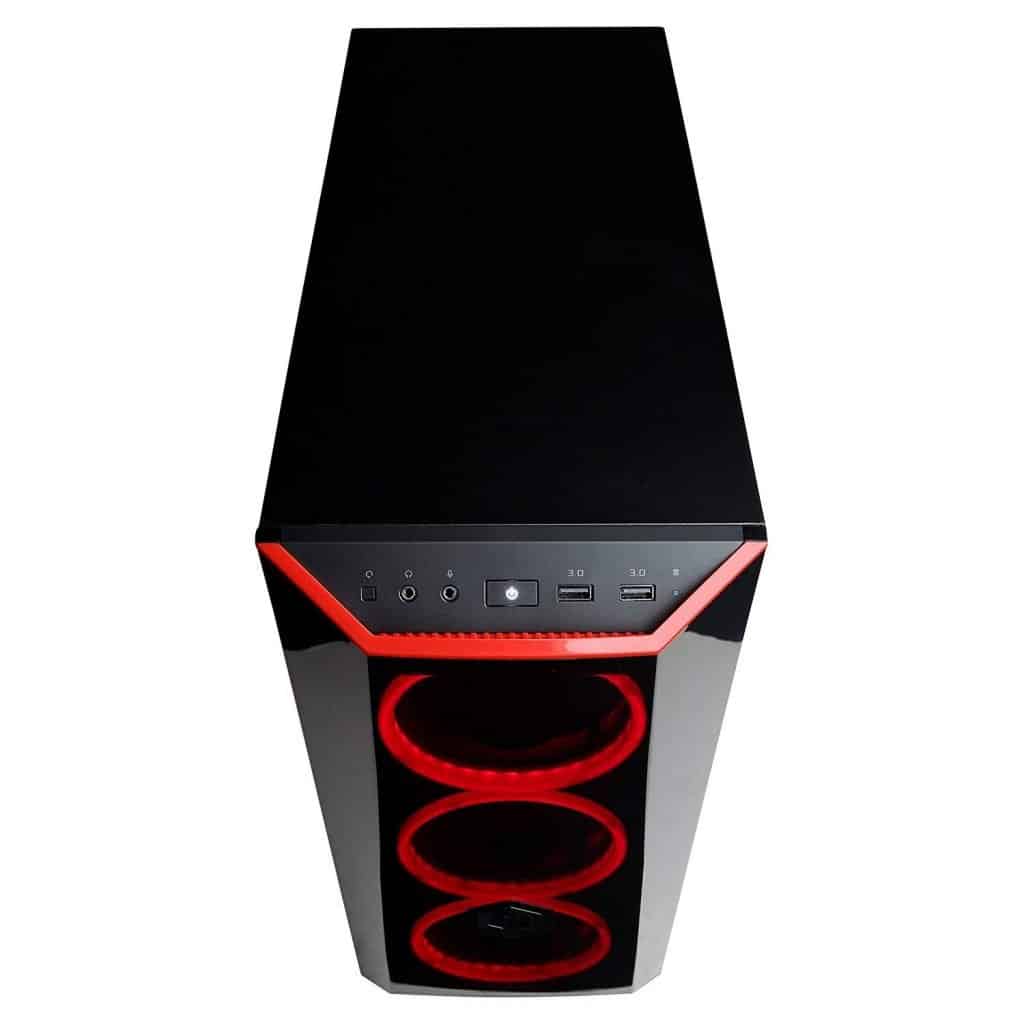 Gaming PCs have evolved immensely in terms of design over the years, moving from chunky PCs that took up large spaces on users' desks to compact, eye-catching towers, some of which are even smaller than mainstream PCs.
CyberPowerPC has remained at the top of this evolution, continually tweaking its design formats to suit the changing demands of the market.
The Gamer Xtreme GXIVR8020A5 comes with a standard tower measuring 17.9×7.9×8.5 inches.
The design and dimensions are in line with the standards followed by most gaming desktop PCs of the today.
With the Gamer GXIVR8020A5, CyberPowerPC has reined in its tendency to go overboard with the bling and deliver a gaming desktop computer with a tame, sophisticated spirit.
The Gamer Xtreme GXIVR8020A5 sports an aluminum case with a black theme and dotted airflow inlets at the top accentuated with signature red lights.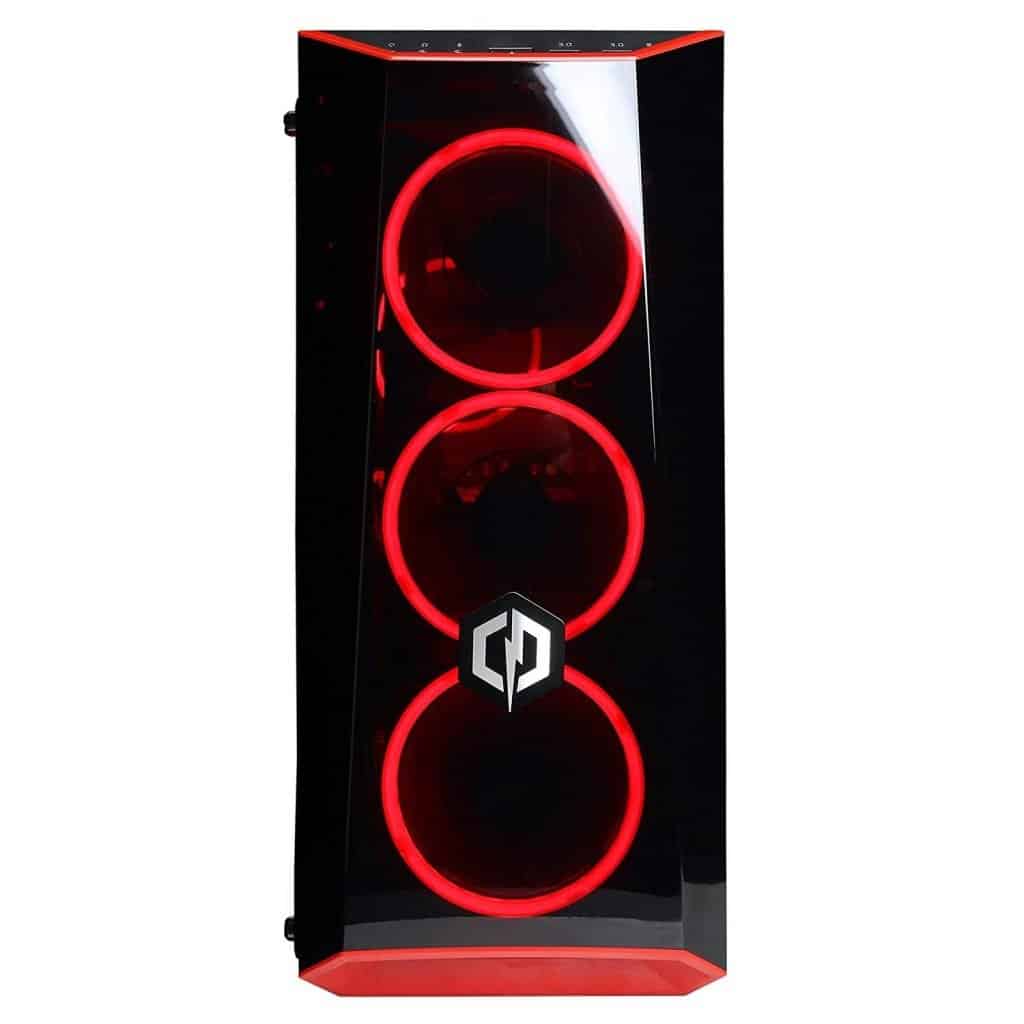 The front and side panels of the body are made of tinted tempered glass that not only offers a good view of the interior components but also facilitates ease of access.
Also, breaking away from the trend of myriad decorative LEDs lighting up the interiors, the Gamer Xtreme GXIVR8020A5 leans toward a more mature and serious singular lighting pattern in red.
To be honest, this is quite a welcome relief as an entire spectrum of rainbow colors shining out a gaming PC isn't exactly always pleasing to the eye.
The Gamer GXIVR8020A5 has a tastefully minimalistic design enhanced by a concentric rings trio on the front panel and CyberPowerPC logo near the bottom.
CPU
Top gaming setups typically ride on the combination of a top-notch CPU teamed up with an equally effective graphics card.
Getting this combination right goes a long way in supporting excellent frame rates for the latest game titles even at higher settings.
In the case of the Gamer Xtreme GXIVR8020A5, CyberPowerPC has successfully achieved that right combination by teaming up an Intel Core i5-8400 2.8GHz 6Core processor with an Intel B360 Chipset and AMD Radeon RX 580 4GB graphics card.
This is a more than a satisfactory configuration for a mid-range system giving gaming enthusiasts an incredible option to enjoy powerful gaming without having to build a gaming rig from scratch.
The CyberPowerPC Gamer Xtreme GXIVR8020A5 fits the classic definition of affordable gaming PCs in the sub-$1,000 categories designed to deliver impressive overall performance to suit game titles from different genres.
Be it playing mid-level games with 60 frames at 1080p or heavy-duty gaming with 144 FPS at 4K image resolution, the GXIVR8020A5 can deliver it all.
If CPU is the brain of a PC, this CyberPowerPC Gamer Xtreme has got a pretty sharp one.
Performance
The Gamer Xtreme GXIVR8020A5 is an upgrade to the Gamer GXIVR8020A4 released by CyberPowerPC last year when it comes to gaming performance.
Even though this gaming desktop was expected to ship with a host of new features, the only significant upgrade here is the use of 8th gene Intel Core i5-8400 2.8GHz 6 Core processor as opposed to the Intel Core i5-7400 3.0GHz chip used in the preceding model.
The other configurations, be it the AMD Radeon RX 580 graphics card or 8GB RAM, remain essentially the same.
However, the 8th gen Intel Core i5-8400 2.8GHz 6Core processor makes all the difference needed for the Gamer GXIVR8020A5 to shine as a stellar new addition on the gaming PC market.
The 'Coffee Lake'(Coffee Lake-S to be specific) is the latest chip in the market and works wonders in delivering on packing in more power for less money – which is the basic premise of CyberPowerPC offerings.
The newest Intel processor has the same basic architecture as the 7th gen processors but with notable improvements that enhance performance remarkably.
With six processing cores and a base speed of 2.8 GHz, this new chipset not only facilitates high-end gaming but also lends multi-tasking capabilities to the Gamer GXIVR8020A5, allowing users to use this gaming rig for a host of other tasks such as video encoding and photo editing.
Graphics Performance
The graphics card of a gaming rig holds the same place of prominence as the processor, if not more, in a gaming PC's performance.
It wouldn't be an exaggeration to call the graphics card the raison d'être of a gaming rig.
The use of AMD RX 580 graphics card is essentially what fires up the Gamer Xtreme GXIVR8020A5 as it does.
This relatively new mid-range graphics card that falls in the same category as the Nvidia's GeForce GTX 1060 GPU or the AMD RX 480 remains the go-to choice of gaming PC manufacturers worldwide.
In the case of the Gamer GXIVR8020A5, it helps deliver a crisp gaming performance at 1440p, which is definitely a marked improved on the 1080p gaming performance seen on most entry-level and mid-range systems.
Considering that the appeal of a gaming Pc boils down to its playability, in the end, the AMD RX580 graphics card definitely stacks in favor of the Gamer GXIVR8020A5, facilitating performance on par with much pricier behemoths.
The addition of VR capabilities and solid HD support further propels the Gamer GXIVR8020A5 right at the top, sharing the pedestal with other higher ranked desktop PCs in the category.
With the Gamer Xtreme GXIVR8020A5, you can play any modern game titles at top resolutions while reserving the 4K and 3D gaming functionalities for the real mean beasts in the heavy-duty gaming category.
Even when playing Grand Theft Auto V at 60.6 FPS and League of Legends at 176 FPS, all in 1080p resolution, you get more than your money's worth.
Connectivity
The Gamer Xtreme GXIVR8020A5 comes loaded with connectivity options but is missing an optical drive.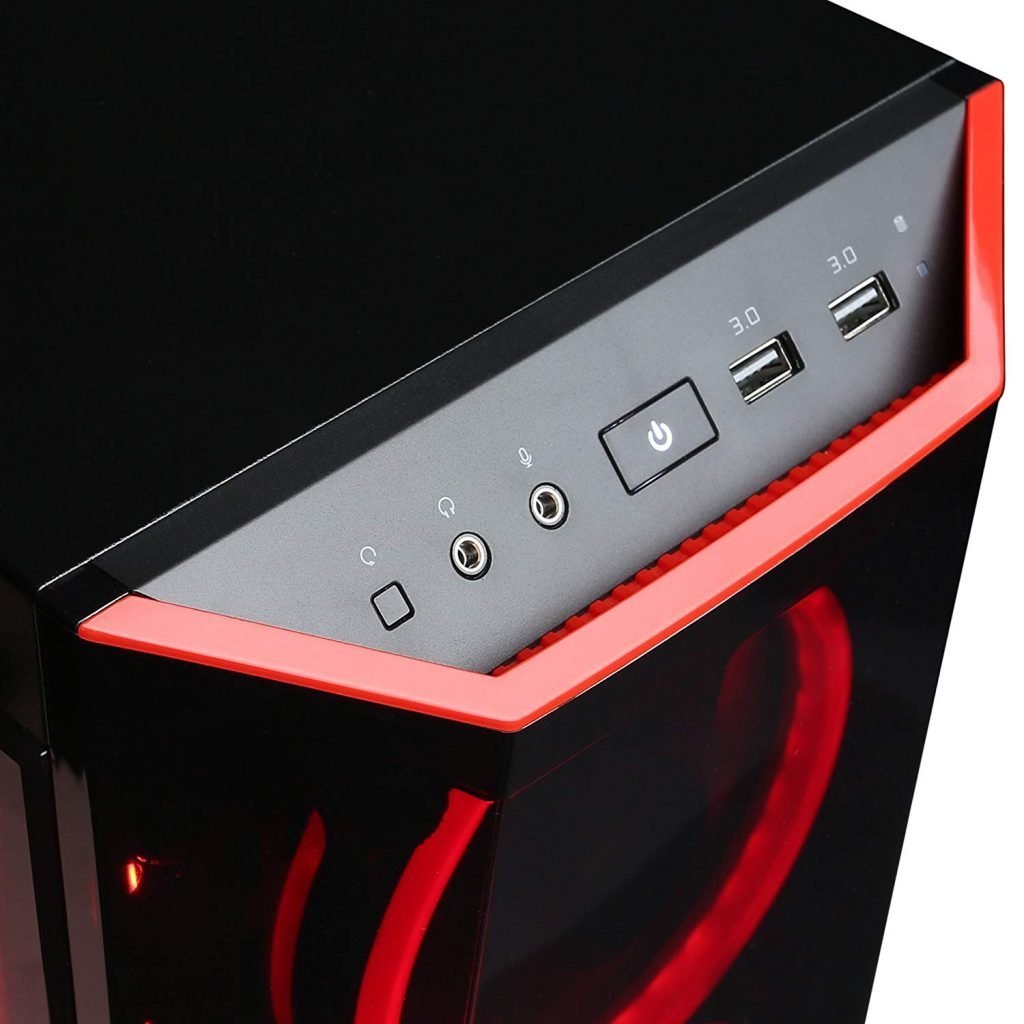 The trend of losing optical drives began in 2016 when computer manufacturers started considering them a redundancy for notebook computers.
By the end of 2017, the trend had percolated to desktop PCs as well. Now, with so many gaming computers, including the Gamer GXIVR8020A5, shipping without an optical drive, it looks like the death knell has been sounded on this one for good.
But then, you don't really need an optical drive when you can download all the games you ever want to play from digital platforms such as Origin and Steam.
However, the lack of optical drive is no indication of how well the GamerGXIVR8020A5 fares on the connectivity front.
The gaming PC comes loaded with connectivity options that include a handful of easy-access ports – two USB 3.0ports, headphone, and microphone jack along with a reset and power button –right on the upper deck.
On the back, you have an array of ports including four USB 3.1 Type-A ports, two USB 2.0 ports mainly meant for connecting the keyboard and mouse, an Ethernet port and audio ports.
The PC also has one HDMI and a Display Port for connecting to external displays, besides wireless connectivity through an 802.11AC Wi-Fi adapter.
Storage
Solid-State-Drives, or SSDs as they are commonly known, are a common feature in most mid and high-level gaming rigs. And for good reason.
Besides helping boost a system's performance, SSD also supports faster speeds for data transfer, which comes especially imperative for a gaming rig without an optical drive.
Given these dynamics and CyberPowerPC's reputation as a manufacturer that covers solid ground in manufacturing its gaming rigs, it is a surprise that even a small SSD to support boot program has been excluded from the Xtreme GXIVR8020A5 and replaced with a generous 1TB 7200 RPM hard drive.
Since the GXIVR8020A5 is an upgrade on the Gamer GXIVR8020A4, a lot of gaming enthusiasts were looking forward to improved storage choices in this gaming rig.
CyberPowerPC clearly did disappoint on that count. Despite the missing SSD, the Gamer Xtreme VR GXiVR8060A5 offers a considerably good storage option in form of a 1TB hard drive.
Conclusion
Like any other CyberPowerPC offering, the Gamer Xtreme GXIVR8020A5 is an excellent choice for gamers looking for a top-of-the-line rig without spending obscene amounts of money on one.
Even though it is pegged as the ideal gaming PC for value-hunters, it does not make it a cheap gaming PC. Instead, one that manages to hit just the perfect sweet spot of balancing features and functionalities with power.
The aesthetically appealing design definitely works in favor of the Gamer GXIVR8020A5, making it more appealing and eye-catching.
Not only is it not garish but also has the right compact size to fit on to a desk without eating up all the space.
The lack of SSD is still a glaring shortcoming but CyberPowerPC tries to make up for it by offering flexibility to customize storage options for the Gamer Xtreme GXIVR8020A5.
These may come in handy if you are willing to invest time in researching ways to make the most of it.
With these customizations, the Gamer GXIVR8020A5, like the Xtreme VR GXiVR8060A5, can be tweaked to club 1 TB hard drive with 120 GB SSD.
Even if you don't have the budget to go over and above what you are spending on the Gamer Xtreme GXIVR8020A5, this CyberPowerPC offering is good enough to hold its own when delivering on the promise of value for money and premium build quality.
All in all, the Gamer Xtreme GXIVR8020A5 is a mind-blowing gaming PC that can moonlight as an impressive content creation tool too and is likely to continue its stronghold on the market for the next few years.
Availability
The CyberPowerPC Gamer Xtreme GXIVR8020A5 is available on Amazon at a discount.