Are you looking to get in touch with someone but don't have their email address? Well, you might have used dozens of tools for email finding but only have found that none of them have worked.
The virtues of cold emailing are something you can't ignore. But even if it isn't a business matter and you are just trying to get in touch with a long lost friend, you need to explore a variety of tools to find their email ID.
We are going to assume that you have already gone through the "About Us" section and contact pages using social media without any luck. If this is the case, let us elucidate what other options you can use.
We all know there is a lot of information available on the internet and using Google we access it easily. You might find a person's email addresses by searching their names and contacts.
Yes, it's that simple.
You can search for the person's name with the company's name and you might end up finding their email ID in no time. Moreover, you can dig deeper with "Advanced Google Search".
You can also directly search for the "@domainname.com" using DuckDuckGo. This "@" is not going to work on Google because they use this symbol for social tags. Bing is also a good option but that's a thing of the past.
But hey, there are many other search engines to use, right?
Use DuckDuckGo for the exact search and it will provide you with a list of email addresses associated with that particular domain. However, the email ID needs to be publicly available. You can also add the person's name to the search.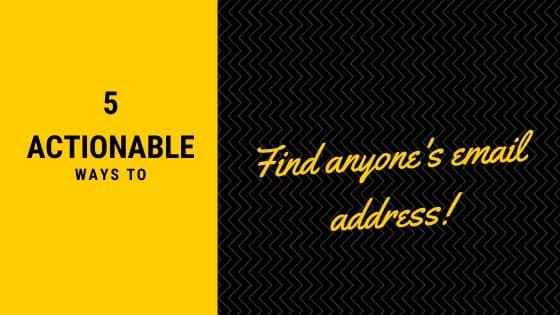 Most of the email addresses follow one of many rules. If you know the last/first name and the domain of your prospect, then why not make a guess.
Approximately 70% of email addresses in the contact lists have a [email protected] format. The most common formats are:
First name

Last name

First name and Last name

First name and last name initial

Last name initial and first name

First name initial and last name

Initials
Boy, this is really time-consuming. But wait – here's a shortcut for you.
You can use Email Permutator+ from Metric Sparrow. This tool will automatically generate a list of all possible email address formats. You just need to enter the first and last name of the person along with the domain and you will get your results in a matter of seconds.
People do mention their email addresses on social media pages. Just search them online.
You might be thinking, "How come I've gone through so much difficulty in finding the email address that I want?"
Well, the answer is pretty simple. You haven't looked in the right place…
For example, people tend to use their email addresses quite regularly in their tweets. For hiding their IDs from the bots, they use the words "at" and "dot" instead of using the symbols in their email addresses.
You might have guessed our next step already.
Just visit the Advanced Search page on Twitter and search the words "dot" and "at". You need to look for these words from the tweets of your prospect. For narrowing down your results you can use keywords like "reach", "contact" and "email".
Yes, you read that right.
Just look beyond the "About" and "Contact" pages.
Using People Search Engines
People search engines are arguably the best tool for digging up email addresses.
Perform your search with Nuwber and you'll find the contact details of your prospect in no time. You can search for an email address by name, phone number and even via home address!
Here's where it gets better…
With Nuwber you can also access public records, property ownership, contact details and so much more. Just enter the first and the last names of your prospect along with the state or city. In this way, you can also find details about the unknown caller from the other day and your new neighbor.
Using email lookup services
Another excellent tool that you can use and it is perhaps the easiest of them all is an email lookup/discovery service. Just provide them with the name and website of your prospect and they will start working their magic.
Wait, we're not through yet.
There are a number of services that you can explore in this area. You might feel a bit overwhelmed here. But how can you beat that? Well, you can either choose free or paid searches with monthly subscriptions based on your needs and requirements.
Conclusion
These options work in most cases but we cannot declare a clear winner here. It is better for you to use them in combination. You can go for paid services when you want to find a contact for your business. If you are doing this to find a friend, then go for free search engines.