Did you know your android device lets you view information about its hardware and system? If you didn't it's not necessarily a bad thing (although you should be looking out for the android police) cause chances are you probably will never find these information useful if you use your device correctly. Your Android device holds a large amount of information that an average user might find difficult to access. So I'm about to share with you some android secret codes, this post should cover a wide variety of android devices so pull your seat closer and let's get started.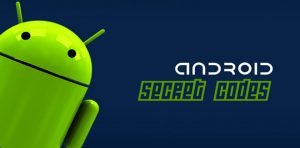 Here's what you can do with these secret codes:
– you can factory-reset your device,
– find out its hidden camera information,
– instantly back up your precious data, and much more
To enter these codes you just need to pull up your dialer keypad and enter the appropriate number sequence. Some codes may not work with all devices because they're specific to the carrier so don't panic when they don't, just move on and find another one. Let's kick this party off with:
Generic Android secret codes (should work with most Android devices)
*#06# – IMEI (International Mobile Station Equipment Identity) number – essential in case your device is stolen and you want to block the thief from accessing your network. Always keep this number somewhere safe in case you lose your phone and need to protect your personal information [those pics, ehh? 😉 ]
*#*#7594#*#* – Make Power button turn off your device without displaying menu
*#*#4636#*#* – Display information about phone, battery, usage and WiFi
*#*#7780#*#* – Factory reset (deletes app data and apps, not firmware)
*2767*3855# – Complete phone wipe, including firmware (careful with this one!)
*#*#273283*255*663282*#*#* – Back up all your photos and videos*#*#1472365#*#* – Test your GPS
*#*#1234#*#* – Display phone firmware and PDA info
*#*#232338#*#* – Show WiFi Mac address
*#*#8255#*#* – Access GTalk Service Monitor
*#*#36245#*#* – Access Email debug info Email
*#*#225#*#* – Events calendar
*#*#426#*#* – Debug info for Google Play Service
*#*#759#*#* – Access Google Partner Setup
Many of the codes I mentioned above will also work on Samsung devices, but the below codes were tested specifically on Samsung devices by the good fellows at androidpit.com, and they can confirm that they should work on them (subject to carrier restrictions).
*#*#34971539#*#* – Show all camera information
*#*#197328640#*#* – Enable test mode for services
*#*#232339#*#* – Wireless LAN test
*#*#1575#*#* – Test your GPS (alternative to generic Android GPS test)
*#*#0*#*#* – Test your LCD display
*#*#4986*2650468#*#* – Display crucial phone information (PDA, Hardware, firmware etc.)
##778 (followed by the Call button) – EPST menu
You can try some of the codes listed above (generic) on HTC phones. Most should work, but HTC also packs some of its own codes.
*#*#3424#*#* – HTC function test Program
*#*# – HTC Info menu
*#*#8255#*#* – Launch GTalk Service Monitor
##3424# – Diagnostic mode
##3282# – EPST menu
##8626337# – VOCODER
##33284# – Field trial menu
##786# – Reverse Logistics Support
##7738# – Protocol Revision
Is there something you need to find out about your device? Use the comments section to ask me or contact me directly via email.
Update: *#*#2846579#*#* will help update your smartphone system. Also has other interesting features. Submitted by the good folks over at Jumzler