India is the second largest smartphone market after China with more than 430 million users of smartphones. The Network carries in India presently delivers the cheapest 4G data and provides FREE local and remote calls across the nation.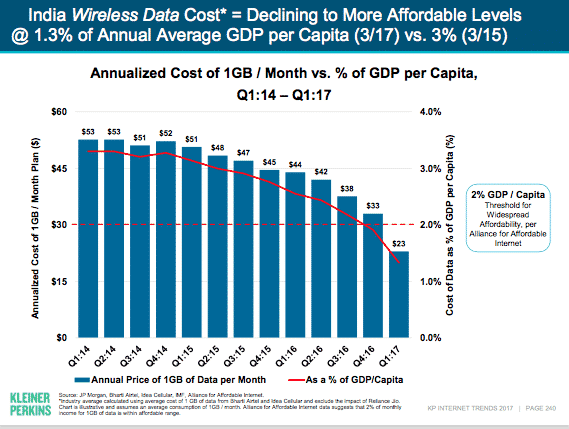 The Cable study found the average cost of USD 0.26 per one gigabyte (GB) in India is very cheap relative to USD 6.66 in the UK and USD 12.37 in the US. India emerges at the top to deliver the most affordable mobile data advantages.
For the Indian market, 1 GB of data in the region was available for about as ridiculously low as Rs 1.75 (USD 0.02) and as high as Rs 99.9 (USD 1.4). The cost of every country's cheapest mobile data package is precisely that. It is the cheapest way to get 1GB of data. It's not just the cheapest package price.
BSNL, Bharti Airtel, Vodafone Idea and Reliance Jio are among the Indian telecom operators. The mobile data cost started crashing in India in September 2016 in the wake of Reliance Jio's free voice and data offerings.
Airtel, BSNL and Vodafone Idea have data packages of 2 G, 3 G, and 4 G, whereas Jio has data plans of the only 4G. More particulars about the network details are out of scope due to a vast number of plans available. Some of India's 2 G and 3 G data plans are cheaper than 4 G offers. 2 G networks don't even provide customers with high – quality mobile data. India had plans with Rs 1.75 (USD 0.02) and Rs 99.9 (USD 1.4) for 1 GB of data available in the country. The world's cheapest cellular data plan is USD 0.02.
Network carriers have had to rethink their strategy in the Indian market since the start of Reliance Jio in 2016. JIO provided Indian consumers with a free voice and data benefits without charging a single rupee. Consumers just had to get the Sim free of charge and in the name of beta testing continue to use all the benefits of a network for free. This put heavy pressure on completion, and after suffering heavy losses, many telecom operators had to leave Indian Telecom Market.
This new company made history in the very first month with the acquisition of 16 million subscribers. This is the highest rate anywhere else in the world to acquire new customers from any cellular network operator Reliance Jio crossed 50 million new subscriber mark in 83 days. They have crossed 100 million subscribers on 22 February 2017 since the commercial launch of their network. It had about 130 million subscribers in October 2017 in just seven months.
By charging consumers only for data use, they acquired those many customers by giving free cell phone calls to all customers with no terms and conditions. This put enormous pressure on the fierce competition, and it was necessary to adjust the rates to counter the aggression of Reliance Jio. As a result, India became the world's cheapest mobile data provider with a cost of 1 GB only Rs 18.5 (USD 0.26) compared to a global average of about Rs 600 (USD 8.56).
India is followed by Kyrgyzstan where mobile data for USD 0.27, Kazakhstan (USD 0.49) and Ukraine (USD 0.51) are available for 1 GB of data. Zimbabwe is the most expensive country with an eye-watering USD 75.20 average cost of 1 GB data.
African countries: the cheapest and most expensive Data rates
African countries come with the cheapest and most expensive rates, offering data prices below USD 1 but Equatorial Guinea and Saint Helena both charge more than USD 50 per 1 GB. The average cost of one GB of mobile data in China is USD 9.89. For an average of USD 0.87, Sri Lanka offers 1 GB of data while Bangladesh labels it at USD 0.99. 1 GB is available for USD 1.85 in Pakistan.
The Western nations are naturally more expensive, and the UK performed especially poorly ranking 136th for the cost of 1GB of data worldwide. Although the study doesn't work well in these sorts of markets, for example, we found a Vodafone offer right now that's a pay as you go deal that has 70GB for just £30 a month, giving a price of £0.42 or $0.56 USD which isn't taken into account.
The Jio Rise marked the end for many Indian telecom operators, such as Japanese Telecom Operator Docomo, who had a successful partnership with Indian Company Tata and made good profits before Reliance Jio arrived. Reliance Jio currently forced companies to merge/take over telecommunications operators to provide reliable data and voice connectivity to Indian consumers and to charge them as low as possible.
The Indian market's cutthroat competition is stable for now, but the rise of 5G connections can shake the Indian Telecom industry once again for the future. But for the time being, a merger between the British Vodafone company and the Indian Aditya Birla conglomerate Notion is the highest telecom operator and the second largest telecom operator company in the world, with a total combined user base of 416 million users followed by Bharti Airtel (359 million) and Reliance Jio (280 million).