The sports betting industry has been undergoing a great deal of evolution and expansion of late. For one thing, it's facing significant geographic expansion via the American market, which is slowly opening its doors to online gambling from a legal standpoint. Additionally, however, the industry is becoming significantly more technologically advanced and digitally oriented.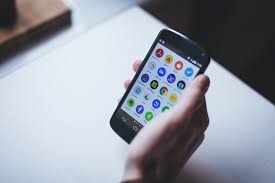 Taken all together, these changes mean that the betting business will soon look very different than it did even a few short years ago. And as part of the evolution, there's reason to believe that mobile apps will begin to play an even more significant role than they already do.
Regarding the expansion of the industry into the U.S. market, it's worth noting that Americans, by some statistical measures, use their mobile devices for a greater percentage of their digital engagement than other countries around the world. Case in point, one relatively recent overview of populations' digital activity included an infographic displaying the percentage of digital minutes spent on mobile. It indicated that U.S. users experienced 71% of their digital engagement time via mobile devices (as compared to 62% in Canada, 61% in the UK, and an equal 71% in China). Furthermore, the same survey indicated that across nations, 90% of mobile engagement occurs through apps.
Given those numbers, you almost don't need to hear any more. In the U.S., where online betting is poised for its next big boom, there is a clear preference for mobile usage, and specifically mobile app usage, over internet browsing. This would seem to set the stage for apps relating to the budding betting industry as the main hubs for activity moving forward. In addition, however, it's worth looking into the aforementioned note regarding the technological advancement of betting companies online.
Simply put, new and established online sports bookies alike have been putting significantly more effort into their mobile presentations, whether through dedicated apps or app-like compatibility for site usage via phone. Just a few years ago, the average betting site would only have had a crude mobile presence, perhaps without even a full suite of features. Now, virtually all online features are available just as smoothly via apps. And as a result, online bookie overviews in the U.S. are emphasizing the need to find a strong mobile presence when seeking out a bookmaker already. It's understood, essentially, that bettors seeking reputable online bookies prefer a mobile component, as opposed to a desktop-only option. And this may be particularly true of the new, target U.S. audience.
In addition to the fact that mobile apps are now providing services every bit as appealing as their website counterparts, we should also note that there are newer betting experiences emerging that are specifically suited to mobile devices. For instance, right now there's growing chatter about combining the betting experience with in-person sports viewing. This talk tends to specifically surround the use of virtual reality technology, with leagues like the NBA already experimenting with virtual reality packages for bettors. The idea is basically that a bettor can be sitting at home watching an NBA game through virtual reality, with live, in-game betting options unfolding before him in real-time, in virtual space. At the same time, however, the version of this experience for fans who are actually attending sporting events, or simply watching them on ordinary television, almost has to involve mobile apps.
Even if the VR concept comes along, the growth of live, in-play betting will inevitably lead to more fans pulling out their smartphones while watching games in order to make bets on the action as it unfolds. Imagine, for a moment, that you're attending a Los Angeles Lakers game, and your phone vibrates at one point with an app alert from your chosen digital bookie, asking you if you'd like to bet on LeBron James's point total for the upcoming quarter of play. This may well be the future of sports betting in the United States.
The only thing that might once have been poised to stop this evolution of the industry is security. It's conceivable that some would-be mobile bettors will still place more trust in professional websites than their accompanying apps, whether or not it's logical to do so. However, with modern smartphones having become more secure than ever, and antivirus and VPN technology now able to protect data and browsing on mobile devices, security really doesn't look like a concern anymore.
With that hurdle out of the way, the trends and evolution outlined above make it clear that mobile apps are likely to become the preferred medium for modern sports betting.