As the title states, we are going to review the Teclast X80 Pro Tablet PC. Is it a good tablet? Does it have a solid performance? Is it worth the money? We are going to answer all these questions, so stick with us as we look at the reasons why the Teclast X80 Pro Tablet PC is a good option.
In case you didn't miss it: at the time of posting this article, there was Flash Sale for this tablet on Gearbest.
As always, let's start by checking the most relevant specifications for this product:
• CPU: Intel Atom X5-Z8300, 1.44 GHz Quad Core
• GPU: Intel HD Graphic(Gen8)
• OS: Windows 10 + Android 5.1
• RAM: 2 GB
• Storage: 32 GB
• Wi-Fi: Yes
• Bluetooth: Yes
• Dual Camera: Yes (Front and back are 2MP)
• Dimensions: 8.19 x 4.96 x 0.39 inches
• Weight: 300 grams
• Screen Size: 8 inches
• Screen Resolution: 1920 x 1200
• Battery: 3800mAh
These are the main specs. Now let's get to the section where it all gets interesting: the pros.
The Pros of Teclast X80 Pro Tablet PC:
Sexy and Exquisite Design: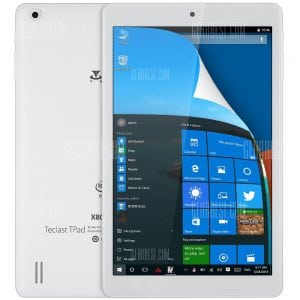 One of the things that stand out the most from this product is the sexy design. Let's be honest right here: the design is almost the same in all Teclast's tablets. But it doesn't rest any glamor to this tablet because the design is simply spot on: elegant, simplistic and straight to the point.
Your tablet can be great, but if it's ugly, then you won't feel very proud when you take it outside. So do yourself a favor and get this sexy tablet. Now let's give a look to other more functional parts of this product.
Rock-solid Performance: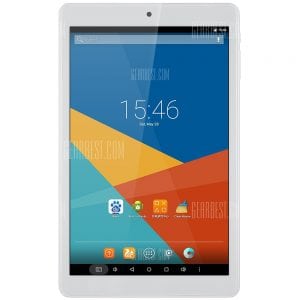 What if I told you that this tablet is sexy and also has a rock-solid performance? Well, it's possible with this Teclast tablet!
Thanks to its solid Intel Atom X5-Z8300 1.44 GHz Quad Core processor, you can watch your favorite movies, play games and do almost everything you want smoothly. Contrary to other tablets that tend to lags, you are very unlikely to experience those annoying situations with this one.
The RAM also helps, which is 2GB. It's not super powerful but is exactly what you need to have a solid performance. You can store lots of apps and documents thanks to the generous 32GB storage capacity. In short: a sexy tablet with a great performance.
Exquisite Display: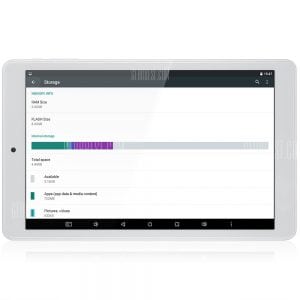 The display and quality of graphics is very relevant as well. The 1920×1200 resolution, along with an 8-inch screen, will bring you very vivid graphics, which is great if you want to watch movies or play games. The GPU is spot on and will offer you a great experience when gaming or watching videos. On this side, the Teclast X80 Pro Tablet is a great choice as well.
Decent Battery:
The battery will last for a long time if you use it with responsibility, which means not playing games for a long time, like Bad Piggies or other high-energy consuming games. If you want to use it to check your documents on college or work, watch some videos, check your email amongst other routine activities, then you won't be disappointed.
Those are the principal pros from this product. Now, as always, it's time to check the cons, because everything cannot be perfect.
Related:
The Cons:
• Not the best pick for camera purposes. The camera is fine for chatting with your friends through Skype or just taking photos with your friends. But you shouldn't get this one if you are going to use it for camera purposes. You will be disappointed.
Related: https://www.androidtipster.com/category/tablets-on-sale/
• Not designed for heavy usage. As we have said before, don't abuse this tablet, because the battery won't go along with you. But for the price you can't really complain, it's quite decent.
Conclusion and Verdict:
We have to say that the Teclast X80 Pro Tablet PC is a great cost-effective pick for those on a budget. It's dirt cheap and offers a solid performance, a sexy design, beautiful graphics and a long-lasting battery. What are you waiting for? The best time to get it is now through GearBest.com! Take advantage of this crazy promo before it runs out!