A Review of the Huion GT-191 Tablet PC
For as long as drawing tablets have been around they have been looked at as an empowering tool fuelling the creative genius of artists by offering a digital extension to make their creations come alive. Many serious artists and creators swear by the proficiency of these specially designed drawing tablets in adding more versatility to various art forms. However, so far, there has been a big gaping hole in this segment as far as value for money is concerned. The advanced variants that allow you to create right on the tablet screen are steeply priced, whereas the affordable variants come with a cumbersome process of making creations come alive on a computer screen with help of dedicated programs. Filling in this gap is the Huion GT-191 tablet PC that packs in great functionalities at an affordable price point.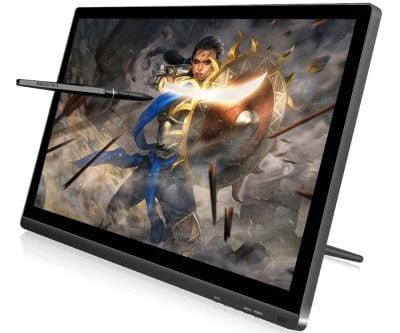 Overview of the GT-191
The GT-191 is a sleek tablet sporting a 19.5-inch screen with full HD display in 1920×1080 pixels of resolution. The sensitive screen is capable of supporting 8192 levels of pen pressure, which is on par with some of the most premium devices available in this segment. The pen used for design creation can be used straight out of the box and offers an effortless experience without requiring any external pressure curve editor assistance. The tablet is priced at $489 on GearBest, so it isn't the most affordable option available but certainly, one that packs in most value for money, given its high-end specs. The generous screen size, excellent display quality and ease of use are just some of the things to love about the Huion GT-191 tablet PC.
Unboxing the Huion GT-191 Tablet PC
The Huion GT-191 comes packed in a compact box, carrying a surprising amount of elements inside. Apart from the GT-191 tablet, you get: 
two Huion Pens,

pen nibs,

pen holder,

pen charging cable,

a hand glove,

Driver CD,

user manual, and

USB, VGA, HDMI and AC cables, along with a power adapter.
They are thoughtful enough to pack in a set of screws as well as screwdriver that can come in handy when attaching or removing the tablet stand.
GT-191's Design
The GT-191 sports a sturdy yet sleek design with a well-finished plastic casing. The design has been kept minimalistic without any extra shortcut buttons on the body, which should work for most artists as working with a keyboard is more efficient anyway. The monitor is supported by a rubber pad for better grip and extra cushioning when using the device on a stand.

The stand itself feels pretty solid and replicates the build seen in several other tablets PCs catering to this segment. It adds more versatility to the device usage by locking firmly at varied angles. The tablet also has well-labeled image buttons at the bottom right, making it easy to navigate through designs. The GT-191 tablet weight nearly 3.3kg, making it a light device to mount on the stand. This also facilitates ease of using this device in limited spaces.
The Screen
As mentioned before, the Huion drawing tablet comes with 19.5-inch display in full HD 1920×1080 resolution. Enhancing the display quality of an already impressive screen is the 72 percent NTSC color gamut and 3000:1 contrast ratio, making it capable of displaying a whopping 16.7 million color palettes. There is a matte screen protector attached to the screen, which does a fine job of reducing glare significantly and giving the tablet screen a paper-like feel.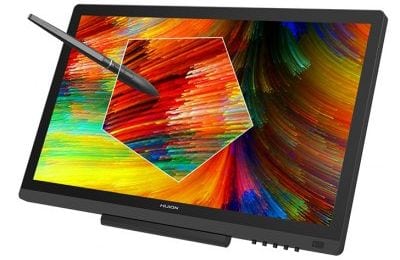 You can glide your hands over the screen even as you work on your creations, recreating that old-school romance of feeling your designs come alive with your touch. Despite all its qualities, the attachment of screen protector does have a tiny flaw. It is stuck on to the screen with help of four adhesive tapes, leading to gaps that can trigger rainbow-like color formation in the air pockets. You can get rid of this distracting element by simply having the pre-attached screen cover replaced by another screen protector that can be pasted on the screen instead of being held with adhesive tapes.
The Pen
The Huion Pen included with the GT-191 comes with 8192 level of pressure, which is on par with some of the premium offering by leading market players such as Cintiq and Wacom. The pen has a 5081LPI resolution and 233PPS report rate, meant to accord faster recognition, thereby cutting on less time. The initial activation force or IAF is not the most supreme in its category but Huion does a good job of making it match what's being doled out by some of its direct competitors.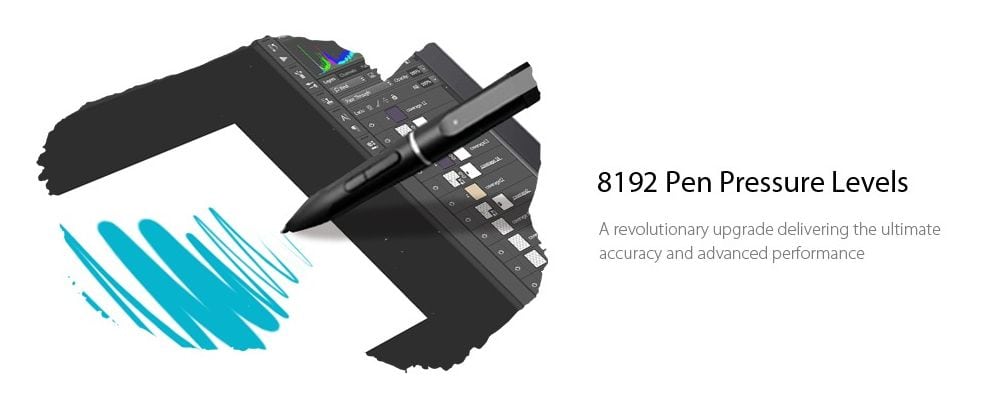 One of the best things is that you get two Huion Pens in the package, which means you can charge one while you work with the other so that your creative genius is not held to ransom by mundane snags. Given the long run time of these pens, exhausting the battery in midst of a creation isn't a foreseeable risk anyway. Each Huion Pen that comes with the GT-191 is capable of running for at least 3 days on a single charge. 
Related: https://www.androidtipster.com/category/tablets-on-sale/
There are two buttons on the pen that can be used to add customized shortcuts as per personal preference. The overall quality of the pen feels premium and it is definitely one of the better-built devices that you'll get to work with. The shape of the pen, however, is slightly different from other variants available in the market. The Huion Pen is longer, thinner at the back and flat at the centers. If you have been working with similar devices in the past, the build of the pen may take some getting used to. Once you are accustomed to the new grip, the Huion Pen offers a smooth user experience, where the transition between strokes is as seamless as it can possibly get. It is definitely one of best performing alternatives to higher range devices available in the market.
Verdict
The Huion GT-191 has been designed to work well with a wide range of apps and programs. Despite its modest pricing, this drawing tablet has the potential to hold its own even when pegged against some of the most high-end offerings in its segment. Be it the design, screen quality or pen performance, the GT-191 does not disappoint.