The Teclast X16 plus
When you're trying to choose a tablet, there are two categories of products. If you need a seriously powerful device, you'll want to pick up a windows tablet. These products run on the same X86 architecture as your laptop or desktop computer. Running the Windows operating system means that you'll have access to a whole suite of productivity software, although it will be a little more complicated to use. Android tablets, on the other hand, and inexpensive and fast. The Teclast X16 plus is a unique attempt at bridging the gap between these two categories.
Teclast X16 Plus Hardware
What makes the Teclast X16 plus unique is the inclusion of the Intel Atom Z8300 CPU. This is a very power efficient chip based on the same design as other intel processors. Don't let the 1.44GHZ frequency scare you away, this chip is actually much more powerful than the ARM processors commonly being used in most android devices. Originally designed to be used in laptops, google has partnered up with Intel to allow android to run on these devices. The end result is a tablet that has the performance of a basic laptop.
You can keep all of your data internally on the high-speed 32gb E-MMC ROM, which operates much faster than standard flash memory. The only disappointing part of the Teclast X16 plus is that they only installed 2gb of memory. Due to this configuration, the tablet will be able to run even the most demanding app very efficiently, but it is not ideal to have many apps running at the same time.
Software
So what exactly makes the Teclast X16 plus a 2 in 1? It's not the software that's included, but what the device has the ability to do. The tablet can run BOTH windows and Android. If you think you might need the Microsoft office suite for work, you can easily load windows 10 onto this device and switch between it and Android as you see fit. Thanks to the unique hardware, there is now an affordable device that can be used as both an office and an entertainment machine. Unfortunately, you will need to purchase your own copy of windows, or use a license from an old computer. Teclast doesn't include one with the tablet.
What they do include is a fully fledged installation of Android 5.1 Lollipop. That will allow you to start using the device right out of the box.
Screen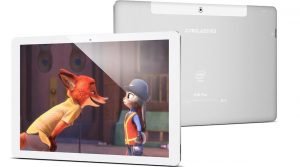 The 1080p 10.1" display is very easy to use. Although it's a bit smaller than your standard laptop display, you tend to hold a tablet closer to your face. I found the screen size quite luxurious, I was able to watch a movie without having to squint. Editing a spreadsheet was just as easy, even when zoomed out the text was sharp and easy to read. The LCD is an IPS model, which means the color accuracy as among the best in class.
Verdict



If you're looking for a very powerful, inexpensive android tablet the Teclast X16 plus is a great choice. The intel processor is designed to be used for business applications, and the performance is noticeably improved when compared with simpler devices. The ability to run windows on this tablet is a great feature, but it is ideal for people who only occasionally need the software. Having to purchase your own copy of windows is a bit of a disadvantage, and the tablet may not be fast enough if you are going to be using the tablet all day at work. If you're lucky to get it within the next 24hrs you'll get a 51% discount at GearBest.
Related: https://www.androidtipster.com/category/tablets-on-sale/