Currently, Google Maps or similar mapping apps like Waze are of tremendous importance for millions of users worldwide. In traffic, while sightseeing, or just roaming around through an unknown city. And, when it works, Google Maps is definitely the best service you'll get from Google. However, many of you got a reason to ask – Why is my Location wrong on my Android Phone?
But, it's tough to cope since there are no workable alternatives most of the time when it doesn't. In addition, some Android users have reported that the Operative System shows the wrong location, specifically in Google Maps and similar apps, which makes them wonder why their location is wrong on their smartphones.
If you, too, have had similar problems and location services missed by a more than short margin, keep reading to find out the reasons we have listed below.
For Samsung smartphones running Android 10 OS, the location information may appear inaccurate if the GPS signal is obstructed, the location settings are disabled, or if you are not using the best location method.
But for other Android smartphones, there are other reasons why your location is wrong. For example, the geographic location tracking on your phone is often due to configuration and/or data being incorrectly processed. Sometimes when you don't want your activities to be surveyed, and you wish to change your location, or you move around a lot, a misconfiguration on your end might happen. So, if you've ever wondered 'Why is my location wrong on Android? Look no further, as we've got you covered:
Reasons Why Your Location Might Be Wrong
Inaccuracy – Solution N° 1: Increase the accuracy of your GPS on your Android Device.
How to do it?
Go to Settings, look for the option named Location, and ensure that your location services are ON.
Now the first option under Location should be Mode, tap on it and set it to High accuracy. This uses your GPS and your Wi-Fi and mobile networks to estimate your location.

This will use more battery and utilize all available methods to give you the most accurate location possible.
Mock Locations – Solution N° 2: Disable Mock Locations
How to do it?
First, Go to the Settings of your Android device.
Now scroll down and look for the option named Developers Option. If the developer option is not available, open "About phone".
Now under About phone, tap 6-7 times on Built version. You will receive a message "You are Now a developer!"
Now hit the back button, and you will find Developers Option there.
Open Developers Option and turn it OFF or scroll down and turn Mock GPS manually OFF.
Refresh GPS Data – Solution N° 3: You need to perform a GPS reset.
Sometimes your device could get 'stuck' on certain GPS satellites, even if they're not within range, causing it not to work properly.
How to do it?
You can use an app like GPS Status & Toolbox to clear your GPS data to fix this.
In the app, tap anywhere on the screen → Menu icon → Manage A-GPS state → Reset. When finished, go back to Manage A-GPS state → Download.

Then your GPS data will refresh.
Third-Party Application Issues – Solution N° 4: Uninstall the conflicting application.
You can check if any of the installed apps is causing the issue on your device by simply rebooting in safe mode and checking for the GPS location in SafeMode.
If you find that Google Maps works fine in safe mode, then any app installed is causing the issue. So uninstall all fake GPS apps installed on your device and any unconventional app downloaded from sources other than Play Store.
In case any of these solutions work for you, keep reading and check below more tips:
Check the GPS signal settings on your mobile device
When the GPS is properly enabled on your mobile device, it will work inside a house or building; however, due to the potential obstacles that may block connection with satellites, it is not recommended to use this feature while you are indoors.
The GPS signal on your mobile device works best in areas where signals can be received. To communicate well with satellites, a direct open view of the sky is required.
Please take note of the following cases where GPS signals can get lost:
GPS signal settings are turned off.

The devices' screen has been turned off.

The mobile device is held in a manner that blocks the antenna. This case occurs especially for the Galaxy Z Flip when it is folded.

The mobile device is in an area with tall buildings that block a direct view of the sky.

Obstructed views of satellites caused by an oncoming storm can affect the performance too.
Change the app permissions settings on apps that track the GPS signal
First, go to Settings > Apps and follow the steps prompted below.
Select an app that uses a GPS signal from the list of apps, such as Google Maps.
Tap on Permissions.
Tap on Location.
From the list displayed, select Allow all the time.
Check if the application using a GPS signal has been added to the sleeping apps list
If you have added the target application using a GPS signal to the sleeping application list on your mobile device, you may not receive updates or notifications related to the target application because it is not running in the background.
To exclude the target application from the sleeping app list, follow the steps outlined below:
Go to Settings > Device care.
Tap on the Battery icon.
Tap on App power management.
Tap on Sleeping apps.
Tap on the Trash icon located on the upper-right side of your screen.
Change the power saving mode on your mobile device
When you turn the power saving mode on your mobile device or the screen is turned off, apps using GPS signals may not provide data in real-time. So change the power mode settings too high performance or optimized.
Go to Settings > Device care.
Tap on the Battery icon.
Tap on Power mode.
Select either the High performance or Optimized power mode that you want to apply to your mobile device.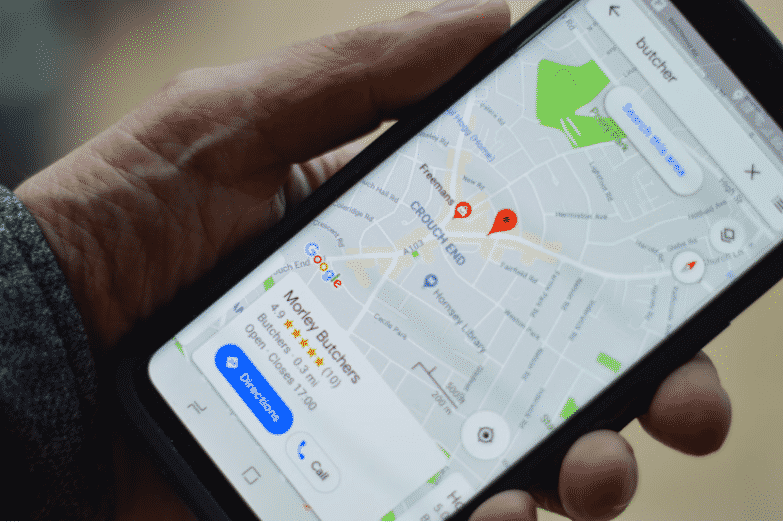 Update Google Maps and Play Services
This could potentially fix the problem as updated Google Maps could contain patches to fix issues with the existing app version and system OS.
Also, update Google Play Services because they act as linking between Google Apps installed on the device to the Google Servers for updates and smooth functioning of the Google Maps.
About Privacy
If you really don't want your phone to be tracking any of your movements and activities, there is a way to turn to track off for all (well, most) of them. First, however, you need to be aware that you're probably going to render many of your apps (such as ride-share apps, weather apps, and, of course, mapping apps) less usable — or in some cases, completely unusable.
Remember that the location data available to an Android device includes the device's current location — pinpointed using a combination of technologies — the direction and method of movement, and whether the device has moved across a predefined geographical boundary.
So Google gives you a broad margin of decision over how and when it can go into your Android-associated info and use it somehow.
Consider that Google is originally opened up to the max — to the setting that allows the most feature-rich and ad-supporting experience and uses your data in the most free-flowing manner possible. Therefore, you'll have to adjust every setting according to your preferences.
It is well-known that Google generates revenue by showing ads around the internet — and, theoretically, it uses data about you to select ads that are "tailored" to your interests and more likely to be relevant to you. It never shares your data with advertisers, and all of the matchings happen within Google. This isn't done by Google workers but thanks to their automated, AI-powered processes.
But if you'd rather not have your data used for that purpose, you can turn the personalization system off. First, go back into the Google section of your system settings, tap the Manage Your Google Account button, and tap the Data & Personalization tab. Next, scroll down to the Ad Personalization box, tap on "Go to ad settings" link, then turn off the toggle on the screen and confirm to save your changes.
With apps that came preinstalled on your phone out of the box, you may not always be able to uninstall them. Still, you can often disable them — with the option to do so appearing either in that same long-press menu or within the aforementioned "App info" screen. That won't get the app off your device entirely but will stop it from running and actively accessing any of your information.
Final Lines
We hope we helped with your question – Why is my location wrong on my Android phone. At the end of the day, it just comes down to informing yourself properly about the possibilities and limitations to determine what balance of privacy and function makes the most sense to you.
We really hope this article helps you to solve the issue of your GPS location on your Android phone and manage your privacy settings.