Provided you have large pockets; Xiaomi has created the ultimate phone for users who are looking for a media powerhouse. With a massive 6.44" screen and a powerful processor, there is no other phone on the market that can come close to providing so much power for under $300.
While Xiaomi has many other phones on the market, the Xiaomi Max is their first attempt at producing a phone of this size. Historically, many first gen products are riddled with errors. Should you wait for the next revision, or did Xiaomi knock this one out of the park? Let's find out.
Xiaomi Max Design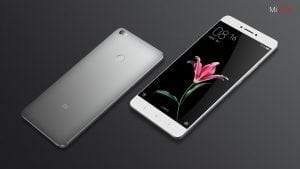 Generally, Xiaomi phones are known for being made from high-quality materials. With the Xiaomi Max, this is no different. The phone is surprisingly lightweight considering its size. While many phones of this size suffer from creaking or bending, this one felt very solid to me. The rigid design can be attributed to the bonded glass faceplate and the aluminum back. While the phone does have a very understated, clean design, there were a few things I didn't like about it. The fingerprint reader is placed on the rear of the phone, in a similar position to that of the LG G4. Unfortunately given the Xiaomi Max's size, using the fingerprint reader was a little awkward. The phone backside isn't fully metal, there is a plastic strip at the top and the bottom to house the antenna. While some reviewers consider this to be a negative, this is actually a good design feature. Metal housing tends to reduce the phone's signal, so keeping the antenna behind a plastic cover improves the reception by a large margin.
Display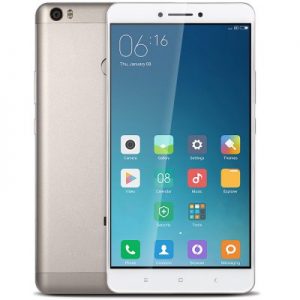 This phone uses a 6.4" 1080p display manufactured by LG, and it does not disappoint. Colors are bright and vibrant, and I found the brightness to be adequate both indoors and in bright sunlight. I'm used to using a 6" phone, and I was really surprised to see how luxurious it felt to watch videos and browse the internet on such a large display. Provided your jean pockets can fit such a mammoth phone, the phone is an absolute pleasure to use.
Performance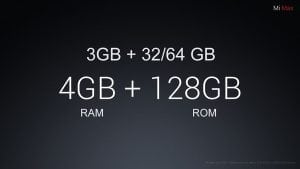 Unsurprisingly, the large size of the Xiaomi Max has allowed them to cram a ton of powerful hardware behind the faceplate. The phone runs on a Qualcomm Snapdragon 650 processor, a popular chipset in many of today's flagship phones. If you're a gamer, the 3d performance of this device is excellent. While many phones opted to use a 2k display, the huge volume of pixels prevents the phone from efficiently rendering 3d graphics. The 1080p display allows the phone to give smooth, buttery visuals without a hint of stutter or lag.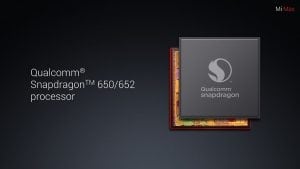 Every single game I tried ran perfectly without any performance issues. In terms of memory, the phone has 3gb of high-speed ram and 32gb of internal storage. For those of you that like to take your media on the go, the second sim slot will also accept SD cards up to 256gb.
Camera
Many of these economy phones cheap out on the camera. Fortunately, with the Xiaomi Max they spared no expense. The phone has a 16mp camera sensor manufactured by Sony. The included camera software was very well optimized for the sensor, even on automatic mode my photos had excellent exposure and saturation. The only downside to such a high-quality camera is that the photos are very large. If you take a lot of photos, it might be worth investing in a high capacity SD card.
Battery Life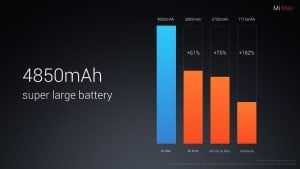 Fortunately, there is a very high capacity 4850mAh battery inside of the Xiaomi Max. With so many power-hungry components, the phone needs a lot of juice to keep running. Our benchmark determined that the phone can sustain 16 hours and 26 minutes of continuous use, so it should easily last an entire day for most users. If you do find yourself on the phone constantly, the phone has a high-speed charger that can refill the battery in only a couple hours.
Verdict
While this phone offers an unparalleled multimedia experience, make sure you are comfortable using such a large phone. It did fit in my pocket fairly easily, but it won't fit into skinny jeans or dress pants. I'd recommend this phone for anyone who spends more watching videos or browsing the internet. If you use your phone mostly for calls, it might be more comfortable to go with a more compact model.
The coupon code:EBMIMAX will get you the Xiaomi Max at a discount from Everbuying.
Related: