Best prebuilt gaming PC under $1000
Technology is continuously evolving, with companies developing new products every couple of months. However, the best gaming PCs are constantly getting more affordable because the overall price of technology is dropping.
Finding the best gaming desktop under 1000 is now a challenge not because most prices go over this limit, but because there are too many gaming desktops that fit the description.
There are quite a few companies that make and sell great gaming desktops and finding the best one means understanding which one best suits your needs. Today we'll look at the best gaming rigs under 1000 bucks.
Why finding the best gaming desktop under 1000 dollars can change your life?
Game devs are continually pushing the limits of existing tech. While a regular, bare-bones laptop or pc may run their games, a real gaming rig will give you a few bonuses.
Here they are:
High framerate – Running a game at 60 FPS will help you play better and enjoy the animations at full speed for most PC games.
High Graphical Settings – Most current-generation PC games look amazing. Being able to play them at High or Ultra settings makes a world of difference. Experience volumetric lighting and particle effects like never before.
No input lag and fast loading times – It is one thing to install and load a 70 GB game from an HDD with 4 GB of RAM and another to load it from an SSD while having 16 GB of RAM for multitasking.
Best Gaming PC under $1000
Dell i5675-7806BLU-PUS Inspiron Gaming PC Desktop – A gaming desktop under 1000 dollars that packs a punch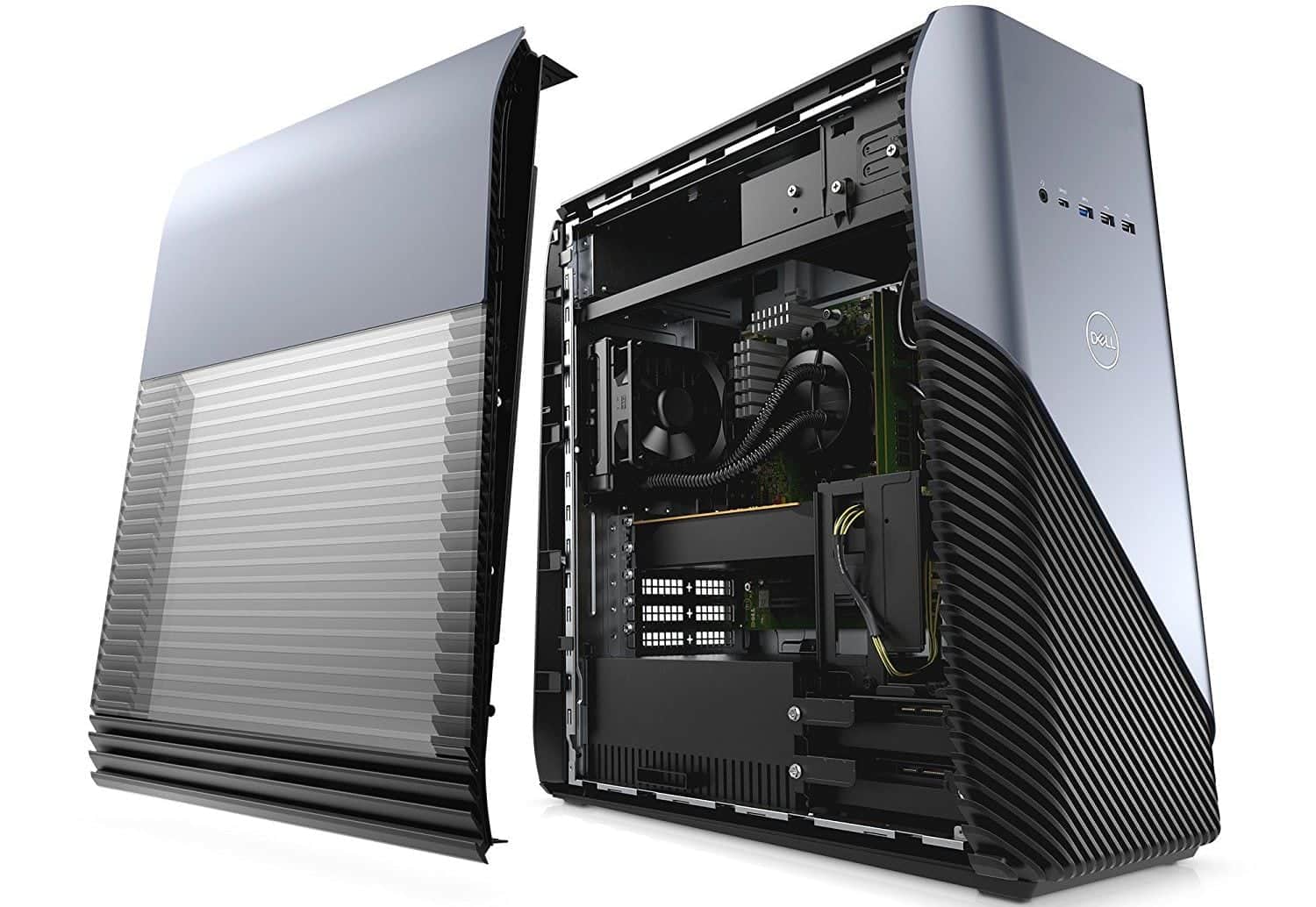 We have ranked this model from Dell as our number one pick since it has been designed to be a powerhouse.
While it does have only 8 GB of RAM, it comes with an i7 processor that's fast and responsive and is an excellent choice for anyone looking to play RTS games or to use processor-intensive apps.
Dell i5675-7806BLU-PUS Inspiron Gaming PC Desktop Specs
Intel Core i7 8700 – A powerful 6 core/12-thread processor with 12MB of Cache, clocked up to 4.6 with Intel TurboBoost.
8 GB RAM – The PC comes with 8 GB of DDR4 at 2400MHz that makes multitasking a breeze.
Nvidia GTX 1060 – The GTX 1060 comes with 3GB of VRAM, perfect for any current-gen game.
128 GB SSD + 1 TB HDD – You can store your OS on a High-Speed SSD and your games on a huge HDD.
Windows 10 – The desktop comes with Windows 10 Home 64-bit preinstalled.
Pros
Powerful processor – The i7 6-core processor is powerful enough for both current-gen and even a few next-gen games. Those who love processor-intensive games like RTS games will benefit from the power that it provides.
SSD – While the 128 GB SSD may not be big enough for games, it is great for the OS. With Windows 10 installed on it, the PC can boot up in a matter of seconds.
Cons
Low RAM Memory – While 8GB for DDR4 RAM is more than enough for most current-gen games, there are desktops in the same price range that come with double this amount.
No optical drive – Games no longer come on CDs or DVDs. However, the absence of an optical drives means that you may be unable to play your old games unless you get a USB DVD-ROM.
Gamer Xtreme VR GXiVR8060A5 Gaming Desktop – An RGB monster that combines power with style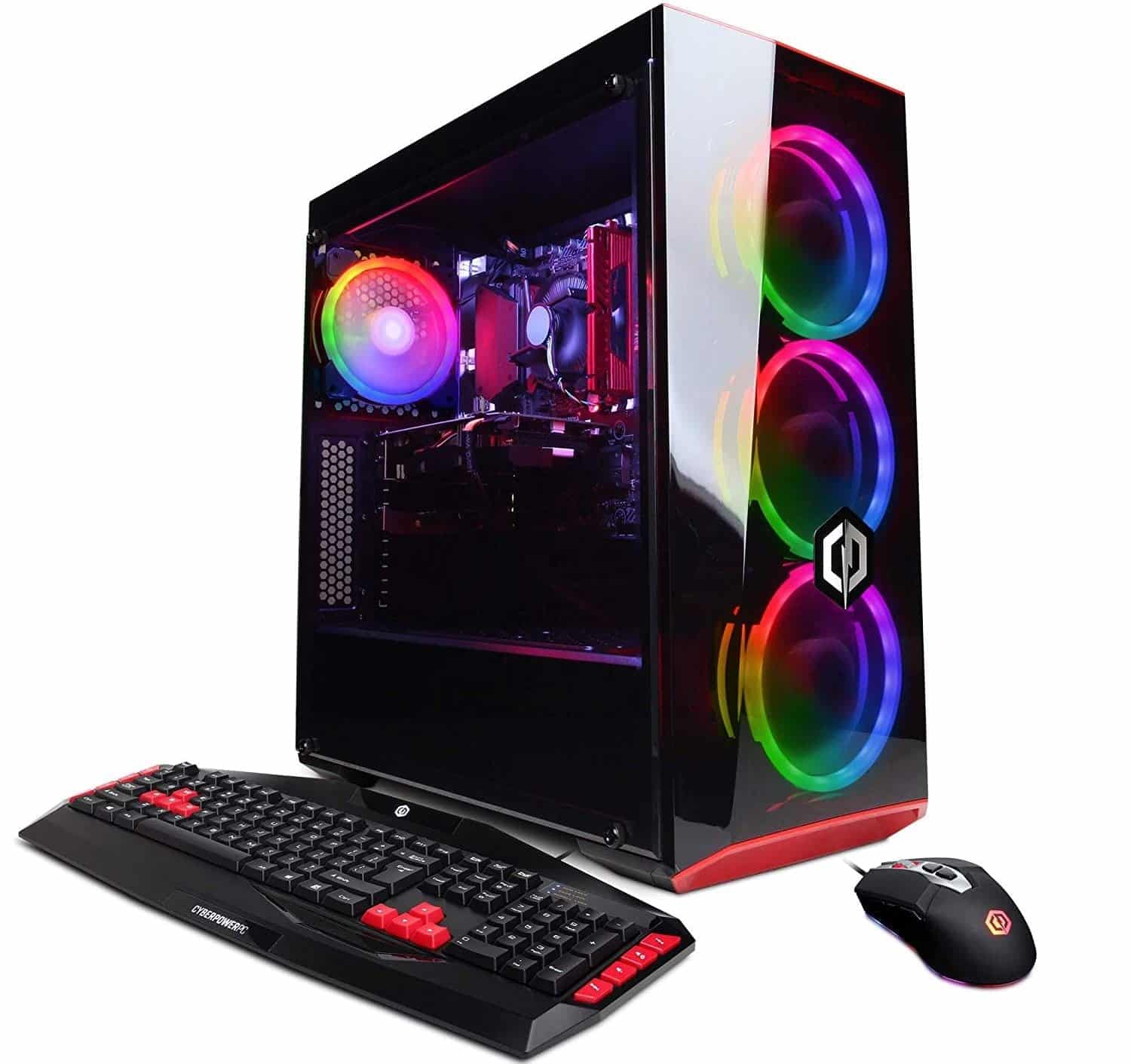 Our number two pick combines a tremendous RGB look with the power offered by an i5-8400 and a GTX 1060 to deliver a great gaming experience, especially when considering the low price of the desktop PC.
As a bonus, the PC also comes with a gaming keyboard, as well as with a 7 Colors RGB Mouse to match the look of the case.
Gamer Xtreme VR GXiVR8060A5 Specs
Intel i5-8400 – The i5 has 6 2.8GHz cores, which is enough for most current-gen games and software.
8 GB DDR4 RAM – The PC comes with one 8 GB 2400 GHz DDR4 RAM stick.
Nvidia GTX 1060 – The GTX 10 series is perfect for intensive gaming at the highest graphical settings.
128 SSD + 1TB HDD – The PC comes with fast storage for the OS and ample space for a very large number of games.
Peripherals included – The desktop comes with an RGB gaming mouse and keyboard.
RGB Fans – The 4 RGB Ring Fans are completely addressable.
Windows 10 Home – The product comes with a genuine copy of Windows 10 Home.
Pros
Mouse and keyboard – The included peripherals are designed for games and match the style of the case.
VR-ready – While the system is perfect for any kind of high-quality gaming, it was designed with VR in mind.
Wi-Fi – While many may not use the Wi-Fi module, it is a welcome addition for those who do not have access to a wired
Cons
Intel i5 – While it may not be the best processor on a gaming pc under 1000, it will get the job done. However, those who like 4X games that require a lot of computing power may not be satisfied with what an i5 has to offer.
Skytech Gaming ST-SHADOW-II-002 Gaming Computer Desktop – A excellent gaming rig with an AMD Ryzen heart and more than enough RAM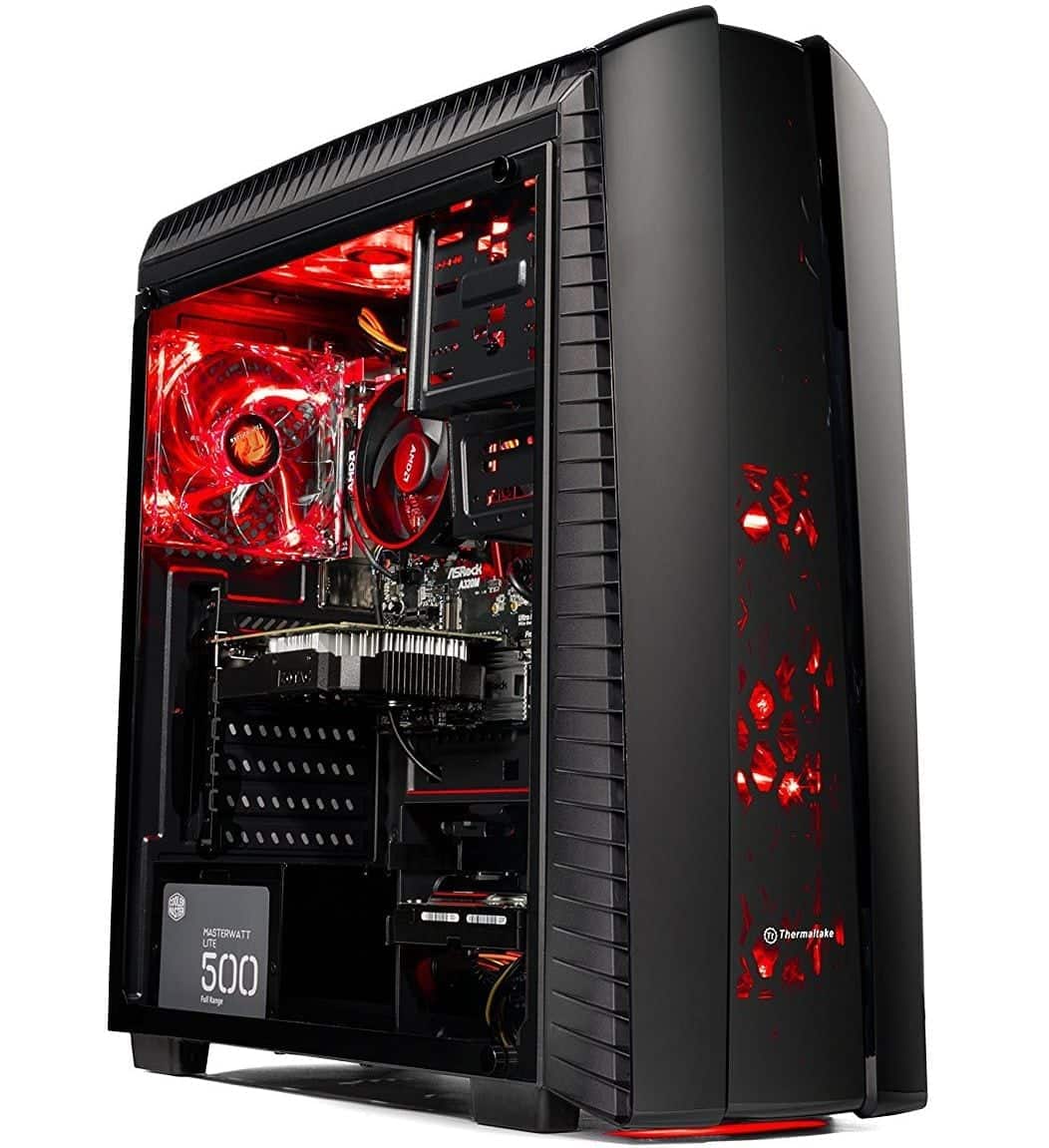 Next on our list is the ST-SHADOW-II-002. This gaming desktop is a great alternative for those who are not fond of Intel processors.
It comes with an AMD Ryzen 5 1400, an Nvidia GTX 1060, and 16 GB of G.Skill Ripjaws RAM, all installed in a beautiful, sleek tower case.
This PC may not rank at the top of our list, but it is designed for hardcore games. Here's why:
Skytech Gaming ST-SHADOW-II-002 Specs
AMD Ryzen Processor – The AMD Ryzen 5 1400 Processor has 4 cores clocked at 3.2 GHz that can go up to 3.4 GHz Turbo.
Nvidia GTX 1060 – The GTX 1060 comes with 3 GB of VRAM which is more than enough for any type of game, from PUBG to Overwatch and GTA V.
1 TB HDD – The 1 TB Hard Drive offers enough storage for large games and apps.
16 GB of RAM – The PC comes with 16 GB of G.Skill Ripjaws DDR 4 2400 GHz Gaming Memory.
Wi-Fi Module – The gaming rig comes with a Wi-Fi module for those who do not have access to a wired
Windows 10 Home – The PC comes with a copy of Windows 10 Home.
Pros
High-quality RAM – G.Skill Ripjaws are famous for being some of the best RAM sticks designed for gaming, and this rig comes with 16 GB. Multitasking between games is practically a breeze with these beasts, not to mention that most current-gen titles require less memory than this.
Lifetime tech support – While it is unlikely that a gaming desktop like this one will ever have any issues, the free lifetime tech support is a great thing to have access to, just in case you ever need to troubleshoot a problem or want to upgrade the components.
Cons
No SSD – While not entirely necessary, SSDs have pretty much become the standard on most machines. You may find that it will take slightly longer to boot up this model than others.
HP Pavilion Power Gaming Computer – A powerful gaming computer under 1000 dollars with a great gaming experience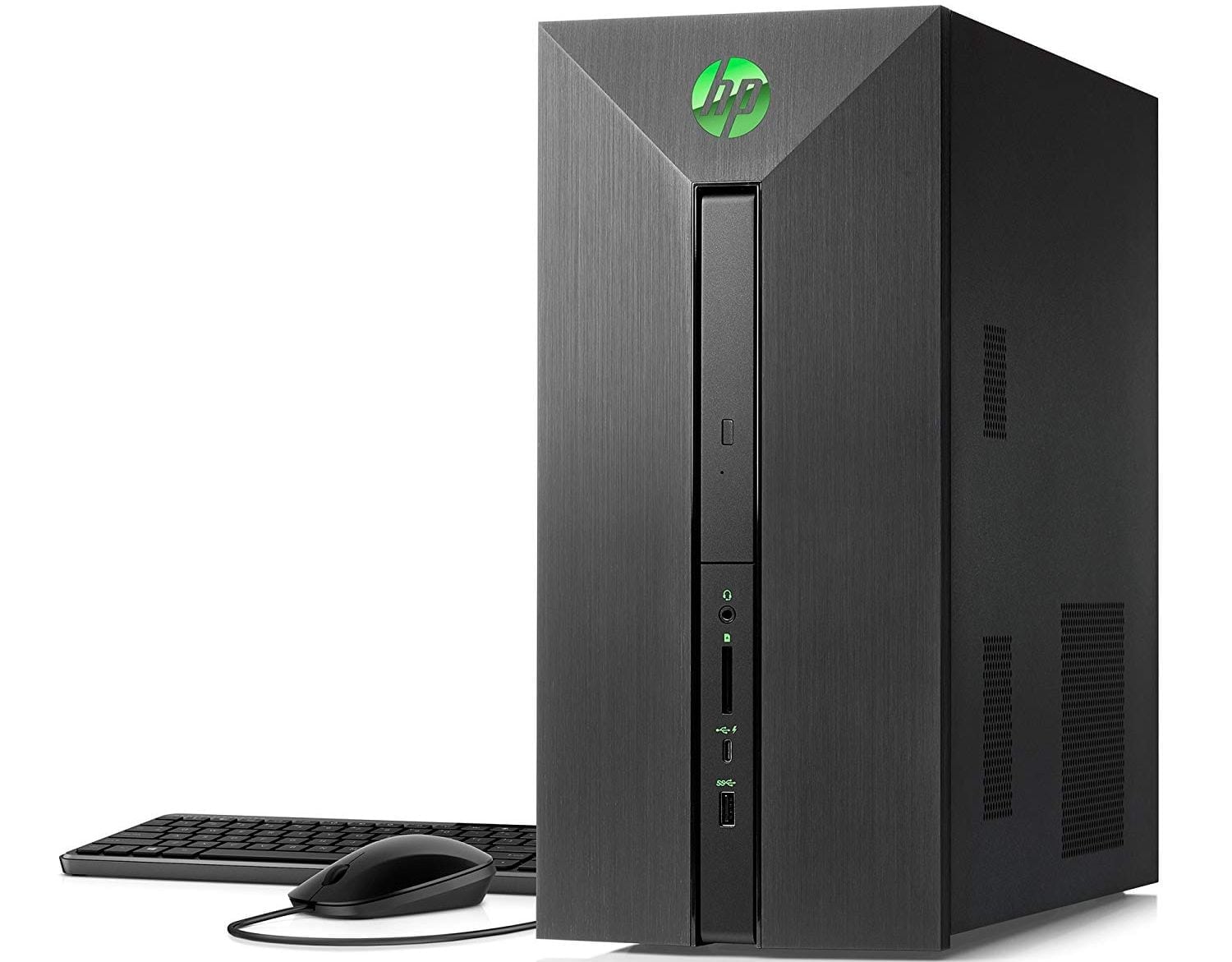 While it may not have an i7 or Ripjaws RAM, the HP Pavilion does come with all the components needed for a great gaming experience.
The PC was designed with function, not aesthetics, in mind because it forgoes RGB lighting or windowed cases for a simpler, efficient design.
The rig is designed for gaming. However, it is more flexible than others regarding usability.
HP Pavilion Power Specs
AMD Ryzen 5 1400 – The Ryzen 5 1400 is a quad-core processor clocked at 3.2 GHz.
Nvidia GTX 1060 – It comes with 3 GB of VRAM and can run any current-gen game at the highest settings and resolutions.
16 GB RAM – The 16 GB of DDR4 RAM is more than enough for any game to run smooth.
SSD + HDD – The rig comes with a 128 GB SSD for the OS and a 1 TB HDD for general storage.
Excellent hardware connectivity – There are USB 3.0 ports, a headphone/mic port, and a media card reader on the front of the machine, as well as a DVD-Writer.
Peripherals – The PC comes with an HP Wired mouse and a keyboard.
Windows preinstalled – Windows 10 Home comes preinstalled on the machine.
Pros
Multi-purpose machine -While it is designed for gaming, the DVD-writer is excellent for those who want to burn disks or play their old games, and the easy-to-access card reader, USB Type-C and headphone jack are useful for anyone looking to use the rig for things other than gaming.
Included mouse and keyboard – They may not be much, but the wired mouse and keyboard are a welcome addition.
Cons
Fairly basic – The PC seems to have been designed as a home PC for gaming enthusiasts, rather than for professional gamers. The case is bland, the components are all standard, and the peripherals are for a home PC.
Comparison
The Dell i5675-7806BLU-PUS comes with an all-mighty i7 processor that's good for both the current generation of games as well as for the next, and a sleek RGB design that'll turn heads.
The Gamer Xtreme VR GXiVR8060A5 machine may only have an i5. However, it comes with professional RGB peripherals, ad a configuration optimized for VR gaming.
The Skytech Gaming ST-SHADOW-II-002 comes with 16 GB of G.Skill Ripjaws RAM, perfect for those who like to capture gameplay and edit the footage.
The HP Pavilion Power Gaming Computer is fairly basic, but it comes with a DVD-writer, a card-reader, and easy-to-access ports that are great for general use, not just gaming.
Picking the best gaming machine for your gaming style
There is more about getting the best gaming computer under 1000 dollars than just finding high-powered machines in this price range.
The reason why there are so many types of gaming rigs is that they cater to different kinds of games. So, here's what you need to do:
Consider what kind of games you play – If you're into MMO games, then you won't need an i7. More powerful processors are usually only useful for those who play large-scale RTS games that require a large amount of computing power to drive the units around the map.
Consider the possibility of upgrading a rig – Get a computer that can at least run all the current-gen games really well, and maybe even a couple of next-gen ones. At the same time, research the components of your chosen computer and look at what it would cost you to upgrade them sometime in the future.
Buy according to your needs – Not all gaming machines have RGB components. However, this does not mean that they do not offer the same level of performance as their flashier counterparts. Consider what you want to use the machine for. Sometimes a DVD-Writer may be more useful than RGB Fans or a windowed case.
Once you've gone through this thought process, start looking for PCs. It is usually easier to prioritize the features that you want if you write them down. Make a list of what is important to you.
Also, if you have 5-6 games that you want to play at the highest settings, then look for their recommended requirements. Game developers usually include these on their websites.
Once you know what components the devs are suggesting for a particular game, start looking for computers that have them.
Be careful with refurbished gaming machines and components
Here's a useful piece of advice:
If you're ever thinking about buying a refurbished component or computer, keep in mind that the machine may not run as great as it looks. Companies often refurbish computers and then resell them.
However, their internals may be past their prime. Processors and graphics cards can overheat and lose some of their processing power, over time.
Generally speaking, it is better to get new computers or components just because you can be sure that they will work as intended once you install them.
What's the best of the best?
From our analysis, the best gaming desktop under 1000 dollars is the Dell i5675-7806BLU-PUS. While it may only have 8 GB of RAM, it does come with an i7, and getting a RAM upgrade is cheaper than getting a new processor.
Overall, the machine is built to deliver maximum performance regardless of game or application. The case looks great, the internals is perfectly compatible with each other, and the price is excellent.
This having been said, it does lack a DVD-ROM, which may prevent you from playing old games that you may have on disk, but if you can live with this minor disadvantage, then this is one of the best gaming machines in its price range, if not the best.