Best drawing tablet that is both cheap and suitable for beginners and professionals?
Professionally speaking every upcoming or professional artist needs the best drawing tablet for immaculate results.
Tablet PCs come in handy in the daily lives of artists in the sense that they get used in a broad range of activities that encompasses artistry. Some of these tasks include drawing, painting, and uploading pictures among others.
Not only that, tablets help groom children, adults and wannabe artists to become better in the art realm. They provide endless features and software that makes learning a piece of cake. Moreover, they inculcate creativity to whoever is using them.
With an overwhelming number of tablets with different sizes, shapes, and prices in the market, choosing the right tablet for your work can get challenging especially for those who truly don't have an idea about the different features and capabilities of these fantastic products.
It is with these in mind that we have come up with a review of the best cheap drawing tablets found on the market in 2018. We hope that it will help you find the best choice for your needs, at the best reasonable price. No need to part with huge amounts of money for a piece of equipment. Technology has bridged the gap, even those tablets in the entry-level will meet your expectations and their price tags are affordable.
Ugee 1910B Digital Pen

– Best Cheap drawing tablet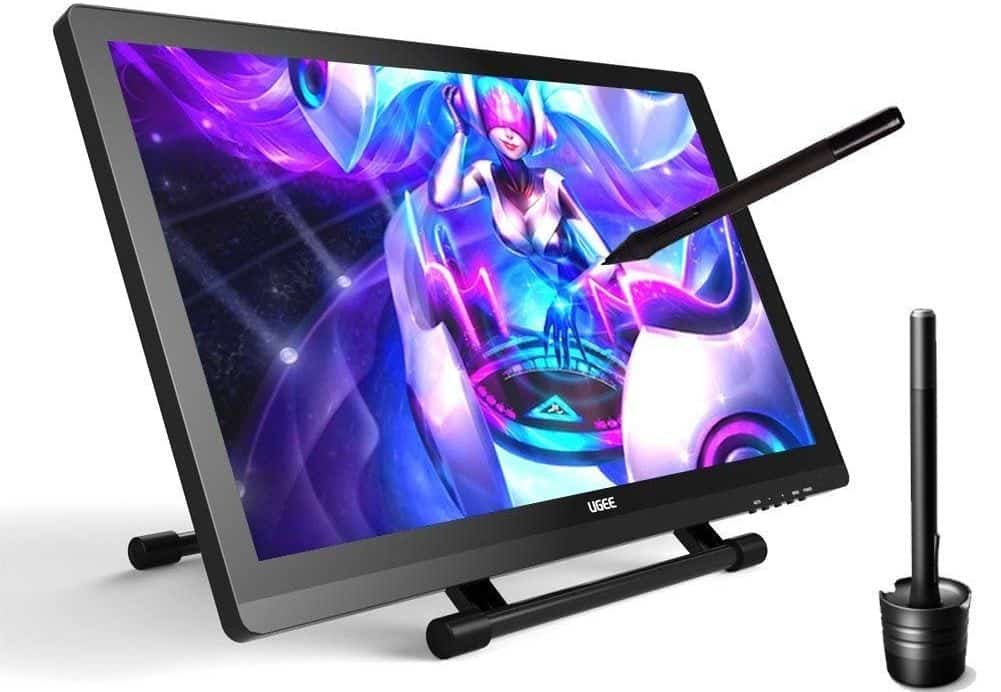 First on the list is the Ugee 1910B. Just like some of the tablets on the market today, it acts as a second monitor. It is interactive in nature meaning it can get drawn on directly but does not store any information or programs that manipulate your work from raw to finished output. Clients with a lesser budget on their mind have something to smile about, with the advent of this tablet PC.
It gets created with a 19-inch LED drawing screen with a 1440*900 resolution, rendering it useful to those artists who appreciate a large surface for drawing, especially for those who draw cartoons. The 2048 levels of sensitivity will amaze you, especially if you have a knack for drawing.
It has a nicely shaped stand that will prevent your monitor from shaking and can also tilt to any angle to make your work as easy as possible. To add on that, get a whole package of freebies in the form of 2 rechargeable pens with a pen charging cables, a screen protector, and a glove.
The machine is also compatible with a wide variety of programs including, Adobe Photoshop, Photoshop CC, SAI, Illustrator, Corel Painter, 3D Max, Autodesk, Pixologic Sketchbook, Autodesk, MAYA, ZBrush among others. To crown it all, a free pen with 2048 pressure levels accompanies it and can double up as a pen and an eraser.
A point to note is that the additional nibs and drawing glove usually wear out depending on how you use them. Therefore, you should consider replacing your extras. The drawing glove on a very basic level reduces smudging and the contact between your hand and the tablet surface, so you can glide your hand over the tablet without stressing over making stray fingerprints
Having a screen defender is also important as you would prefer not to harm the screen surface. Any additional reliable insurance is quite valued and required for something that you run your hands over always.
It is an excellent choice of a tablet for the low budget startups who are interested in making a statement in the artistry world.
Ugee 1910B Specs
Model number:

1910B.

Screen Size:

19-Inches.

Report Rate:

220 RPS (Revolutions per Second).

Screen Resolution:

1440 X 900.

Resolution:

5080 LPI.

Viewing Angles:

±80° horizontally, ±80° Vertically.

Active Area:

402mm X 255mm.

Response Tim

e: 5 ms.

LCD Dimension:

446mm X 295mm X 60mm.

Support Color:

16.7M(RGB 6-bit data + HiFRC data).

Contrast Ratio:

800:01:00. 16MS TFT LCD panels, bringing high definition and high brightness visual experience.
Ugee 1910B Pros
An inexpensive quality tablet

A large 19-inch drawing area

Have hotkeys controls

Got extra nibs and drawing glove that makes the drawing experience real

Extra Pen digital pen

Superb customer care service

Provides extra room to do your work without a hitch
Ugee 1910B Cons
They don't have HDMI ports

The company does not provide information about the need for a VGA input while purchasing the product

Connections and calibration have a little bit of problem
Wacom Intuos Art Pen and Touch digital tablet

– Best for graphics, drawing & painting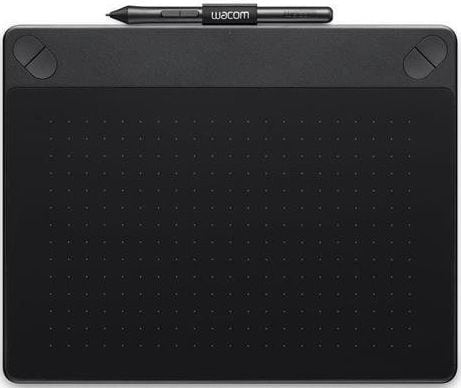 Talk of the Wacom Intuos Art Pen and Touch digital graphics, drawing & painting tablet, and all the niceties about the Wacom family pops up. Just like its previous siblings, it gives you an excellent introduction to the digital realm of art.
It gets developed with the artist's ambition at heart. It has a plethora of useful features at the user's disposal. To start with, it comes with a digital painting software, a Corel Painter essential and an avalanche of online tutorials, to ensure that if you are new to the game, you get familiar with its working within no time.
Furthermore a digital pen with 1024 distinct pressure levels tags along. Create different variations of lines with different widths and opacity in a breeze. Shortcut keys that are present play a significant role especially if you have time constraints. At the will of your fingertips, you can copy, paste or do any other tasks that need your immediate attention.
Last but not least, navigate through your work by use of multi-touch gestures. It connects to a Mac or Windows PC via wireless or USB capable which gets purchased separately. With its compact size, it allows maneuverability and can get used in an environment with limited space. It gets utilized by the left and right-handed persons alike.
Some points to note are that when using this monitor you may have to consider these, the active area size is littler than the general tablet estimate (8.5×5.3in for medium), so make certain to determine the size you need. Secondly, the loop at the top holds the pen. However, you need to embed the side of the pen opposite the nib. Thirdly the tablet maps the screen precisely, so you won't wind up drawing off of the tablet's surface. Lastly, the back panel comes with three pen nibs and a nib removal tool.
Installing the driver for the device is easy, just use the provided CD then download the driver from the website. The best browser to do these is the internet explorer because Chrome and Firefox browsers have some issues when they get used. And, a good practice is to install the software and driver as soon as you connect it to the net to prevent the operating system from trying to do it automatically for you and works great with the Blender, GIMP and Photoshop programs.
Take your artistic prowess to new levels with these, tantalizing gadget that comes with an affordable price. Sketch and draw your way to fame!
Wacom Intuos Specs
Product Type:

Tablet with a pressure-sensitive, cordless, battery-free pen

Model Number Small:

CTL-4100, CTL-4100WL (Bluetooth model)

Medium:

CTL-6100WL (Bluetooth model)

Tablet Size Small:

200 x 160 x 8.8 mm / 7.87 x 6.3 x 0.35 in

Medium:

264 x 200 x 8.8 mm / 10.4 x 7.8 x 0.35 in

Active Area Small:

152.0 x 95.0 mm (6.0 x 3.7 in)

Medium:

216.0 x 135.0 mm (8.5 x 5.3 in)

Color:

CTL-4100 (black) CTL-4100WL, CTL-6100WL (black, pistachio green)
Wacom Intuos Pros
It is very easy to install its driver for the Mac operating system

Customizable buttons that make it easy to use

Works well with clip studio paint

The back panel has all the information about the product

Incredibly sensitive

Offers a smooth drawing surface

Built with a decent size

Light and thin making it comfortable to move around with

Comes with its customized USB cord

Comes with your choice of program

Has got an excellent grip

The pressure sensitivity works well

Does not need to be recharged before use, just plug it in your computer and start using it
Wacom Intuos Cons
Has Some problem with the cover i.e. difficult to open

Offers a small workspace

Registering on the Wacom website can be a bit confusing and hectic

Not very configurable especially when you want to fix a generic USB cable to increase the length for easy use
Wacom Intuos Draw CTL490DW

– Best Digital Drawing Tablet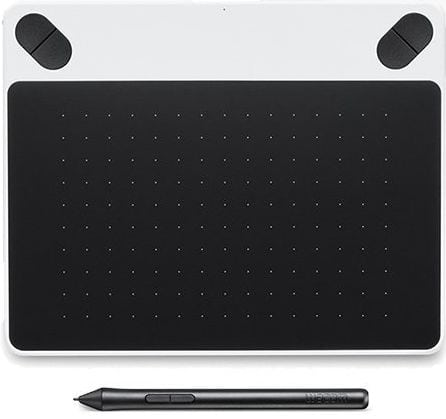 Next on the list is the Wacom Intuos Draw. Just like its other siblings, this gadget will not fail you. It is aesthetically appealing with its outstanding sleek design. Apart from physical matters, let us delve into the features.
The design for this drawing tablet PC majorly favors the beginners as it comes along with tutorials and drawing software known as ArtRage as well as an easy-to-use pen for the tablet. Moreover, four customizable keys are in place, and you can use them to set your shortcut options such as copy, paste among others at your fingertips. A small build enables it to get employed in areas where space is limited and can be utilized by both the left and right-handed people. Connect it to your Mac or PC is via a wireless or a USB cable. Also of significance is the battery-free pressure-sensitive pen that allows you to draw lines with great ease, and with little maintenance.
A point to note is that the nibs get worn after some use, therefore, they have some regular replacements for them.
A perfect tablet for those who are just starting out and don't have too much money to spend. Not only the price will amaze you, but the features will make your learning curve easy.
Wacom Intuos Draw Specs
Active Area:

152 x 95 mm

Physical Size:

210 x 169 x 11mm

Pressure Levels:

1024 on the pen tip

Multi-Touch:

No

Wireless:

Yes with Wireless Kit (Sold separately)
Wacom Intuos Draw Pros
You can choose to have the wireless kit

A battery-free pen cuts down your spending

Comes with a drawing software plus online tutorials

Works with most software programs

The pen can be used to sketch and can also act as a brush

Can be employed by the left-handed as well as the right-handed people

Pressure-sensitive pen plus a responsive operating system

Shortcut keys to spare you the agony of following procedures

The nib feels great i.e. it does not slip around or stick on your fingers

An adjustable sensitivity making everything to appear on the screen without a flaw

Great price

Can be great with a smart board making it a perfect choice for teachers

Impressive quality plus great work

Easy to install and use

Perfect size for home and travel

Nice long USB cable making it ideal to use with a laptop or a desktop
Wacom Intuos Draw Cons
If you unplug it, the trackpad won't work unless you restart the system

The stylus does not fit properly on the holder that gets provided

The nibs have some issues i.e. they get worn out quickly
Best drawing tablet for beginners
Huion H610 PRO Painting Drawing Pen Graphics Tablet

– Best for beginners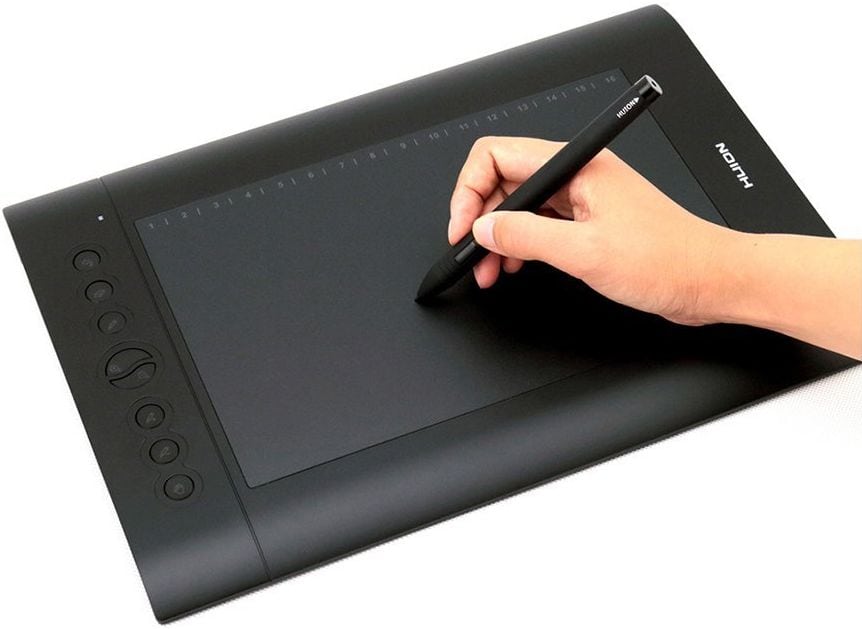 The versatile Huion H610 PRO Painting Drawing Pen Graphics Tablet, not only is it compatible with the Mac and Windows operating systems, but it also asserts itself as a game-changer with its desirable features which include, a rechargeable pen eliminating the need for frequent battery changes.
Also of noteworthy apart from its classy looks, is the 2048 levels of sensitivity, eight express keys, and 16 customizable hot cells. It is a very user-friendly tablet making it suitable for both pros and beginners.
It gets designed with a large drawing surface measuring 10-by-6.25, providing you a greater degree of movement. It is compatible with a broad spectrum of software including, Coral Painter, Autodesk Sketchbook, Adobe Photoshop, Manga Studio clip, Zbrush, windows XP/7/8/8.1/10, Mac OS X 10.8.0 and much more.
Setting it up is a breeze by following a simple set up procedure that starts by getting rid of all other drivers on your device. Next is to download and install the drivers from Huiontablet.com.
Thirdly restart your PC then turn off the internet, these will prevent windows from accidentally triggering its plug and play driver. Lastly, plug in your tablet, exercise some patience, and when ready a quick launch button will appear.
That is your tablet's driver settings. Turn on your net and there you go!
A good price for the output it provides. An amazing gift to both the left and right-handed users.
Huion H610 Pro Tech Specs
Brand:

Huion

Model:

H610 Pro

Type:

Graphic Tablet

Features:

Rechargeable

Resolution:

5080LPI

Power Supply:

USB Port

Cable Length (m):

1.5 m

Product weight:

0.627 kg

Package Weight:

1.300 kg
Huion H610 Pros
Has a rechargeable pen

Affordable price, you don't need to shell out a significant amount of cash for good value

Decent

Picks up the tiniest strokes

It allows you to test and adjust the pen sensitivity and curve in its settings.

Works smooth all the way

Very easy to use therefore can be utilized by both pros and beginners

Pressure sensitivity is high
Huion H610 Pros Cons
The CD with drivers can be a bit confusing, they seem to be mashed up with other drivers