A quick review of the top 3 best gaming laptops under $800
If you want to invest in your passion for gaming even while traveling, without emptying your bank account, then our list of best gaming laptops under 800 Dollars should help you make that a reality.
As the title says, we are going to do a quick review of the best gaming laptops for this price range in 2020.
Here, we are going to review three options we consider to be the best in this price range.
First things first, let's talk about what you should be looking for in a gaming laptop priced under $800.
Components of good gaming laptops
An excellent and reliable processor
An SSD Hard Disk
High-performance RAM
Big and large screen
Display card with dedicated memory
These are, in our opinion, the 5 major elements you should look for in a good laptop you intend to use for gaming. There obviously are other factors that affect the performance of a good gaming laptop but these 5 are the most important ones.
These were our major focus when prowling for the best gaming laptops that cost less than 800 Dollars.
That said, here are our top 3 choices of best laptop for this price range:
Top 3 gaming laptops under 800 dollars
1.) Acer Aspire E5-573G Gaming Laptop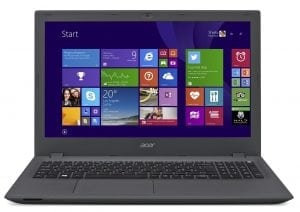 What we liked:
Even though you might be limited in budget, you can still get a top-notch laptop just like the Acer Aspire E5-573G. We liked that the screen of this machine is at 15.6″ and with an excellent 1920×1080 display.
Another interesting aspect of this laptop is its 8GB memory, which makes a great pack with the 1TB of storage that the laptop comes with. We can all agree that for the price, it's pretty powerful especially if we take into account that it comes integrated with a GeForce 940M and an Intel Core i5 5200u.
The Acer Aspire E5-573G doesn't come with problems associated with heating or throttling, something that makes this laptop very attractive to power gamers on a budget. Just like any other best gaming laptop, it might be a good idea to equip it with a cooler in summer.
What we didn't like:
For a price under $800, there really isn't much negative to say about this laptop. It is worth noting that while in battery mode the brightness of the screen automatically becomes dimmed. But like we mentioned for this price range, you have yourself the real deal.
Conclusion:
What's amazing about the Acer Aspire E5-573G for gamers is, disregarding its low price, it comes with a lot of value. It will truly allow you to enjoy your favorite games like Dota2, CS Go, LoL and much more without any issue.
It's time to become a better gamer without breaking the bank!
2.) ASUS K501UX Gaming Laptop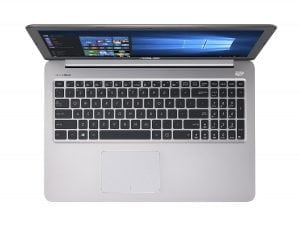 What we liked:
This is one of our favorites because, well it's one of THE BEST GAMING LAPTOPS UNDER 800 BUCKS! It delivers a lot of value for its price and gamers love it for this very reason.
If you really want to take your gaming experience to the next level, then you should purchase the ASUS K501UX, because it comes integrated with a 6th-Generation Intel Core i7-6500U processor, which grants this laptop a lot of power, in order to improve your gaming experience like never before.
And if we had to talk about the display, then we would have to say that the ASUS K501UX comes with an excellent display: 15.6 inches 1920 x 1080 – just perfect for a true gamer.
As if that's not all, it also comes with a powerful graphics card: the GeForce GTX 950M with 2 GB video RAM. On top of that, in terms of storage, it comes with 8GB RAM and 256GB SSD.
Overall it's an excellent gaming laptop. If you love Windows 10 OS, then you will like this laptop pretty much – as it comes loaded with this OS. For the price, we can say that it's a wise choice to decide to buy.
But just before you go ahead and buy it, you should read what we didn't like about it.
What we didn't like:
It's a fact that having an SSD storage is always better than an HDD one. Even though this ASUS comes with SSD storage, it's not really that generous. If the storage is a huge concern for you, then this laptop may fail to meet your expectations.
But if it's not such a big issue, then this laptop will be perfect for you. This is the unique thing we didn't like about it, for the rest, it's a pretty good choice.
Conclusion:
Even though the ASUS is more expensive than the Acer Aspire E5-57EG, it's really an excellent purchase. The principal difference comes in terms of power, although it's not really that much. If you are ready to pay a tad more in order to get more power, then you will love the ASUS K501UX!
Are YOU Ready To Become a Better Gamer?
3.) Dell Inspiron i7559-763BLK Gaming Laptop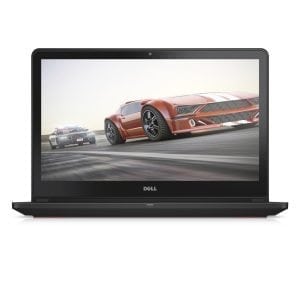 What we liked:
And finally, here we are with our final laptop to review: Dell Inspiron i7559-763BLK. Why have we included it here? Because it's the most powerful gaming laptop you will ever find for less than $800 USD.
If you want to upgrade your gaming and put it on steroids without emptying your wallet, then this laptop will do exactly that.
You will fall in love with this laptop. It comes with a sexy 6th Gen Intel i5-6300HQ processor 2.3 GHz, thanks to this powerful processor, you will be able to play your favorite video games like never before.
What about graphics?
You know, it's great to have a powerful processor but with a deficient graphics card, it's simply a big NO-NO – but that's not the case here. The Dell Inspiron i7559-763BLK comes with Nvidia GeForce GTX 960M… with an awesome 4GB DDR5 display RAM!
And what about the display?
It's simply amazing: 15.6-inch FHD IPS!
What we didn't like:
Although we simply love this laptop, there's a big downside: the storage. Just like with the ASUS K501UX, the storage is kind of limited. But if it's not of big importance for you, this laptop won't fail to load your gaming experience with a lot more power!
Conclusion:
If we were forced to choose solely one of these three laptops we have reviewed, we would choose this one without hesitation. It offers the best graphics and a lot of power for under $800 USD.
If you are in a budget yet want to upgrade your gaming experience, then Dell Inspiron i7559-763BLK is the perfect choice for you.
Become The Best Gamer You Can!
We hope these 3 gaming laptops under $800 are what you were looking for. Use the comments section below, we'd love to hear from you.