2020 Best Tablets Under $200
After the wave of unbelievably affordable smartphones flooding the market, the same trend has caught on in the tablet market as well. In recent years, the markets have been flooded with a wide range of tablet options. From high-end devices to extremely affordable tablets under $200 options, there is something out there for every kind of buyer.
With the range of budget tablets continually expanding, you no longer have to break the bank to buy one. Of course, these budget tablets are not top-of-the-line devices, but they have the strength and power to perform all the basic tasks expected of them. As long as you are willing to make a few compromises, you can easily find some of the best tablets under 200 Dollars.
What are the best cheap tablets to buy?
Take for example Amazon's Fire 7 tablet that offers sturdy design and effective parental controls for a price point lower than the cost of a family outing to the movies.
Then there is the Fire HD 8 Kids Edition tablet priced under $200 that not only has a lot of kid-friendly features but also offers a great deal of value to adults, making it the ideal family tablet on a budget price. Then there is the Onn tablet line from Walmart that comes in an 8-inch screen for under $100 and 10.1-inch also under $100. Heck, you can even get one with a detachable keyboard for less than $200.
These tablets are proof that the era of affordable tablets packed with great functionalities is upon us. We've sifted through the vast, and continually, expanding range of options to bring you these 5 best tablets under 200:
Amazon Fire HD 8 Tablet Review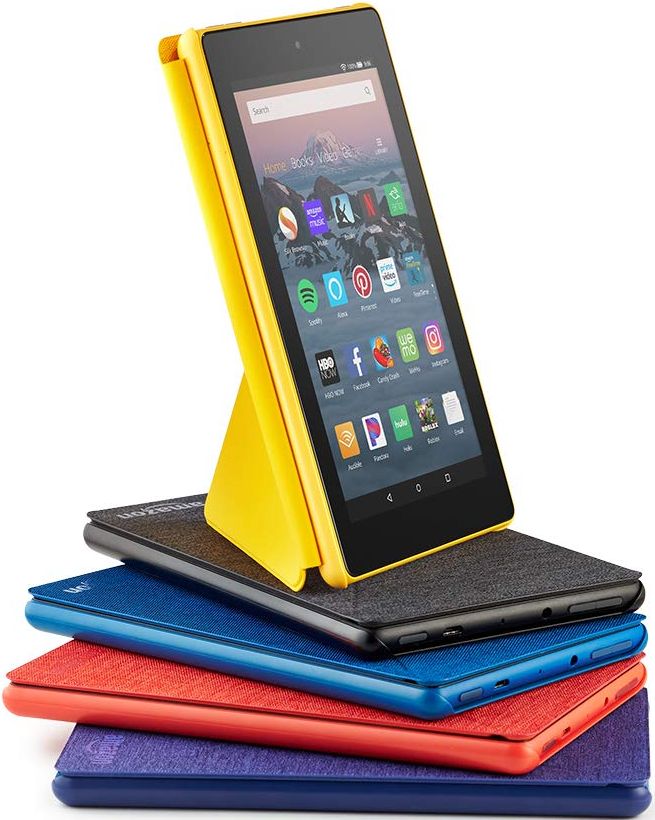 The range of Fire tablets from Amazon remains one of the best-selling options in the budget range of their overall value and the Fire HD 8 is no exception to that trend. Packing in an impressive line up of features at an impressively low cost, it remains one of the front-runners in our pick of best tablets under 200.
The Fire HD 8 tablet sports an 8-inch screen with an impressive 1280×800 pixel resolution, bringing in a nice balance of size, portability and display quality. Its battery life of 10 hours is another stellar feature that adds to the appeal of this device.
The Amazon Fire HD 8 comes with a 1.3-GHz processor and 1.5 GB RAM under the hood, which combined offer a quick, smoother user experience that is on par with several high-end options. The tablet is more than capable of supporting day-to-day tasks such as reading, browsing, viewing and playing. The tablet runs on Fire OS that is built on the Android platform. This results in a somewhat pared-down interface. Besides, the selection of options on the app store here is not as vast as Google Play or Apple's App Store.
On the bright side, there is no death of books, TV shows and movies you can access on this tablet, especially if you are a Prime subscriber.
Fire tablets have a tendency to sell content via home screen ads. If that's something you find hard to put up with, you can also purchase a 'without special offers' variant of the device by footing an extra $15.
The Amazon Fire HD 8 tablet comes with a 2 MP front camera, in addition to a 2 MP primary camera on the rear. Of course, the cameras do not offer amazing image or video quality but they suffice for making video calls or taking snapshots of documents or files.
The Fire HD 8 also comes equipped with Amazon's voice assistant, Alexa, which adds an element of hands-free usage to the device, making it operate a lot like Echo Show. You can place the tablet in Show mode, and then ask Alexa to play music or videos, pull up your calendar, display news, and control other smart devices around you.
Lenovo Tab 4, 8″ Review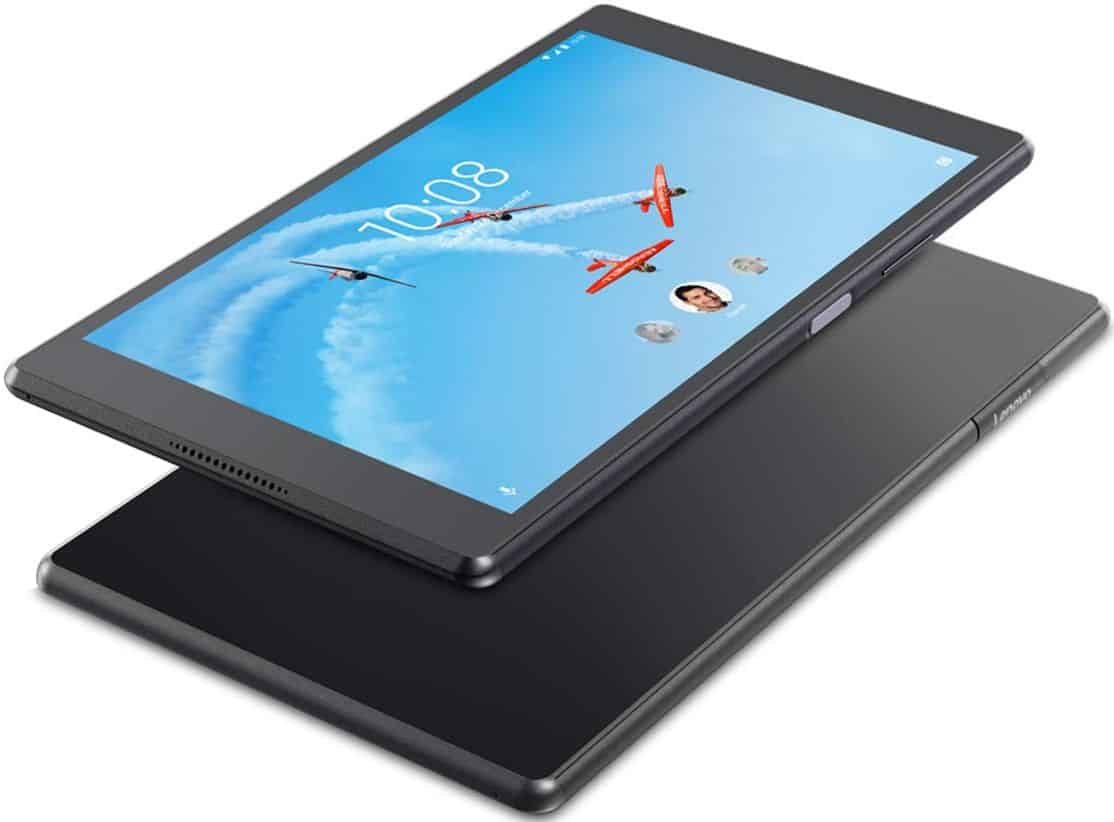 For all the premium tablets rolled out by the likes of Apple, Samsung, and Google, there are a plethora of affordable alternatives launched by other key players in the market. What makes these tablets desirable to buyers is the fact that unlike Amazon's heavily modified Fire OS, these devices run on the popular Android platform. One such popular choice among the best tablets under 200 is the Lenovo Tab 4.
The tablet runs the Android 7.1 Nougat, complete with access to the Google Play Store and the wide gamut of apps that come with it.
The tablet is equipped with 1.4-GHz Qualcomm Snapdragon 425 processor and 2 GB RAM, which enable it to run the software as well as different apps, media files and games smoothly.
The performance of the Lenovo Tab 4 is certainly above average in comparison to competing tablets under $200 in its price range. The screen of the 8-inch variant of the Tab 4 is a tad underwhelming in comparison to its 10-inch counterpart, which has a definitive edge in terms of display clarity and viewing angles.
The Lenovo Tab 4 8, just like Tab 4 10, sports an in-plane switching (IPS) panel screen with 1280×800 resolution and delivers a pixel density of 189 PPI. What the Lenovo Tab 4 8 lacks in terms of display clarity it more than makes up in portability. Weighing just 0.68 pounds and with a battery run time of over 20 hours, the Lenovo Tab 4 8 is an ideal device for on-to-go use.
The front-facing dual Dolby Atmos speakers are a surprising addition for its price point and offer a high-quality audio experience.
Samsung Galaxy Tab A 8.0 Review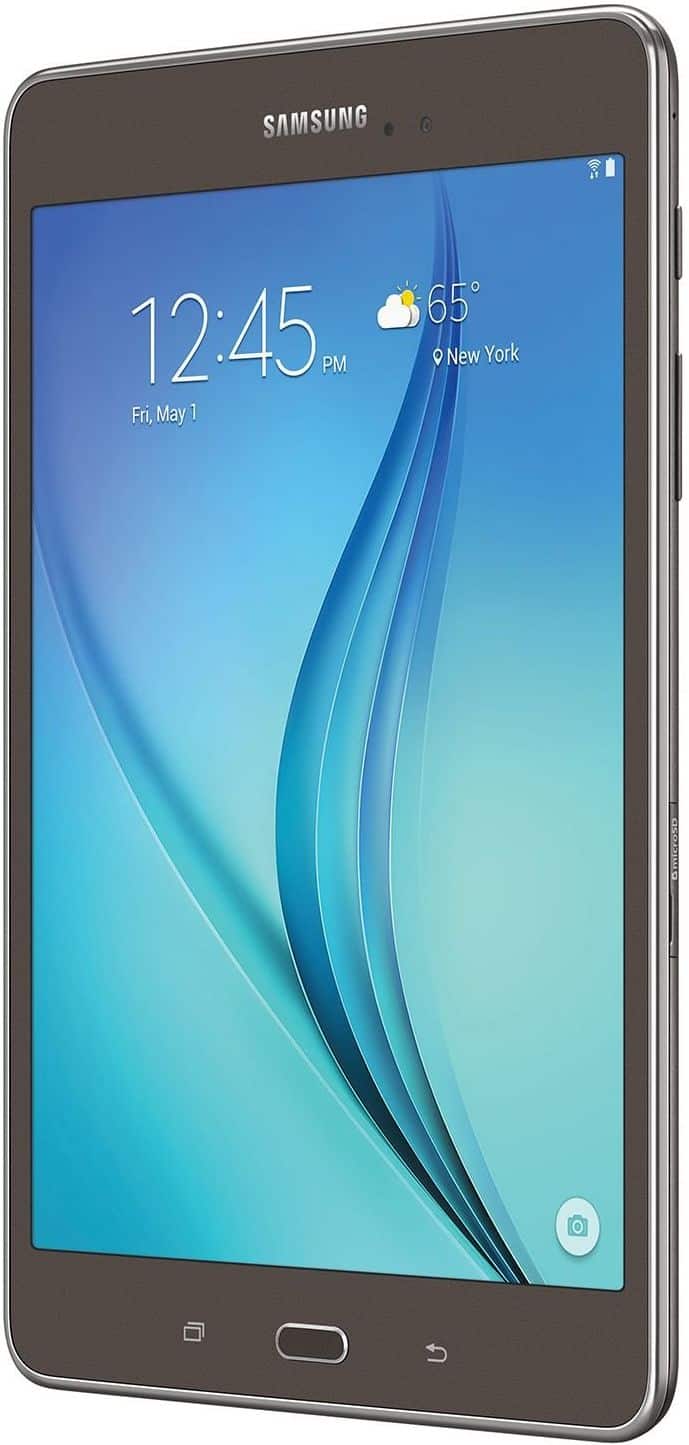 Samsung may have earned a reputation as a manufacturer of high-end premium devices, both in the smartphone and the tablet segments, but its range of mid-level and budget devices is equally impressive, if not more. The Galaxy Tab A 8, one of the best tablets under 200, makes for a strong case in point.
This tablet gives users a unique blend of the impressive design, sturdy build quality, and the company's brand value at an unbelievably affordable price point.
The Samsung Galaxy Tab A 8 is a solid yet sleek tablet that weighs 0.79 pounds, which is a tad heavier in comparison to some of its competing devices but still light enough for prolonged use and carrying around. The Tab A 8 sports an 8-inch screen with a resolution of 1280×800 pixels. The resolution is more than decent for its price range but the real highlight of the screen its high brightness levels that make it fit for outdoor use even on bright, sunny days.
The Galaxy Tab A 8 is fired up by 1.4-GHz Snapdragon 425 CPU, which coupled with 2 GB RAM is pretty standard for its segment and delivers just enough power to support different everyday tasks with ease. This Samsung tablet can support multitasking and gaming, as long as these tasks do not involve intensive processing.
The Galaxy Tab A 8 ships with Android 7.1 Nougat with some customizations to the interface in line with the 'Samsung Experience'.
The tablet also sports a USB-C charging port and a microSD slot that can be used to expand the internal storage to up to 256 GB. It comes with the Bixby Home virtual assistant that offers a hands-free user experience to a large extent and helps with information such as daily news brief and weather forecast at a glance.
Huawei MediaPad T5 Review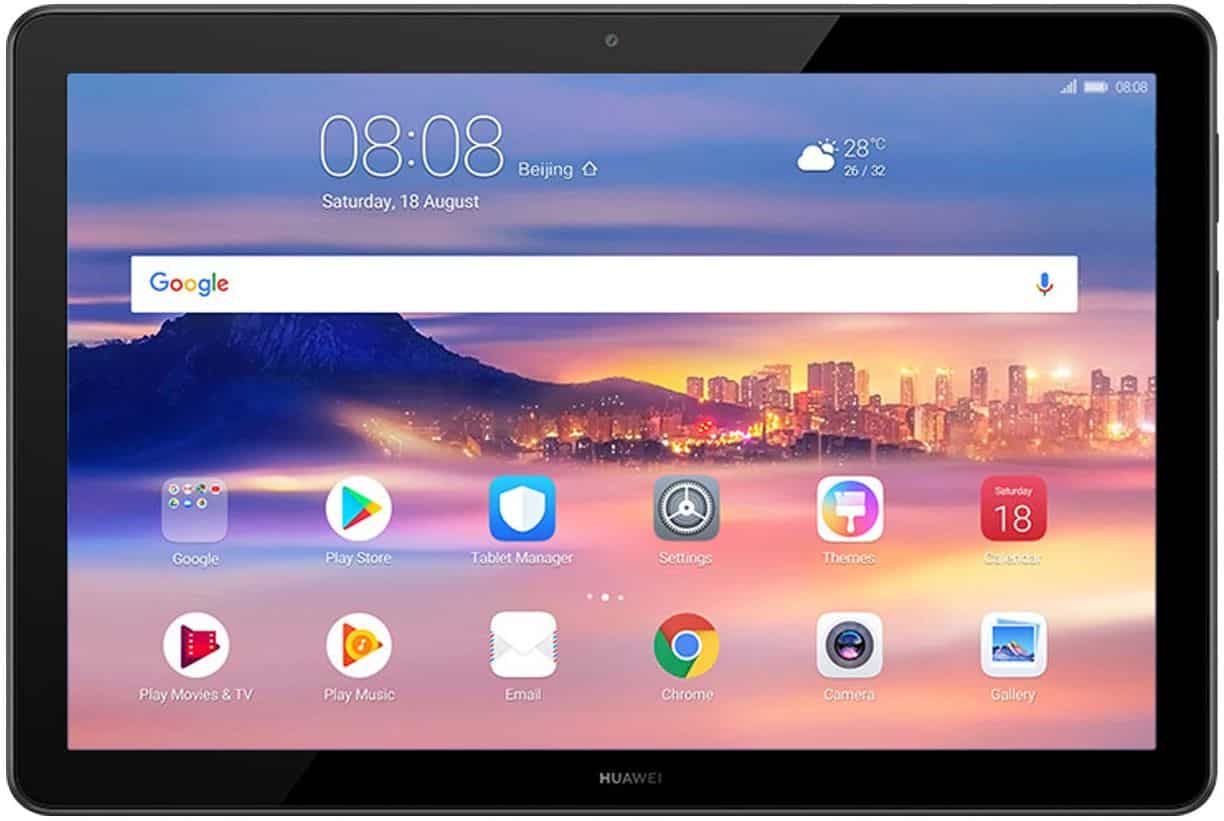 Getting a top-end tablet experience without paying a premium price is a remote possibility. The Huawei MediaPad T5 comes as close to it as possible. Equipped with a Kirin 659 octa-core processor capable of clocking processing speeds in the range of 2.36 GHz, this Huawei offering is a powerful tablet that not only surpasses most other tablets in the under $200 price range with ease but also delivers impressive gaming power. It can not only run mid-level games with ease but also run the ones with heavy graphics when played on lower settings.
The Huawei MediaPAd T5 runs the Android OS and ships with an 8.0 Oreo version, which means it comes loaded with current functionalities – a feature that most other budget tablets lack. The Android OS here is topped with Huawei's homegrown EMUI 8.0 interface that enhances the ease of navigation and adds more additional setting options and apps to the mix.
The tablet sports a 10.1-inch display with a full HD screen with an impressive resolution of 1920×1200 pixels and a pixel density of 224 PPI. The IPS panel used on the screen offers great viewing angles too. However, the brightness levels are not a strong suit for this device.
Reflections hamper visibility in bright sunlight, rendering it pretty much unusable in outdoor settings, especially on sunny days. The Huawei MediaPAd T5 also comes with two built-in speakers placed at the bottom, offering decent audio quality and volume. If you are an avid gamer looking a tablet specifically for this use, the Huawei MediaPAd T5 is hands-down a top choice among best tablets under 200.
ASUS ZenPad 8 Review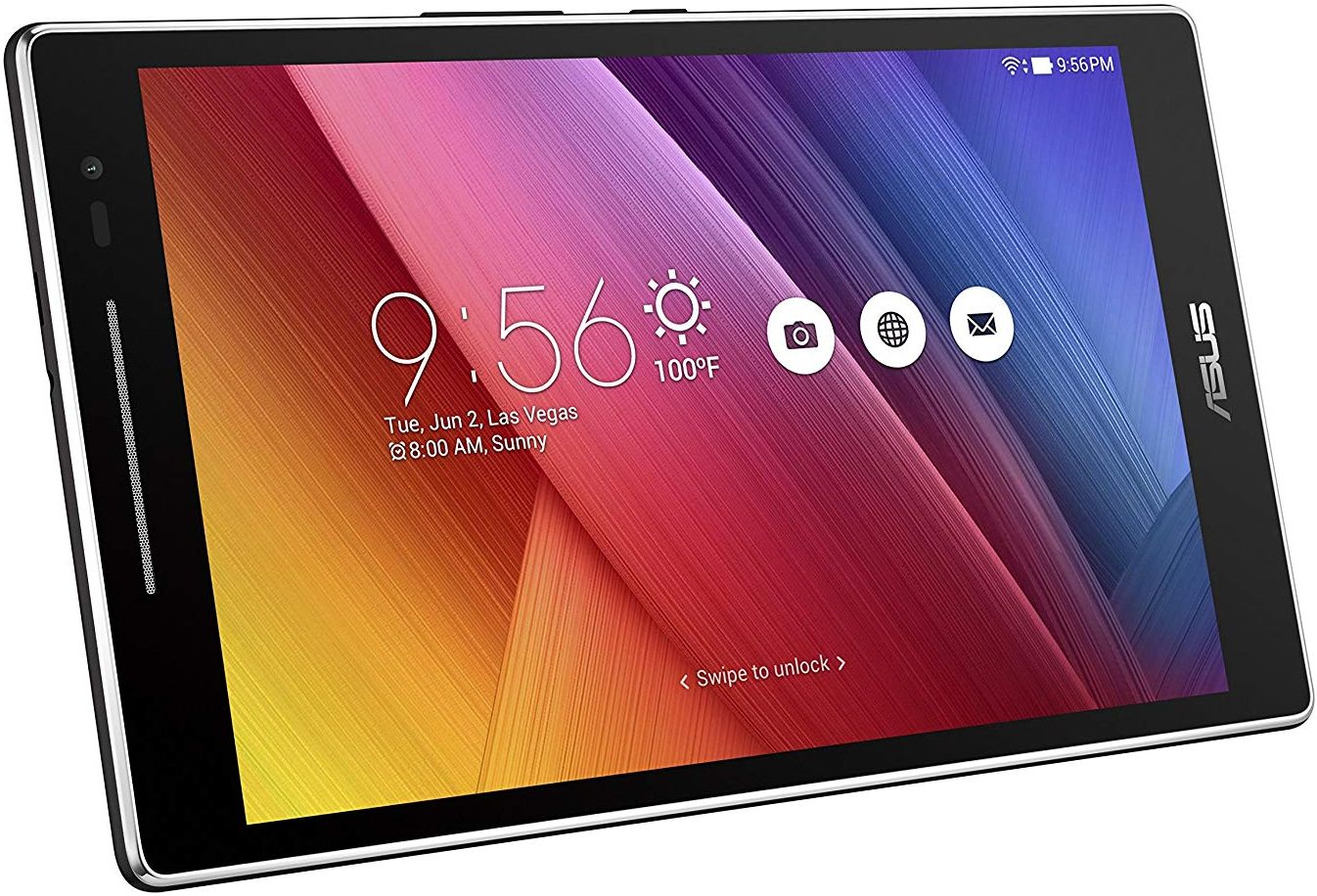 The ASUS ZenPad 8 stands out of its simple, clean look that lends it a stylish universal appeal. The aesthetics of this tablet are further heightened by the inclusion of a polished metallic band and embossed leather patterning that adds to the premium looks and feel of this tablet.
The ZenPad is inspired by the Zen design philosophy that focuses on finding that perfect balance between beauty and strength, and on that account, this device delivers perfectly.
The tablet sports an 8-inch screen with HD display equipped with ASUS visual enhancement technology that uses a mix of elements such as TruVivid, ASUS Tru2Life, Splendid, Bluelight Filter, along with an IPS panel. Together these elements deliver an incredibly vivid, life-like viewing experience.
The ASUS ZenPad 8 is fired up by a 64 bit MediaTek MT8163 quad-core processor and 2GB RAM and runs the Android 6.0 Marshmallow OS. The processor and RAM combination accords this tablet adequate power to perform all the day-to-day tasks such as internet browsing, playing media files, watching videos and even playing some mid-range games effortlessly.
The OS used here is a bit dated, especially considering you have a few tablets in the same price range shipping with Android 8.0 Oreo and the use of Android 7.1 Nougat is more or less the norm. The OS version does not negatively impact the tablet's performance in any apparent manner, except it'd have been nicer to have a more current version with the latest features and functionalities.
The ZenPad 8 has 16GB of internal storage which can be expanded up to 128 GB with a microSD card. ASUS also has an exciting offer running on this tablet – free 100 GB of Google Drive space for 2 years.
On the camera front, the ZenPad 8 outdoes its competition with a 2 MP front camera and a 5 MP rear camera equipped with PixelMaster technology that taps into optical design and software to enhance the image quality. All these powerful specs rolled into a good-looking, sleek device that weighs just 0.8 pounds make the ZenPad 8 an undeniable contender for a top spot among the best tablets under 200.
The Bottom Line
When it comes to choosing a tablet under $200 price range, the key is to keep your expectations realistic. Don't look for a device that is 'perfect' or delivers a perfect score on all parameters of performance, usability, design, and specifications but one that is 'perfect' for your needs. So identifying your own needs and requirements before you go shopping is absolutely essential for zeroing-in on a tablet capable of performing all the tasks you need it to, and then some, without burning a hole in your pocket.
This compilation of best tablets under 200 simplifies that task for you, as it includes budget tablets catering to absolutely distinct user needs. All that's left for you to do is pick the one that works best for you.