A Review of the Winnovo VTab:

is this the

best Android tablet under 200 bucks?
Tablet computers are increasingly finding favor with a vast cross-section of users. Considering that they make for a great choice for personal entertainment and working remotely, it is not hard to see why. In fact, plenty of workplaces today have either implemented working systems that rely on tablets or are working toward including these portable devices in the existing scheme of things.
This growing demand has also resulted in a huge influx of tablets, leaving the market saturated and making it increasingly hard for buyers to zero-in on a tablet PC that is best-suited to their needs. Until recently, buyers would naturally default to high-end options from Apple or Samsung. However, the advent of a myriad of viable alternatives has heralded a change in that trend.
Users today are leaning toward more cost-effective yet performance intensive tablets. One such option on the market currently is the Winnovo VTab 10.1-inch Android Tablet.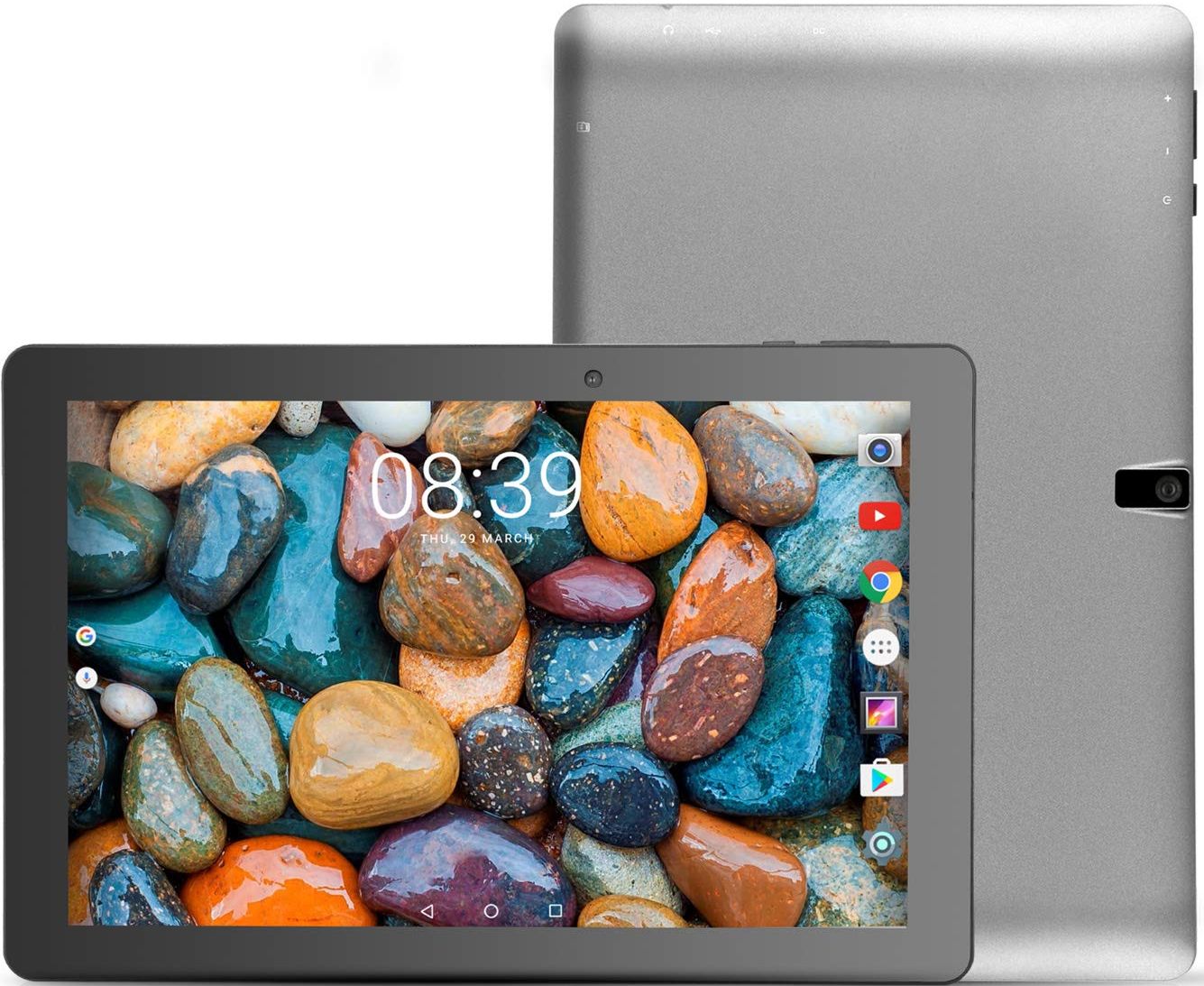 From its first look, the Winnovo VTab comes across as an Android tablet designed to win you over. The looks, the body build, the widescreen and the amazing features – all of this at a lucratively low price point – make this Android tablet an irresistible find.
You have to use it to understand where this tablet gets its looks and power from. Throw in the mix the impressive display, processing, connectivity, battery, and multimedia features, and the Winnovo VTab 10.1-inch Android Tablet comes across as a tough competition in the under 200 dollars tablet market, not just in its segment but across the board.
Let's take a close look at the build and performance of this tablet computer to understand what makes it stand out in an already overcrowded market space:
Winnovo VTab Ratings
Design

4/5

Premium finish with curved edges and sleek design

Display

4.5/5

10.1-inch IPS display with HD resolution and wide viewing angles

Performance

3.5/5

Handles basic, everyday tasks with ease

Features

4/5

Decent processor, great connectivity options, dual cameras make it a feature-rich device for its price point

Overall

4/5

A powerful portable device at more than an affordable price point that offers more than your money's worth
What Works
Elegant design

Fast processing speed

DDR3 RAM

Dual Camera

Battery life
What Doesn't
Google 6.0 Marshmallow OS

Slow charging speed
An Overview of the Winnovo VTab Android Tablet
The Winnovo VTab Android Tablet stays true to its underlying theme of 'large vision, large world'. It is equipped with a 10.1-inch IPS screen with a wide visual angle of 178 degrees, and a resolution of 1280×800 pixels in HD. So no matter what you are using this tablet for – be it playing games, viewing photos or watching videos – you can rest assured of a soft, clear and vivid display.
The Winnovo VTab 10.1-inch Android Tablet comes with a powerful MediaTek MT8163 1.3GHz 64-bits powerful Quad Core CPU, 2 GB RAM under the hood, and is powered by Android 6.0 operating system. Combined, these specs enhance the multitasking ability of this tablet and ensure that there are no annoying lags in the performance.
The impressive processing speed allows you to surf the internet, download files, listen to music or play videos simultaneously, without any buffer or freeze trouble. The optimized processing speed also eliminates any troubles with touchscreen response retardation and offers an extremely smooth, seamless and stable user experience.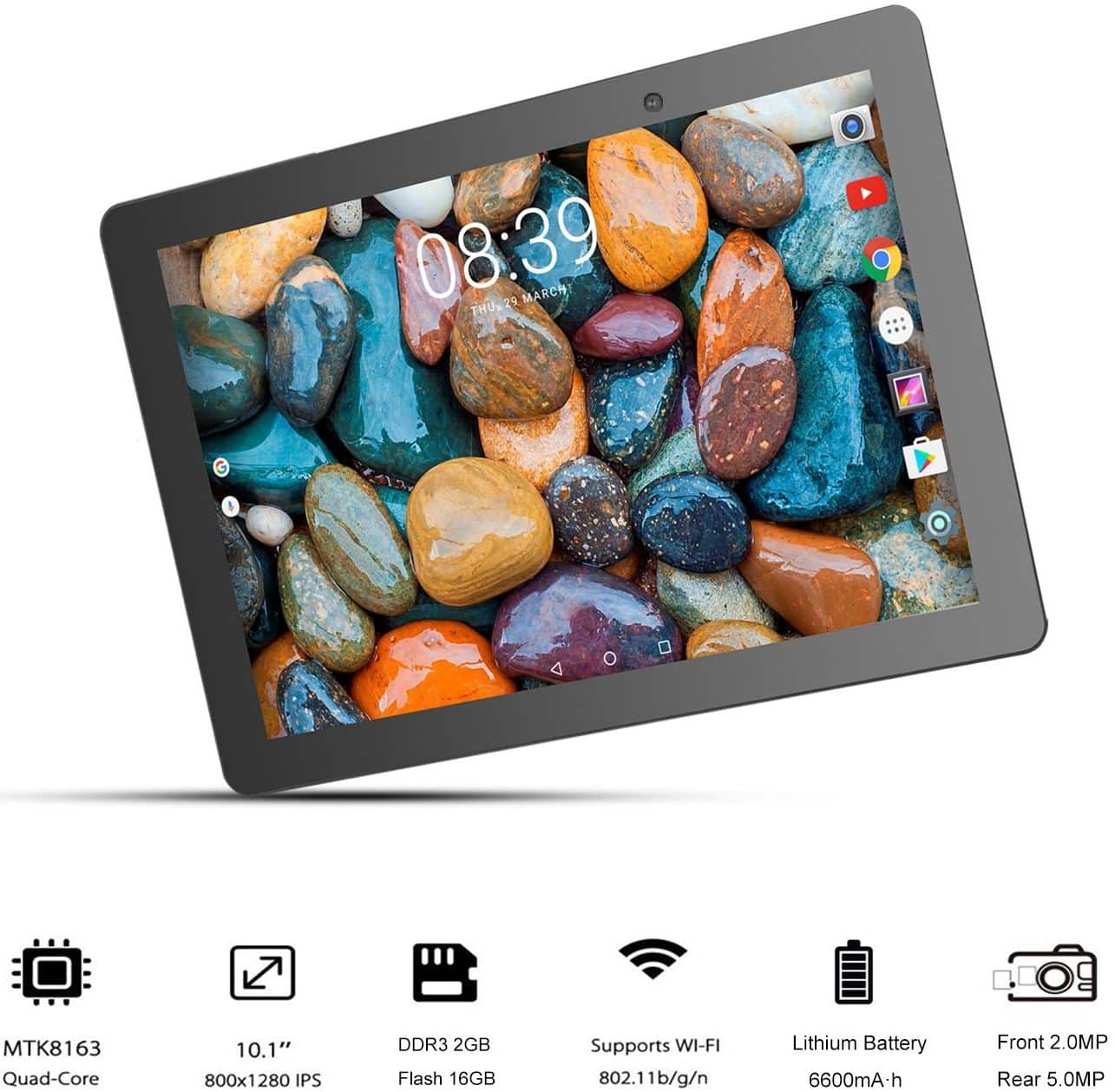 The Winnovo VTab has a decent 16 GB internal storage, which is expandable up to 128 GB with a microSD card. With the expanded memory space, you can store up to 10 movies in HD, 10,000 images and over 2,000 songs.
The tablet's 6,600 mAh battery offers 5 hours of uninterrupted runtime on a single full charge and a standby time of 240 hours. It also has a 5 MP primary camera with auto-focus functionality, designed to help your seize moments on the go and deliver vivid results as well as a 2 MP front camera.
On the connectivity front, the Winnovo VTab 10.1-inch Android Tablet offers support for Dual Band WiFi and WLAN/Wireless technology at both 2.4GHz and 5GHz signal frequencies. In addition to this, you also get Bluetooth 4.0 and GPS.
From quick internet surfing to ease of pairing with other devices and precise and quick navigation, the Winnovo VTab has you covered on all fronts.
Since it is a Google-certified tablet, you also get access to the Play Store, from where you can download a wide range of apps, including popular choices such as Facebook, Instagram, YouTube, Skype, and Netflix. The Winno VTab also comes with a year-long warranty as well as lifetime tech support, which come in handy in case of any damages or usage troubles.
Winnovo VTab's Design and Display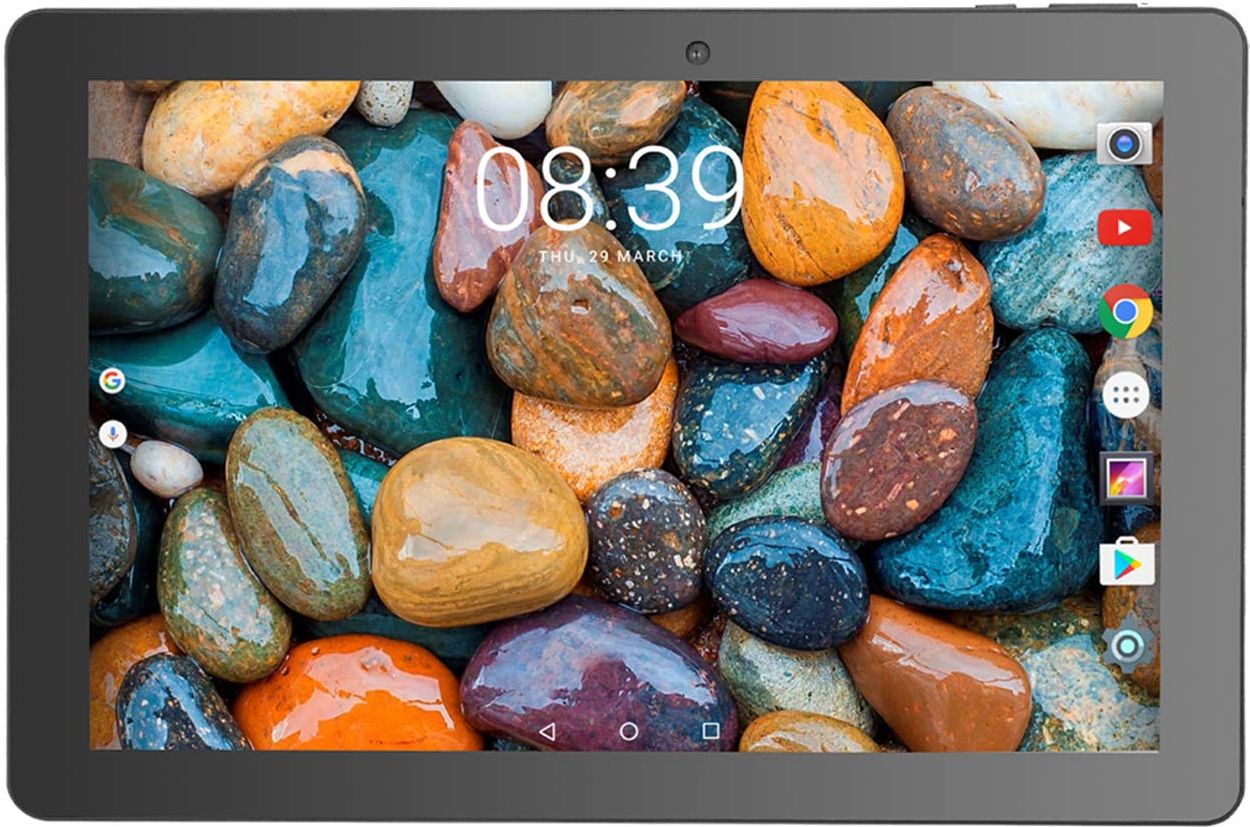 The Winnovo VTab 10-inch Android Tablet is an elegantly designed tablet computer that looks sturdy and well-built, especially given its entry-level status. The slightly elevated back, premium finish to the body and curved edges lend this Android tablet an appealing look. With dimensions in the range of 12x9x3 inches and a total weight of 1.36 pounds, the Winnovo VTab is a light tablet that is just right for on-the-go usage.
The only not-so-pleasant aspect of its design is the presence of thick bezels. Cutting back on the very thick and very visible bezels would not only have enhanced the looks of the tablet but also taken its display a notch higher. But then again, when you take its very affordable price point into consideration, this isn't much to complain about.
The Winnovo VTab boasts of a brilliant 10.1-inch IPS display with wide viewing angles that offer generous screen space for watching videos or playing games. The 1280×800 HD resolution and multi-touch support offer a great visual and seamless operating experience.
Processor and OS
The MediaTek MT8163 processor under Winnovo VTab's hood can clock a processing frequency of 1.3 GHz, which may not be the most impressive but it works. Once again, the budget price range of the device and the processing speed delivered by the MTK processor make you set your aspersions aside and almost nod in agreement with the Winnovo's choice of processor. Yes, the processing chip, as well as its clock speed, falls within satisfactory limits. It is not a performance powerhouse but the quad-core processor is enough to get the job done. All the tasks thrown at the tablet are divided among its four cores, which are multi-threaded to offer faster, better performance.
The same holds true for its choice of the operating system. The Winnovo VTab 10.1-inch Android Tablet runs Android 6.0 Marshmallow, which isn't the most recent or the most powerful versions of the OS. While it's not the optimum choice, it works adequately well and packs in some cool features that enhance the overall functionality of the device.
RAM and Storage
The manufacturers describe the Winnovo VTab 10.1-inch Android Tablet as a device that offers 'unbeatable performance', and it delivers on that promise too. The impressive performance capabilities of the Winnovo VTab – be it multitasking between tabs, files, apps or any other function – stems largely from its RAM. The 2GB DDR3 RAM is more than capable of handling most tasks smoothly. At Winnovo VTab's price point, the inclusion of DDR3 memory is a blessing.
The internal storage capacity of 16 GB gives you ample space to store important data and files. Or at least a head start in that direction. In case the storage capacity falls short, you can always expand it up to 128 GB with a microSD card. The impressive bit about Winnovo VTab 10.1-inch Android Tablet is its ability to handle all the additional data that comes with expanding the internal storage capacity. You can throw any amount of data at the Winnovo VTab and it stores it without any lags in its overall performance. A feat most tablets and smartphones fail to achieve.
Other Specs
The Winnovo VTab is powered by a 6,600 mAh lithium-ion polymer battery that offers a run time of five hours on a single full charge and a standby time of an impressive 240 hours. The battery is sizeable and it translates into an efficient, long-lasting performance. On the connectivity from, you get support for dual Band WiFi at both 2.4GHz and 5GHz speeds.
The connectivity choices have been enhanced with the inclusion of Bluetooth 4.0 and a USB 3.0 port, along with a microSD card slot. The USB 3.0 port comes in handy for attaching the tablet to a keyboard, and of course, the microSD card slot for expanding the internal storage capacity.
The built-in speakers perform adequately well on playing the audio from videos as well as music files. Predictably, the audio performance is far from top-notch but it is well above average. The playback sound does not leave you underwhelmed in any way.
The tablet has a 5 MP primary camera on the rear that offers relatively vivid image quality, thanks to its auto-focus functionality. There is also a 2 MP front snapper for video calls.
Performance
The first impression of the Winnovo VTab is generally positive. One of the first things you fall in love with is the case that comes as with the Winnovo VTab. Unlike the cheap material used in most budget-friendly tablets, this one actually has a nice, premium feel to it. A protective guard for the screen is also included in the package.
The Winnovo VTab 10.1-inch Android Tablet is highly responsive to touch and there are no lags or misses with any swipe or tap motions. The battery performance of the tablet, however, poses a slight concern.
The battery offers a decent run time of about six hours on a complete charge. It is the charging speed that leaves something to be desired. Charging the tablet for about two hours gets the battery from 0 to just 62 percent. Unless the battery is fully charged, it tends to drain out rather quickly.
You lose about 10 percent of this battery juice with just about 20 minutes of moderate use – surfing the internet, checking email, sending out texts. Throw in some videos to the mix, and another 10 percent is lost in just 10 minutes. So, you've got to plan your usage and charging time carefully to get optimal performance from this tablet's battery.
Since the tablet runs Android 6.0, some of the recent apps such as Google Slides may not be optimized of this device. That said, it can handle all the basic apps such as Facebook, Skype, Instagram, Drive, Gmail, Twitter and even entertainment apps such as Netflix and Amazon Prime pretty seamlessly. Oddly, Winnovo VTab does not offer the option to update OS yet, even though there are newer versions of Android – Nougat, Oreo, and Pie – out there.
All in all, the Winnovo VTab 10.1-inch Android Tablet is best suited for everyday tasks such as internet browsing, social media usage, entertainment, mid-range gaming, emails and creating and editing basic documents and files. For anything more heavy-duty, the tablet may leave a lot to be desired. When the tablet's performance is measured against its price tag, it fares rather well.
Verdict
The Winnovo VTab 10-inch Android Tablet is a powerful portable device for its affordable price point and offers more than your money's worth. Despite not being fitted with the most high-end processors, it accords a great user experience. An impressive display, dual camera, and a DDR3 RAM are the clear highlights of this device. It makes a good fit for users with basic needs but may not be the ideal fit for replacing a computer.
Where to Buy
The Winnovo VTab 10.1-inch Android Tablet is available on Amazon at a discount.