If you're a consumer who demands the very best, look no further than the Doogee T5 4G smartphone. Just one look at the outside of this phone and you'll realize that it's a fashion product, through and through. Just because it looks great doesn't meant that it isn't a great phone, as Doogee made sure that this phone performs as well as it looks.
First Looks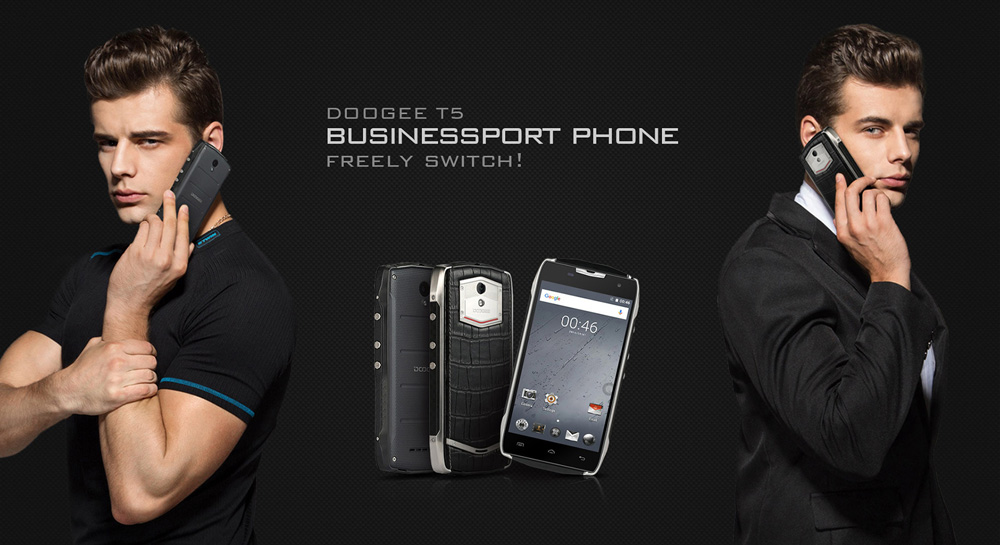 This is not something you often see from a Chinese phone. Most of them focus on being utilitarian – offering the best performance for the lowest price. The Doogee T5 4G isn't any more expensive than comparable phones, but it just feels like pure luxury. The smooth, rounded edges of the metal bezel are comfortable to hold in the hand, but the faux-leather on the back is both soft and of impeccable quality. Just like a fine watch, the Doogee T5 4G is a smartphone that will demand attention.
Durability
This is something that absolutely shocked us. Usually, luxury devices need to be babied, to ensure that no harm can come to their delicate and expertly crafted exteriors. However, the T5 uses incredibly high-quality materials and can stand up to a lot of abuse. In fact, GearBst even made a little video to demonstrate this. They lined up three of the phones, ran them over with an Audi, then threw them against the wall. Not a scratch. I could go on for pages about how durable this phone is, but I'll let the video do the talking.
Components
The Doogee T5 4G doesn't skimp on internal components. You've got a 1.3GHZ 8 core processor, which is great for those of you who like to leave tons of apps open and have everything launch in a flash. There is also 3gb of memory, which make even the most multimedia heavy applications remain snappy. If the 32gb of ram isn't enough internal storage space for you, you can slap in another 32gb SD card and store all the multimedia you want.
Media
The Doogee T5 4G has a full HD 720p display, which makes everything look amazing, even in bright sunlight. If you're a gamer, the built in dedicated graphics chip will keep your 3d performance competitive with handsets built for gaming, making this a truly multipurpose device. Another great feature of this phone is the speakers. They are loud. Don't get me wrong, this isn't going to replace your home stereo. However, the speakers on this phone are significantly better than what we're used to from such affordable devices.
So, Should I Get the Doogee T5 4G Smartphone?
If looks are important to you, you won't find a phone more attractive than the Doogee T5 4g Smartphone. Combined with the fact that this phone is incredibly durable and incredibly powerful, this makes it an amazing purchase for anyone who wants a phone that will do everything. At $199, it's not the cheapest phone on the market. However, it performs very well and comes in at a fraction of the price you'd pay for overpriced American phones. No matter what you intend to use your phone for, the Doogee T5 4G offers incredible value. GearBest have it up at a discount, so, you might want to check them out.