A Review of the GPD Pocket Mini Laptop
The trend where shrinking the size of gadgets – making them smaller, lighter, thinner – becoming synonymous with technological advancements caught on sometime in the early 2000s and reached its zenith half-way through that decade.
The maximum impact was seen in the realm of personal computing, as laptops and desktop computers became more and more compact. So you had notebook PCs, mini-PCs and ultra-mini PCs and so on.
No matter how terribly fashionable it was back then to own devices that were brimming with computing abilities squeezed into the smallest spaces possible, these gadgets failed to hold their own in the long run.
One of the key reasons for this was that these compact PCs were always hamstrung, working on inept hardware, watered-down operating systems, and thus, found to be lagging in the ability to perform day-to-day tasks.
It was also around the same time that our smartphones and tablets were becoming more powerful than ever before.
If you really stop to think about it, the smartphone in your hand or that tablet in your bag right now is a powerhouse of computing capabilities, which the mini PCs from more than a decade ago were not cut out to compete with.
This eventually led to 10-inch palmtops or netbooks (or whatever other fancy names these devices were marketed with) disappearing from the shopping aisles. So much so, that today the users are conditioned to categorize any smart gadget with a screen size less than 10 inches as a smartphone, phablet or tablet.
In an attempt to revive this near extinct segment, a Chinese manufacturer called GamePad Digitial, or simply GPD, has rolled out a Windows 10 laptop with a 7-inch display screen christened the GPD Pocket, this new offering is not much bigger than your average smartphone screen, but designed to help you with some actual computing work.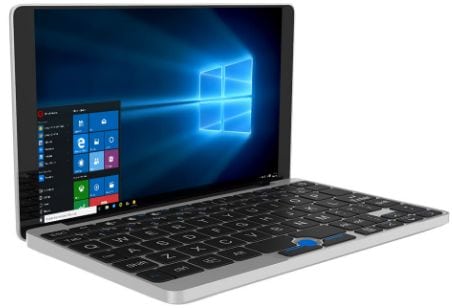 Here's what this tiny yet impressive mini-laptop holds in its folds:
Unboxing the GPD Pocket mini-laptop
Unboxing the GPD Pocket is not very different from the experience of unboxing a typical smartphone. In addition to the Pocket PC itself, you get a:
screen protector,
earphones,
a USB C charger,
NEMA-1 connector,
a USB-C connector cable and
a user manual, which to the disappointment of many is written in Chinese.
Everything is held neatly in a carton the size of a shoe box.
GPD Pocket's Design
The GPD Pocket is fitted inside an all-in-one case that seems to be designed for the quintessential mobile IT user. The alloy casing on this mini-laptop lends it a premium feel. The GPD pocket measures 18×10.6×1.85 cm and weighs a mere 503 grams.
Going by these dimensions, categorizing the GPD Pocket as a laptop seems quite unreal, except it is one.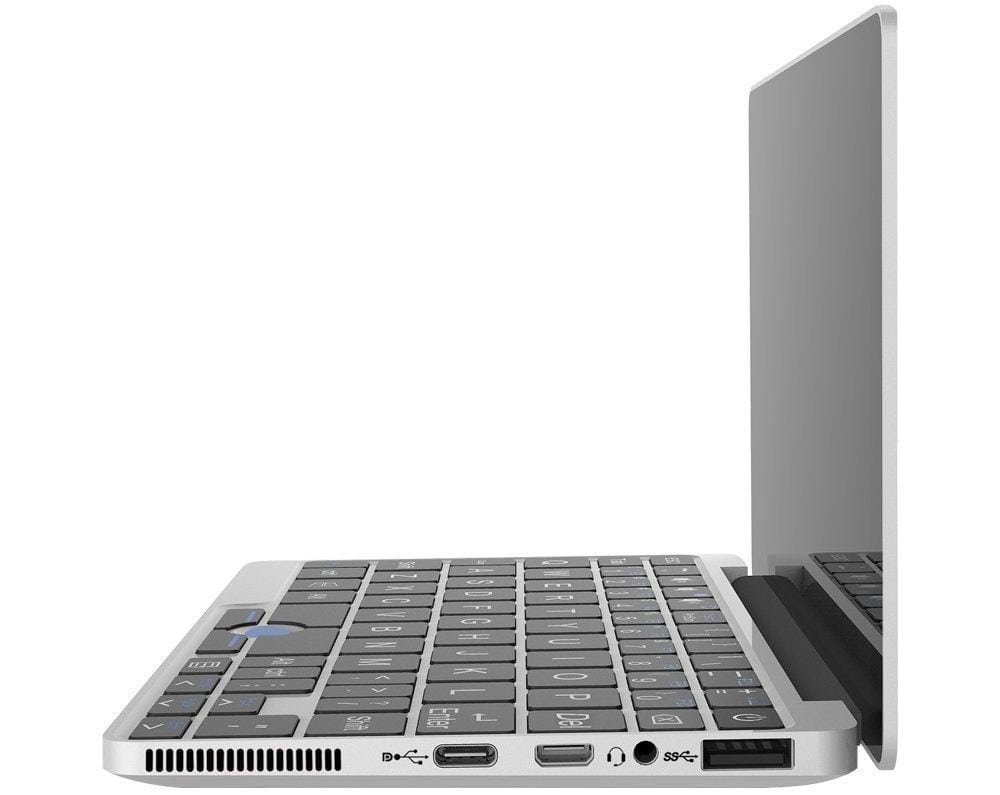 Despite its small frame, the laptop comes with quite an impressive line-up of connection possibilities on the right side of the body, housing a micro-HDMI port, USB-C port, 3.5 mm audio jack, USB 3.0 type A port.
You cannot help but notice the missing microSD card slot on this device. It bodes well to remind yourself here that this is a compact laptop and a few concessions are only natural. The fan grille too has been placed on the right.
Even though it gives the first impression of being flimsy, it performs the task of actively cooling the pocket PC rather well.
There are four tiny rubber feet on the bottom side of the body, placed close to the corner, to lend more stability to this tiny structure. The most interesting part of the build and design of the GPD pocket, however, remains its keyboard.
All essential keys, including some function keys, have been accommodated on the keyboard – at least the one with the US layout – despite the compact housing.
The trackpad traditionally used in laptops for mouse movement has been replaced with a pointer, and it seems like a smart move at least from the looks of it because it helps in saving on some crucial space, which the GPD Pocket does not have in abundance, to begin with.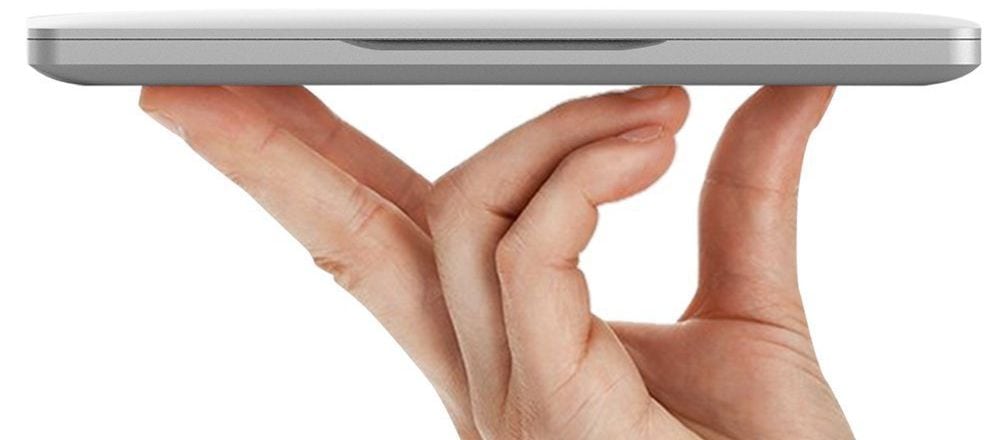 The entire structure is seamlessly built, holding all connections firmly and not betray any signs of lags or faults. The display hinge has a pleasant resistance to it but opens smoothly.
Each component on this Pocket PC, be it the keyboard or the pointer or glass-protected screen, convey an impression of a high-quality, sturdy device.
Notable Features on the GPD Pocket
The GPD Pocket is an exceptionally well-made device, and its robustness shines through its various components, including the screen.
The 7-inch IPS screen comes with 10 multi-touch points and boasts of 1920×1200 pixels of resolution and a density of 323 PPI, which means even in its small size the screen offers a vibrant and crisp viewing experience, making this a great device for watching video content.
There is some bezel around the screen that can be a bit bothersome when you are looking at a screen that small. Fitting in 10 touch points on a screen that small also means that these targets are smaller than usual.
However, using the touch feature to scroll is as breezy as it gets. The Corning Gorilla Glass cover lends strength and hardiness to the screen.
The real treat lies in booting up the GPD Pocket and discovering a fully-functional Windows 10 Home copy running on the Pocket PC.
Of course, you already know that this compact laptop runs a Windows 10 Home, but even so, watching it come to life is a delightful experience. This isn't a watered-down, compromised version that is designed to feel like the Windows but the actually Windows 10 OS that you'd normally run on a desktop machine.
A few corners have certainly been cut in putting together this GPD mini-laptop, and one is sort of half-prepared to deal with that.
One such concession is the use of a quad-core x7-Z8750 processor from the Intel Cherry Trail Atom platform that is largely obsolete now. The processor is capable of delivering a 1.6 GHz frequency.
Similarly, the device sports an Intel HD Graphics 405 video card, which does a decent job of firing up graphics tasks of the non-demanding kind. But then the GPD Pocket isn't exactly a device you'd use for high-end graphical tasks, and the video card here more than suffices in handling the tasks this mini-laptop is cut out for.
You get 128GB of eMMC storage here, instead of the in-vogue SSD. With 88 MB/s write speeds and 146 MB/s read speeds, the storage is quite adequate. What's impressive, though, is the inclusion of 8GB LPDDR3 RAM capable of running at 1600 Hz.
Backed by these memory specs, the GPD offering offers a more than decent multi-tasking experience. You can open multiple tabs on Chrome or run different applications at the same time without feeling any lag whatsoever.
Even if you really want to go the extra mile and test this machine vis-à-vis its gaming performance, the GPD Pocket does not disappoint. It can double as a portable gaming machine as long as you are willing to cut it some slack in terms of resolution and graphics quality.
The device has quite a few connectivity options, such as the micro-HDMI port, USB-C port, 3.5 mm audio jack, USB 3.0 type A port mentioned before. In addition to these, it also comes with Bluetooth 4.1 support, which makes pairing it with other BT-enabled devices easy peasy.
The Keyboard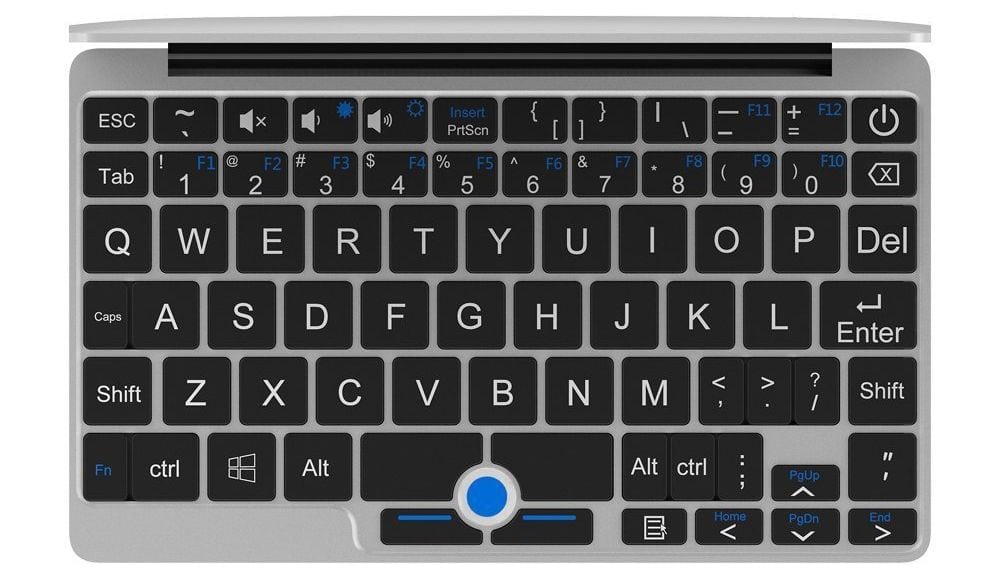 The one clear area where the GPD Pocket falters, more than a little, is the keyboard. The inherent fault lies in the maker's well-meaning albeit over-ambitious attempt at including a full-blown keyboard in a diminutive device.
Overall, the keys have a crisp, tactile feel to them and good travel. However, they are huddled too close together to offer a decent typing experience. So, you've to brace yourself for more typos than you'd like to deal with.
The keys being bunched in close proximity of one another not only increases the chances of mistakes but also slows down your typing speed. And then there are some odd placements to add to the users' woes.
For instance, a very tiny Caps Lock key has been placed right next to 'A'. While that is the arrangement in a typical QWERTY keyboard, it is the closeness and the size of the Cape Lock key that make this a troubled arrangement.
Similarly, for reasons best known to GPD, the Delete key is a lot bigger than the Backspace key that most users are more accustomed to using.
The missing trackpad takes some getting used to. To be fair, the rubber pointer used for mouse movements does works pretty well. In case you just can't go back to the joystick kind of navigation, there is always an option to plug in an additional mouse.
Verdict
The GPD Pocket is a mini-laptop with impressive hardware that offers great portable user experience. Ideal for watching movies or shows or even playing games during travel. However, the compromised keyboard does dampen its overall usability.
If you are someone who does not type much, the GPD Pocket is definitely worth considering.
You can get it on Amazon