Android Tipster participates in the Amazon Affiliates program and may receive a small percentage of a sale at no extra cost to you when you click some links on our site
How to recover disabled Instagram account [Tutorial]
If your Instagram account, whether personal or business was RECENTLY disabled for any reason, there may still be a good chance that you'll get it back.
This short tutorial will take you through the steps to recover your Instagram account but before we get into to that, first, let's take a look at a few of the main reasons why your Instagram account may have been disabled so that you can avoid making the same mistakes in future.
Remember, it will be a lot tougher to recover your account a second time if you make the same mistakes again.
Reasons why Instagram may have disabled your account
If you're not posting inappropriate content (adult/offensive material) and believe your account meets the community guidelines as stipulated by Instagram, then Instagram might have decided to delete your account for spamming.
This is an occurrence where you've just created a new account and in an attempt to get free Instagram followers, you've immediately started aggressively liking, following, sending DMs, commenting or even unfollowing users soon after following them.
I've always insisted both here and to my clients that if you've just created your account or your account has been dormant for a while, you should always warm up your accounts gradually before finally going hard. Here's an article explaining how to warm up your account.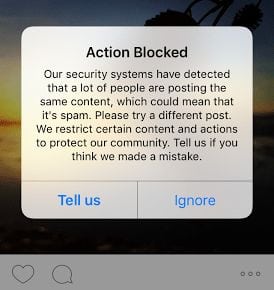 Aged accounts may also get disabled for aggressive activities as well as for having been reported for posting copyrighted material without permission. When you start getting temporary blocks then it's probably time you slowed down and observed the limits. Users who buy followers, likes, views, and comments are usually not spared for long either.
It helps to have your profile completed (upload profile photo, write a short bio, post about 3 images/videos) before you start interacting with other users.
So, how do you recover your account when disabled by Instagram?
How to recover your disabled Instagram account
These four simple steps should get you back your Instagram account:
Use the option Get help signing in.
On the page that follows, I recommend using your username. You might experience some problems if you had changed your username several times or changed your mobile number or email. If you get errors, try using the original email address you used when you first signed up. Here's what the error looks like:
When done correctly, Instagram should email you the recovery code. You'll need to follow the instructions in the email.
The Instagram email will bear the information that you will need to send your photo combining it with your handwritten copy of the recovery code they have just sent
Here are the rules to follow to meet their requirements in sending them the photo Instagram requires.First, you will have to write the recovery code that you have received via email on a piece of paper by your hand. Below the recovery code, you will also have to write your 'Full Name' and the 'Username' associated with your Instagram account. All of these handwritten information should be clear and big enough for the support staff of Instagram to see and understand without any issues.
Then you will have to hold the piece of paper where you have written the required information next to your face with your both hands. In this position, you will have to take a clear picture of you and the piece of paper. Remember, both the piece of paper with the information and your face should be clearly visible in the photo. And it is better if the photo is saved in JPEG format.
If you have done everything correctly we have said above, then send that photo with your answer to Instagram. In doing so, if everything goes well, Instagram will then send you a link to reset your password.
UPDATE!
Another option I see people using and are able to recover their deactivated Instagram account goes as follow:
Go to this link.
Fill in the form and click Send
You'll receive the following email with a code and instructions: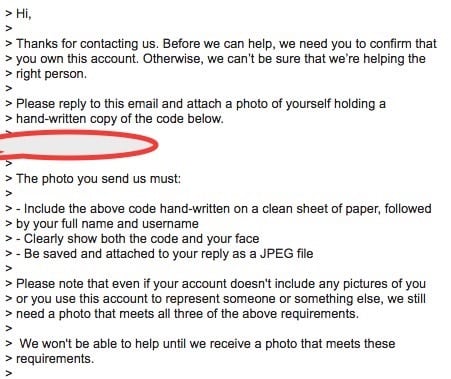 From here, you can simply take a picture and send it as instructed. I've heard of people recovering their accounts even after sending a picture of themselves (or someone else) wearing a baseball cap and making a face or squinting just in case they have a database to match your face.
[Update] Recovering banned Instagram account (10/10/2018)
Since October 4th, there's been a wave of account deactivation on a scale that we haven't experienced before. It looks like Instagram is doing another cleanup but on a grand scale this time around.
Users have reported losing up to 5k followers in a day, a few others even more. Apart from the loss of thousands of followers, the unusual aspect of this wave of bans is that most of these accounts that were disabled were being run by genuine people, not fake Instagram accounts, but REAL accounts.
I had one of my Instagram accounts disabled around the same time. This account had about 1500 followers but there's one thing this account had in common with those deleted ones that I've read about on other forums: I was auto-posting content using an automation tool.
This was never an issue before, especially if you're using high-quality residential proxies for Instagram, so, obviously, Instagram must have found a way to detect when you auto-post content and clamped down on it.
I did eventually manage to recover the banned Instagram account and I'm going to share with you how I did it. So if you've been typing these questions on Google:
How do I recover my Instagram account?
How do I get my disabled Instagram back?
… hopefully, this tutorial will help you out. Props to HenryCooper for sharing this guide.
How to recover banned Instagram account
You'll need to do this on your desktop computer. Make sure your PC is running on your home IP address (as opposed to proxies and VPNs).
Go to

https://help.instagram.com/contact/1652567838289083

OR

https://www.facebook.com/help/instagram/contact/1652567838289083

and fill out the form.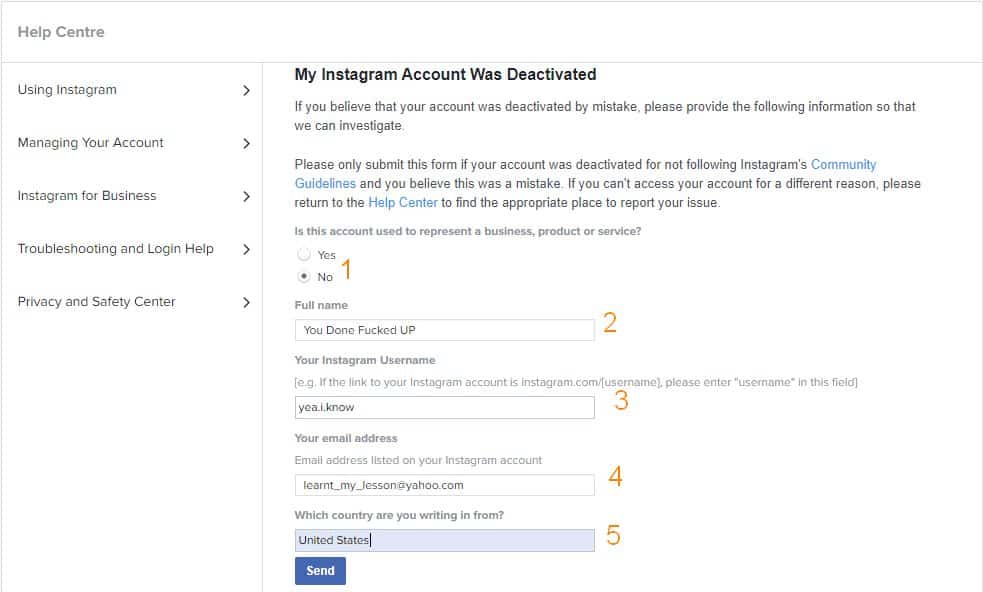 Always pick No
Pick whatever name you like. It doesn't matter what name you pick
Your Instagram username
Your email
Always pick the United States even if you're not from the US
Once you've filled that form up, you should receive an email from Instagram in the next few minutes. Simply attach the selfie as described in the email and hit send.
Now here comes the most important detail of this post. If your account is not reactivated, keep sending unban requests! Do it at least once a week until you get it back. Use a different email for every request because if a final decision is made on your email they won't be responding to it.
You're in luck if you're sending these requests from Gmail. Say your email address for your Instagram account is [email protected] You can send new requests from any of the following emails:
… e.t.c.
You'll need to respond from the same email you received Ig's email on. This will require you to change your Gmail settings for every unban request.
To do that, go to your Gmail Settings: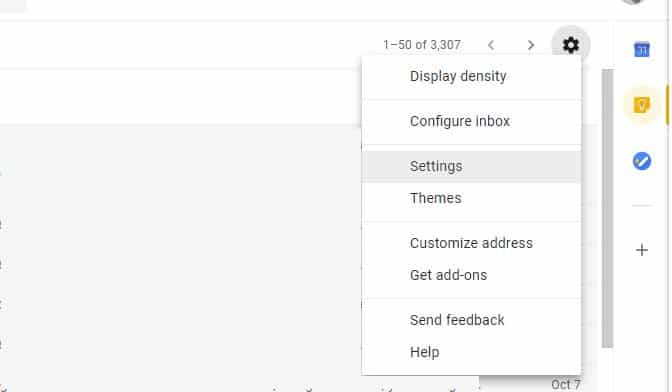 Click on the Accounts and Import tab and then Add another E-Mail address. Now fill in the alternative email for this new unban request.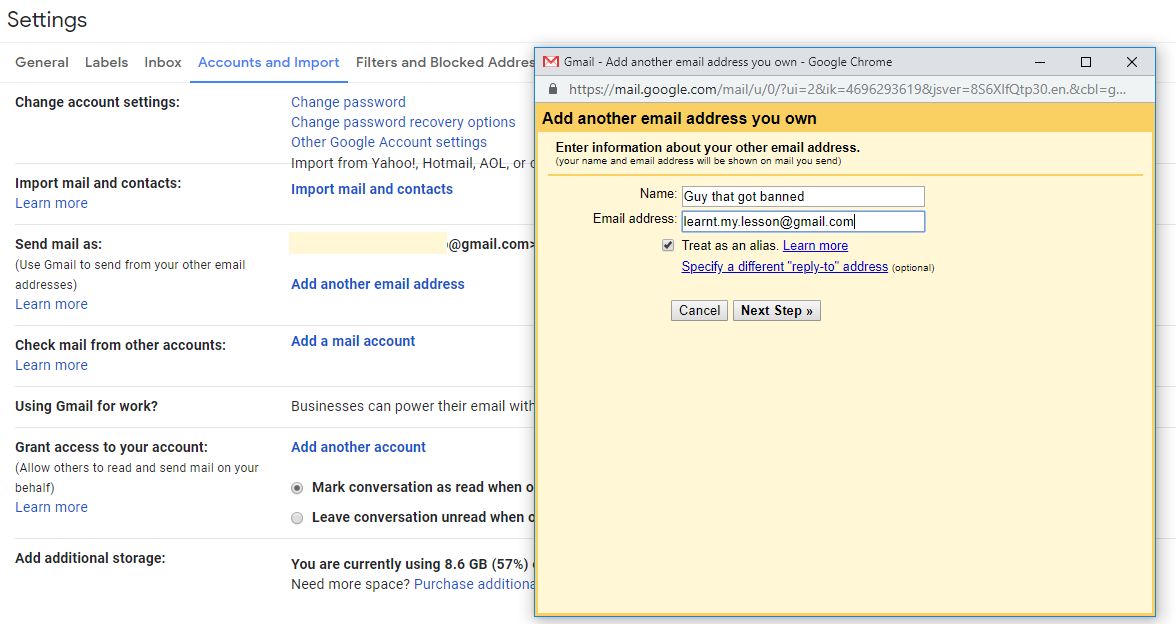 Make sure to do the same for every unban request that you're sending.
Get Back Your Disabled Instagram Account using the App
Most of the methods we have laid out here don't concern the official Instagram official app. But if you want to solve the issue using the app, you can follow this option. Simply launch the Instagram app on your smartphone.
At this moment, the 'account is disabled' notification will appear. From that notification, you can tap on the 'Learn More' button. And, you will be given many instructions and directions on how to get back your Instagram account.
Thus, you will have to follow the onscreen instructions one by one. But remember whenever you are required to answer any questions regarding why your account got blocked.
You should not tell them that it was your fault. You have to always select or tell that Instagram has disabled your account by mistake. You haven't done anything suspicious.
It is reported that admitting that you have not followed their terms and conditions is actually counterproductive. Nowadays, they don't spare the accounts if you have actually broken their rules and community guidelines. So, you should not admit that. Rather, you should convince them that it was done by their mistake.
Submit Appeals Multiple Times Frequently
You know there are a lot of people that are also on the same boat with you. So, they are also trying to recover their Instagram account following these methods we have shared here. Interestingly, Instagram actually doesn't have much support staff to handle the large load of account recovery applications as fast as possible. So, chances are your appeal might have been ignored the first time.
As a result, the best way to recover your disabled Instagram account is to send multiple appeals on a regular basis. Interestingly enough, if you were not successful, using the 'Learn More' button from the app, you can also go to their 'Official Account Recovery Support Page'.
And, then fill the required information on that page including your full name, Instagram username, Instagram email address, mobile number, and the reason why they should reactivate your Instagram account. As usual, you will have to tell them that you believe it was done by mistake from their side.
And, repeat this same process every 2 or 3 days until you get your answer.
Regain Access to Your Hacked Instagram Account
There are many nefarious people that are on the lookout for hacking a successful Instagram account. Unfortunately, you might also face the situation. But how do you know if your Insta account is hacked? You have to check your inbox of the email address that is associated with your Instagram account for an email from Instagram.
In that email, Insta will tell you that your email address that is related to your Instagram account is changed recently. If that is the case and you haven't actually changed the email address yourself, then you can say that your account has been hacked.
So what will you do to regain access to your account now? The first and easiest method is to follow the instructions from the email you have received from Instagram saying your email address has changed.
In this case, they will also give a link saying if you haven't changed the email, you can reverse the action by tapping on the link. So, you have to click on the link and follow the onscreen instructions to regain access to your account.
But, if you have seen the email a bit later, then the reverse action will not work. So, you will have to use another method. And, this is to ask for a login link from Instagram to your phone number. How do you do that? Here are the steps to follow…
Launch the Instagram app on your smartphone
For Android OS: tap on the 'Get Help Signing In' button on the login screen
And, for iOS, tap on the 'Forgot Password' option instead and follow the onscreen prompts
For android, you will have to enter information like your username, phone number or your email address
Since your email address is changed by the hacker, you will have to enter your phone number
As a result, you will get a temporary login link to your phone number using which you can regain access to your Instagram account. But remember to change the email address as soon as possible this time. And, of course, enable 2-factor authentication settings in your Instagram account to keep yourself safe from getting hacked in the future
If you are not getting a temporary login link to your phone number, you can also tap on the 'Need More Help?' link after entering the username, email and phone number
A quick update (

2020

) on recovering your Instagram account that has been disabled
Tried the above methods but still having trouble recovering disabled Instagram account?
Here's another method that seems to work for those already having trouble recovering their Instagram accounts. It should work even for you that had your account disabled for the second time.
Fill out your information
Put a working email address (doesn't have to be your banned account's email address)
You should receive a verification code in your email. Take a selfie or visit Fiverr and buy it from someone for cheap.
Now you just have to wait for your account to be reactivated.
PS: I've just created a Telegram channel where I'll be sharing possible solutions for recovering disabled Instagram accounts. Please join here: https://t.me/RecoverInstagramAccount
That's it!
We've shared several tutorials here on how you can grow and monetize your Instagram account.
You can see a few of these on the sidebar to your right if you're reading this from your desktop or laptop computer or you can scroll further down to see them if you're reading from your smartphone.
Alternatively, you can go here to check out all the useful material that we have for you, and if you're looking to buy Instagram followers, we have plenty of resources for you as well
Online marketers will appreciate our tutorial on automating your Instagram growth and marketing. Let us know when you get your account back.
Until next time!
Other Instagram related services: