How to Recover Your Banned Instagram Account [SOLVED]
If your Instagram account, whether personal or business was RECENTLY disabled for any reason, there may still be a good chance that you'll get it back. This short tutorial will take you through the steps to recover your Instagram account but before we get into to that, first, let's take a look at a few of the main reasons why your Instagram account may have been disabled so that you can avoid making the same mistakes in future.
Remember, it will be a lot tougher to recover your account a second time if you make the same mistakes again.
Reasons why Instagram may have disabled your account
If you're not posting inappropriate content (adult/offensive material) and believe your account meets the community guidelines as stipulated by Instagram, then Instagram might have decided to delete your account for spamming. This is an occurrence where you've just created a new account and you've immediately started aggressively liking, following, sending DMs, commenting or even unfollowing users soon after following them.
I've always insisted both here and to my clients that if you've just created your account or your account has been dormant for a while, you should always warm up your accounts gradually before finally going hard. Here's an article explaining how to warm up your account.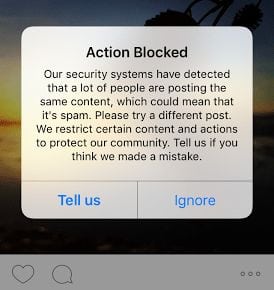 Aged accounts may also get disabled for aggressive activities as well as for having been reported for posting copyrighted material without permission. When you start getting temporary blocks then it's probably time you slowed down and observed the limits. Users who buy followers, likes, views, and comments are usually not spared for long either.
It helps to have your profile completed (upload profile photo, write a short bio, post about 3 images/videos) before you start interacting with other users.
So, how do you recover your account when disabled by Instagram?
How to recover your disabled Instagram account
These four simple steps should get you back your Instagram account:
Use the option Get help signing in.
On the page that follows, I recommend using your username. You might experience some problems if you had changed your username several times or changed your mobile number or email. If you get errors, try using the original email address you used when you first signed up. Here's how the error looks like: 
When done correctly, Instagram should email you the recovery code. You'll need to follow the instructions in the email. 
Instagram will then send you a link to reset your password.
UPDATE!
Another option I see people using and are able to recover their deactivated Instagram account goes as follow:
Go to this link.
Fill in the form and click Send
You'll receive the following email with a code and instructions: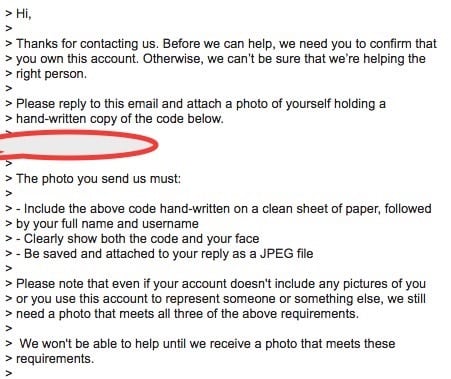 From here, you can simply take a picture and send as instructed. I've heard of people of people recovering their accounts even after sending a picture of themselves (or someone else) wearing a baseball cap and making a face or squinting just in case they have a database to match your face.
That's it!
We've shared several tutorials on here on how you can grow and monetize your Instagram account. You can see a few of these on the sidebar to your right if you're reading this from your desktop or laptop computer or you can scroll further down to see them if you're reading from your smartphone.
Alternatively, you can go here to check out all the useful material that we have for you.
Online marketers will appreciate our tutorial on automating your Instagram growth and marketing.
Feel free to ask questions in the comments section below.
Until next time!