How to recover disabled, hacked, or banned Instagram account [Tutorial]
If your Instagram account, whether personal or business was RECENTLY disabled for any reason, there may still be a good chance that you'll get it back.
This short tutorial will take you through the steps to recover your Instagram account but before we get into to that, first, let's take a look at a few of the main reasons why your Instagram account may have been disabled so that you can avoid making the same mistakes in future.
Remember, it will be a lot tougher to recover your account a second time if you make the same mistakes again.
Too Long Didn't Read Version
When your Instagram account gets banned, you need to submit an appeal request with Instagram and basically just hope for mercy. If your account was hacked, you need to regain control over it by getting a code sent to your mobile phone or you can also contact Instagram support and ask them for help to recover it.
Quick Reference Table:
How do I know my Instagram account was banned
Simple, when you try and login to the app you will get a popup message stating you have broken their rules and terms and that your account was banned or disabled.
NOTE:
Please note this is a different message from a situation where you just got your login details wrong, in which case you can easily click the forgot password link and reset your user or password.
Instagram will not provide you with the specific reason your account was banned, they simply say the ban is a result of violating their
terms of use
and/or
community guidelines
. The message itself might look like something like this:
Reasons why Instagram may have disabled your account
There could be many reasons that Instagram accounts get banned and without notice. The moderators of the app are usually very trigger happy and sometimes the slightest thing that breaks the rules and terms of the app can get your profile banned. In general terms doing these things will likely get your account banned:
Doing illegal activities
Posting hate speech
Full nudity
Graphic violence
Some use of third party apps
Spamming
These are all general things, but the most obvious reasons your account would be banned if you do any of these. But it is not limited to just these so it's recommended to read the terms.
If you're not posting inappropriate content (adult/offensive material) or any of the other stuff and believe your account meets the community guidelines as stipulated by Instagram, then Instagram might have decided to delete your account for spamming.
This is an occurrence where you've just created a new account and in an attempt to get free Instagram followers, you've immediately started aggressively liking, following, sending DMs, commenting or even unfollowing users soon after following them.
It helps to have your profile completed (upload profile photo, write a short bio, post about 3 images/videos) before you start interacting with other users. In general, just be a human being and don't spam the system or try to manipulate in any way and you be fine.
So, how do you recover your account when disabled by Instagram?
How to recover your disabled Instagram account
When you notice the error message saying your account has been banned or blocked, the app immediately tries to make you click the " Learn More " button so that you can start the process of figuring out what happened and how to recover your blocked Instagram account.
You should follow the steps the app recommends and follow instructions, but what counts the most is passing the appeal process, nothing else that you do will cause your account to be re-activated. Saying sorry for breaking the rules, trying to promise or whatever, won't really help. The only way to get it back is if the ban was really a mistake.
Another good option is to contact Instagram directly by visiting their official contact us page and submitting the form. Once you fill in the form and send it out, make sure you avoid from apologising or trying to have excuses – like we said, it won't help at all. Be precise, and on point.
As contrary to what people might think, you can submit as many appeal requests as you like, and hope that each time you will reach a moderator that may be more inclined to your case and give you the outcome you want, again assuming you didn't intentionally broke any of the rules in which case, it won't really help.
Editor NotePlease be aware though that this process takes time, from a few days to sometimes weeks, if you're in a hurry to get back into the platform, and don't care about lost videos and photos, you might be better off just creating a new profile from scratch.
You'll receive the following email with a code and instructions: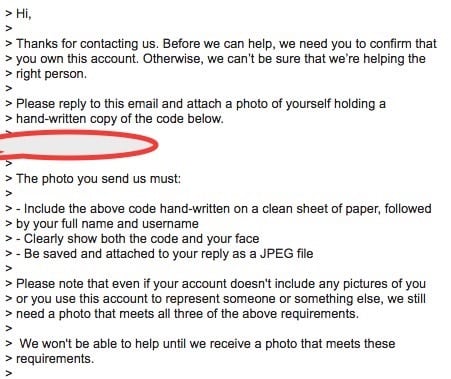 From here, you can simply take a picture and send it as instructed. This is a step to verify your identity and that you are in fact the person who owns the profile you are trying to get access too.
How activate your Instagram account after deactivation
This was an option Instagram published a few years ago that basically gave the users an option to disable their accounts and by doing so it will look like your profile was deleted from the app completely. This was made because people sometimes wanted to take a break from social media without really deleting their content and loosing it forever.
Thankfully, it's very easy and simple to reactivate your profile, it basically just means you need to login to your account again from any device and it will be automatically reactivated at that time.
If you were away for a long time, you may need to agree to the terms again but that is just a simple thing to do.
NOTEYou can ONLY do this from a mobile browser or a laptop or desktop browser, not from the app itself.
How to temporarily deactivate my Instagram profile
If for some reason you feel like you need a break from Instagram and want to disappear but not lose your photos and videos, a temporary deactivation could be a good choice for you. All your photos and videos will be hidden from the public eye but not deleted until you log back in to your profile at some point.
Note you can only do this from a mobile browser or desktop browser or laptop, and the iPhone app.
You can also only do this once a week.
To temporary disable your Instagram account from a computer or laptop:
Login to Instagram.com from your computer
Now you need to choose one of the reasons from the drop down menu as to " Why are you deactivating your account " and re-enter your password. Please note you can't complete the process without choosing a reason.
On the next screen click " Temporarily deactivate account " and then click " Yes " or " No " to cancel.
The process to temporarily deactivate your account from a mobile browser or the iPhone app is the same in this case, just with the icons looking a little bit different on each device.
Regain Access to Your Hacked Instagram Account
There are many nefarious people that are on the lookout for hacking a successful Instagram account. Unfortunately, you might also face the situation. But how do you know if your Insta account is hacked? You have to check your inbox of the email address that is associated with your Instagram account for an email from Instagram.
In that email, Insta will tell you that your email address that is related to your Instagram account is changed recently. If that is the case and you haven't actually changed the email address yourself, then you can say that your account has been hacked.
So what will you do to regain access to your account now? The first and easiest method is to follow the instructions from the email you have received from Instagram saying your email address has changed.
In this case, they will also give a link saying if you haven't changed the email, you can reverse the action by tapping on the link. So, you have to click on the link and follow the onscreen instructions to regain access to your account.
But, if you have seen the email a bit later, then the reverse action will not work. So, you will have to use another method. And, this is to ask for a login link from Instagram to your phone number. How do you do that? Here are the steps to follow…
How to recover hacked Instagram account using my phone number
Launch the Instagram app on your smartphone
For Android OS: tap on the 'Get Help Signing In' button on the login screen
And, for iOS, tap on the 'Forgot Password' option instead and follow the onscreen prompts
For android, you will have to enter information like your username, phone number or your email address
Since your email address is changed by the hacker, you will have to enter your phone number
As a result, you will get a temporary login link to your phone number using which you can regain access to your Instagram account. But remember to change the email address as soon as possible this time. And, of course, enable 2-factor authentication settings in your Instagram account to keep yourself safe from getting hacked in the future
If you are not getting a temporary login link to your phone number, you can also tap on the 'Need More Help?' link after entering the username, email and phone number
Once you are able to login to your account again you should immediately change your password and revoke access to any third party apps you might be using or that were added to your account. For some reason you may also notice that you suddenly follow many new accounts you didn't really want, that's what usually hackers do to hacked accounts, they use them to create many fake followers to the profile they try to promote.
Don't worry about that right now, you can easily unfollow who ever you want after the account is secured.
Once everything looks ok and you have control and the password have been changed, it's a good idea for you to turn on the two factor authentication to make your account even more secured for the future.
Can you get back a deleted Instagram account?
The short answer is NO. If for some reason you or someone else requested to delete your account completely, you won't be able to recover it no matter what you do, for this reason it is very important to not give your login credentials to just anyone. If you happen to get an email from Instagram about suspicious activity going on in your account, do NOT disregard it and take it very seriously.
Needles to say, if your account was deleted, you can create a new profile with the same email you had, but you will not be able to recover your photos or videos and won't be able to choose the same username.
Here are some frequently asked questions about recovering Instagram account
How long does it take for Instagram to unban an account
It depends on how many times were you banned from the platform and the reasons for the ban. if it's a temporary ban, it should last anywhere between a few hours to 48 hours. In some cases, bans can be permanent until you take action to try and appeal it.
Can my Instagram still be hacked even if I enable 2 step authentication?
Yes, although it's much more difficult, if a hacker has access to your phone, he may still get the code sent to your phone in the 2 step process and potentially gain access to your account.
Is Instagram Jail real?
Yes, what is called Instagram Jail is essentially a ban for a 30 day period, this happens when the Instagram moderators believe the account has violated their terms so they issue a temporary ban for 30 days – repeated violations can lead to permanent ban