Android Tipster participates in the Amazon Affiliates program and may receive a small percentage of a sale at no extra cost to you when you click some links on our site
Instagram Limits 2020 ( updated October 2020 )
This is an update to a previous entry about Instagram follow limit and how to moderate your activities in order to avoid getting action blocks (follow, like, Comment & DM blocks) and even avoid getting your Instagram account banned.
We're going to do a summary of what's explained in a previous post and add what we've learned since the last update.
Key areas we're going to cover include:
Follow Limit

Unfollow Limit

Instagram like limits

Instagram comments limit

How to 'warm-up' new Instagram accounts.
Apart from the main themes, we're also going to touch on Instagram automation and monetization.
With that said, let's get started with our first pointer.
Instagram follow limit
How many people can you follow on Instagram?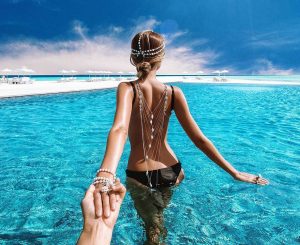 We attempted to answer this question previously. Things haven't changed much since but I believe we need a new approach when setting our following limit.
What's important to note here is that there are no universal follow limits for Instagram, a lot of factors come to play here. I'll mention a few important ones:
Age of Instagram account
Size – Number of followers
Overall engagement (commenting, liking)
Active/inactive accounts

Quality of proxies

(If you're automating your Instagram growth)
among others.
Simply stated: aged Instagram accounts (~3months +) are able to follow more people on Instagram than new accounts; accounts with a lot of followers can follow more than those with a few followers; active accounts that also have great engagement also tend to be allowed to follow more than dormant accounts.
And if you're auto-following on Instagram, using a tool like Jarvee (or Ingramer), you want to make sure you're using good proxies.
So, how many people can you follow on Instagram per day?
I set my follow limit for new Instagram accounts at 50 – 80 on the first day. I will then increase that number by around 10-20 every new day until I reach a maximum of 500/day for that account.
This is the process of safely warming up new Instagram accounts and unless you're using flagged keywords in your Instagram bio or post captions, you shouldn't experience any problems.
It is indeed very possible to go beyond 800/day when your numbers grow but I prefer to avoid reaching limits when my accounts would get temporary bans.
Some people will even do 1000 follows/day but at some point, they would begin to experience a lot of follow blocks and even huge drops in engagement.
But it is not that practical to follow a thousand users in a day. And, depending on your account's age, engagement, followers, etc. Instagram might disable your account if you do so. So, we would suggest you avoid going that high. Matter of fact, the sweet spot for this would be to be at 200 follows per day if your account is old enough.
But for newer accounts, even 200 follows per day would be triggering to Instagram. So, you should increase the rate of following on a weekly basis. Also, remember, it all depends on the particular account of the user. So, your limit might not match with another user account and vice-versa.
Now let's break that further down.
Assuming you're manually following people on Instagram and you spread your activity across 16hrs, by the time your new Instagram account is fully warmed up you'll be following 32 people per hour or following a user every 2 minutes.
I will go on and say it's safe to follow up to 40 people per hour.
But if you want to be on the safest side, you should keep it under 20 follows per hour. At the same time, you have to be active on Instagram as well. For instance, you should comment, react, converse with other users. But never go to the point of spamming. That way, your hourly and daily follow limit will increase automatically.
The same formula works for older accounts as well. Another important fact to know is that Instagram doesn't allow any users to follow more than 7500 people whether you have a new or old account.

Instagram unfollow limit
How many people per day can you unfollow on Instagram?
Unfollowing on Instagram works the same way as 'following'. The real question is, when do you unfollow?
Should you unfollow 1, 2, 3 .. 5 days after following?
Should you unfollow at the same time while following other users or should you set days when you're only following and specific days to unfollow?
I prefer to wait at least 3 days before unfollowing someone. This allows them time to see the notification that you followed them and have the opportunity to follow you back.
You might be wondering how I'm able to tell who followed me back and who didn't. Well, I automate all my Instagram activities on Ingramer (update 2020!) and that's how I'm able to tell.
I also unfollow the same day as I follow other users.
Instagram like limit
How many posts can you like on Instagram per day?
The general consensus from the people I talk to and a bit of my own experience is, you can safely like per day up to 1.5x the amount of follows you do. Say, for instance, your follow limit is 400/day, which allows you up to 600 likes per day.
Keep in mind that these are by no means any official figures but simple estimates we've made from our own experiences.
Then again, there were reports that the like limit on Instagram is 300 to 350 likes/hour. And, you can see that if you are not using any automation Instagram tool, then it is quite impossible to like 350 times per hour manually. So, for being safe, you should keep it less than that per hour.
In my case, what I do is, I set Jarvee to like 1-3 posts of a user immediately after following them. This helps to increase the follow-back rate.
Instagram Comments Limit
Personally, I've never had to write so many comments to the extent that Instagram stopped me from doing more, but I've spoken to many people that are more aggressive with their strategies on Instagram and they agree that a maximum of 250/day would be safe.
If you're too busy you could choose to buy Instagram comments.
Since we've already covered new Instagram accounts and how to 'warm them up', we should talk a bit about the follow/unfollow approach.
Automating Your Instagram Growth
For many of us, following up to 800/day, unfollowing another couple hundred, liking and commenting can prove too hard a task to do manually. Now imagine doing that every day.
And what if you have more than one Instagram account to manage? It becomes almost impossible.
That's where Jarvee (or Ingramer) comes in. With Jarvee, you can set it up to do all the tasks you'd otherwise have had to do manually. It frees you up so that you can have time to focus on other equally important areas of your business.

Jarvee automates a variety of social media accounts including Instagram, Facebook, Twitter, Pinterest, LinkedIn, Google Plus and they recently expanded to include Tumblr and YouTube!
You can do so much more (scheduling + auto-posting, targeting, e.t.c) across all these platforms.
If you're managing several Instagram accounts or you're on such a tight schedule and couldn't afford so much time to work on your account(s), Jarvee is definitely what you need in order to have some peace of mind and have enough time to source for more and better content for your Instagram page.
They have a 5-day money-back trial period and they don't even ask for your credit card, so, you might want to check it out now. It is quite easy to set up but in case you're unsure of anything, feel free to leave us a comment below and we'll be able to assist you.
We'll leave it here until the next update.
See you on the next Instagram limits update!
An update to Instagram following limits (follow blocks solution)
If you've been consistently following and unfollowing on Instagram you might have noticed that between the 4th and 6th of June 2019 Instagram made some major changes to their algorithms.
Lots and lots of users have since reported getting follow blocks when attempting to follow new users like they used to do before. Before this, whenever we encountered follow blocks when following on Instagram, we only needed to let the account rest for a couple of hours before attempting to follow again or we'd even change Instagram proxies and the follow-blocks would be gone.
This time around it appears these follow blocks can last for days or even a week long.
So what's the new Instagram follow limit?
I've done quite a bit of research around this topic and have even discussed with some expert users who've been automating their Instagram growth for years and many agree that this time around we do have a monthly follow limit which falls at around 6000 follows/month.
With this in mind, I chose to go with 5500 follows a month and broke it down to daily follows of around 183 follows/day.
This is a relatively low figure when compared to the follow limits we were accustomed to, and so to make up for it, I've added a few more Instagram accounts to my automation tool.
Breaking it further down, I have my accounts follow do 6-8 follows every hour.
This seems to have made the follow blocks to disappear.
As usual, we will continue to update this post whenever we have new information regarding the follow limits on Instagram.
Instagram follow limit update

[October 2020]
Instagram has really tightened up its follow, unfollow, like, DM and comment limits, especially in the past few months.
Every other week (since July of 2019), we've been hit with a newer update that makes it harder to profit off of Instagram without spending on ads. It's been particularly difficult for the automation community.
Many automation tools have since stopped working altogether and as a result, we've seen some really popular tools close business.
For those in the automation community, the plain truth is this: Instagram wants to kill automation, alright, but only for the amateurs. They want to get rid of spammers, not genuine marketers who are instrumental in keeping more people active on Instagram.
They said this in a research paper. Chapter 6 in particular: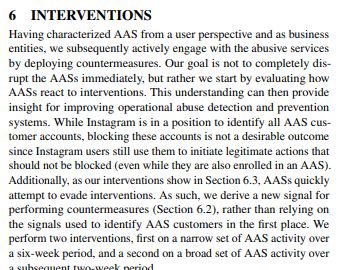 Today, whether you're doing it manually or automating your Instagram growth, you will need to emulate a normal user's way of doing things on Instagram.
I'm going to share with you my follow limit automation settings for Jarvee (Most people prefer Ingramer) just to give you an idea of what you should be aiming at.
Bear in mind that if you're managing multiple accounts and need good proxies for your automation tool. Lesser-known Mobile proxies (4G proxies) will definitely give you the least headaches.
I'm using proxies from AirProxy because they aren't very well known. Their subnets have not been abused like those of other popular proxies providers and you're less likely to get action blocks like you would if you're using mobile proxies from other well-known providers.
If you're managing your accounts on Jarvee, here's my recommended follow limit settings: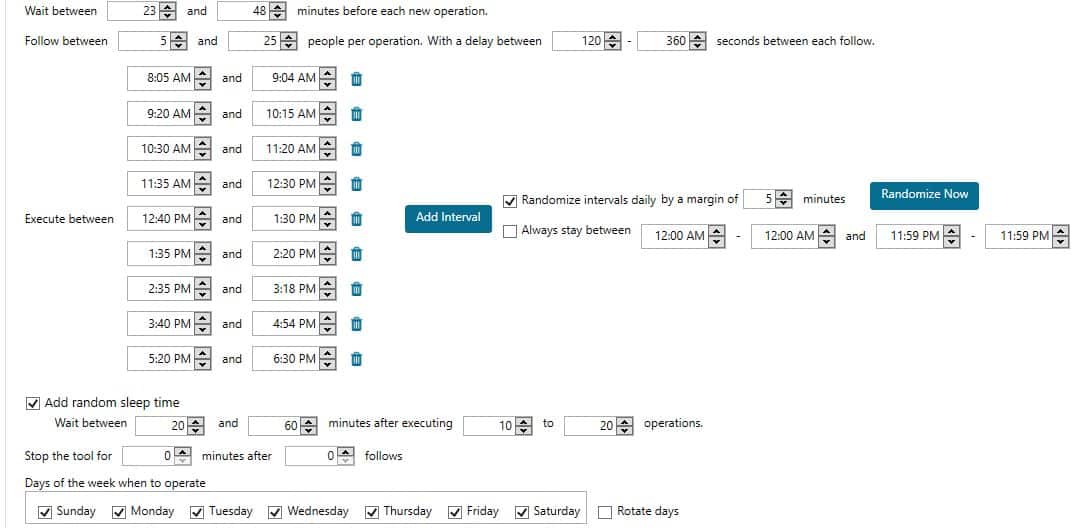 Follow Limits

User Follow Filters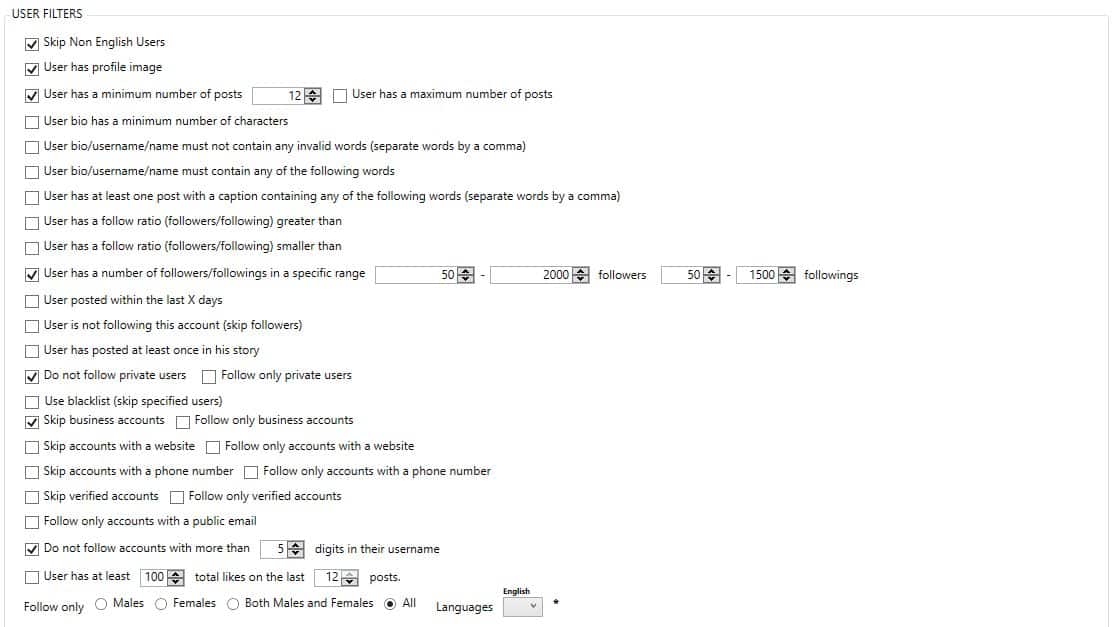 After Follow Actions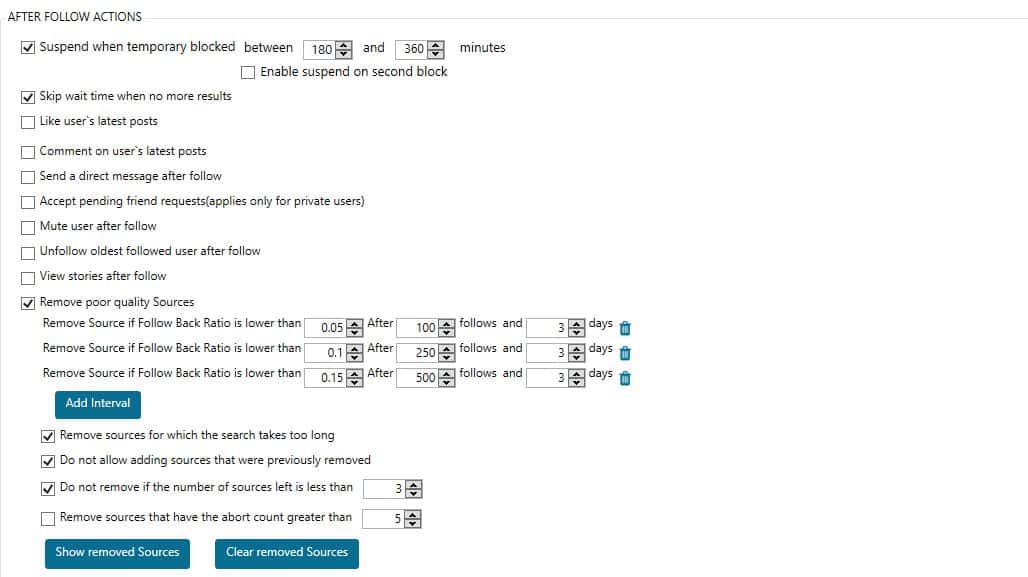 I want to mention that if you're going to copy these follow settings, you want to change a few things here and there because if a few thousand people use these same settings, Instagram is easily going to catch on and will adjust their algorithms accordingly.
So, there you have it! You should now be able to avoid a lot of these action blocks you've been experiencing with every new Jarvee update.
Have any questions in regards to Instagram following limits? Use the comments section below and we'll respond within 24hrs!
You can always check back on AndroidTipster for newer updates.