UMI London: Most budget friendly smartphone yet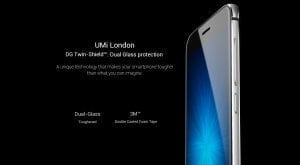 We've witnessed a variety of budget-friendly smartphones hit the market over the last few months. The UMI London is the latest and we're excited to talk about it. UMI is renown for producing all sorts of excellent electronics like Tablets, phones, laptops, etc. Currently, they're running a presale for the Umi London.
There are good reasons to want your next smartphone to be a UMI and we're going to review what you're looking to get with the UMI London.
The Design and Look

The first thing that will catch your eye about UMI London is it's edge design possibly borrowed from the Samsung Edge series but with a twist. Instead of the screen, you have the backside of this smartphone embrace the edged design. If fits perfectly in your hands and gives you that cosy feel when making or receiving calls.
The UMI London's cover is claimed to be 100% custom tailored with aluminium alloy to ensure it's tough but still light enough to carry around with ease. For a very low price tag, you're about to own a very modern smartphone that you'll be proud of.
Powerful Performance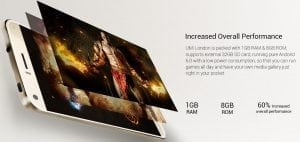 When thinking about smartphones that cost less than $100, the last thing on your list of priorities should be the performance. Well, the UMI London changes that notion and will probably set the stage for future budget-friendly smartphones. With its MT6580 1.3 Ghz Processor, the UMI London promises high performance while ensuring the battery consumption is minimised.
Unlike most cheap Android phones, this smartphone affords you a smooth and fluent multitasking experience.
Battery Life
It features a SONY 2050mAh Lithium Polymer battery that will keep your phone running throughout the day without having to worry about it dying on you.
Besides its high capacity battery, the UMI London has and added battery saving feature that is made possible by its Mali-400 GPU Dual glass screen. Quite impressive for a budget friendly smartphone of this magnitude.
Camera Ability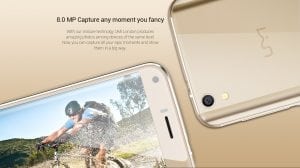 At the time of writing this entry, we were only aware of details regarding its rear camera. It's 8.0 MP camera is sufficient for producing amazing images and capturing memorable moments. Just one more reason to settle for the UMI London.
There's so much more we could talk about but I'd rather you just keep reading.
Summary of Specs
1GB RAM

8GB ROM

Supports 32GB SD Card

Android 6.0 Marshmallow

Bluetooth 4.0

WiFi 802.11 b/g/n

Great GPS and GSM Connection

Music Box Speaker

Sony 2050mAh Lithium Polymer Battery

Mali-400 GPU

MT6580 1.3Ghz processor
PS: The presale for the UMI London runs until the 27th of July, it's your only opportunity to grab this smartphone for nearly half the price.