An Introduction to the Cube iWork 8 Ultimate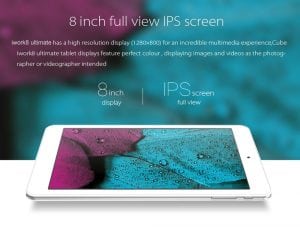 Want to read a proper review on this tablet? Then this is the article you need to read! Recently, we have witnessed an eruption of 8-inch Windows 8 and 10 tablets. The Cube iWork 8 Ultimate is one of the latest in this line of tablets and offers an excellent way to experience the superb benefits offered by this OS.
Now let's take a look to the specs:
Weight: 0.346 kg
Size: 213 x 127 x 9.8mm.
Operating System: Windows 10 Home Edition.
Screen Resolution/Display: 1280 x 800/IGZO, 5-point multi-touch, 8 inches IPS.
CPU/CPU Frequency: Intel AtomCherry Trail X5-Z8300 Quad-core Processor/1.44 GHz – 1.84 GHz.
GPU: Intel HD Graphic Gen 8.
RAM/Storage: 2GB/32GB.
Wi-Fi: b/g/n.
Back Camera/Front Camera: 2MP/2MP.
Battery: 3,300mAh.
But this is just cold data. It's time to review why you should buy the Cube iWork today!
Pros of the Cube iWork 8 Ultimate
Unbeatable Price:
You know, one of the biggest turn-offs of modern tablets, is that they are pretty expensive. But the iWork 8 is the great exception to the rule! How much do you think you will have to pay for a tablet that comes with an excellent, bright and clear 1280 x 800 IPS display, a powerful Intel Cherry Trail processor? A couple of hundred bucks? Well, you will be surprised that you can purchase this one today for approx. $70 USD! This is a very nice deal and very hard to beat.
You can buy this tablet for yourself, or buy it as a gift. As we have said, it's very cost-effective and available for even the lowest budgets.
Beautiful Design: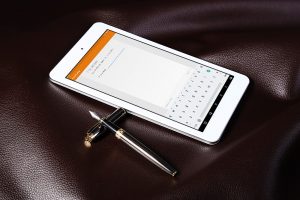 Even though functions are the most important, the design holds its own importance as well. The Cube iWork 8 Ultimate comes with an attractive design that is an envy of most other 8-inch tablets in the market. The design is simple yet elegant and straight to the point. And again, for the price, you're getting a lot of value and also has a nice build quality.
Decent and Solid Performance:
These may be the best invested $70 dollars of your life. Because it offers a very solid performance, making it an excellent tablet for the budget.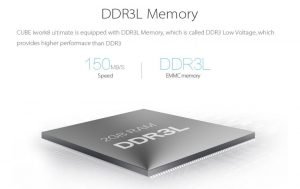 This tablet is powered by its Intel Atom Cherry Trail X5-Z8300 processor, supported by 2GB of RAM. The interesting part here is that this processor is based on the 14nm process. Why is this important? Because, thanks to it, you get a better performance. And the processor also comes with four cores, with a frequency of 1.44 GHz – 1.84 GHz.
We know that this may not be as fast as other premium tablets for the market, but for $70 USD they offer a ton of value. With a processor of these specs, you can expect to get a tablet that runs very well and doesn't make you angry with constant lags.
The Windows 10 charges in around 10 seconds and you can play many games here without issues. But again, remember that this is not a powerhouse tablet. That's something impossible for a tablet under $100.
Excellent Storage:
With the Cube iWork 8 Ultimate, you will rarely run out of storage thanks to its 32 GB! You will be able to store your favorite songs and listen to them whenever you want to. You will also have the chance to record lots of videos and take a bunch of photos, making it a handy tablet for some of your travels. In short, you can store a lot of data here. A sweet deal for such a low price.
Related: https://www.androidtipster.com/category/tablets-on-sale/
Lots of Functions:
You can connect this tablet to your TV using an HDMI cable. The Wi-Fi function is spot on, along with the Bluetooth one. You can also display videos to your TV without having to connect a simple wire!
Beautiful Graphics: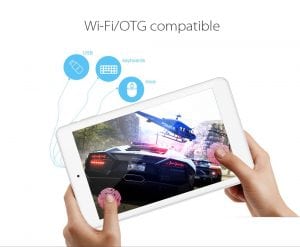 The display is spot on, and the graphics are excellent as well, thanks to its GPU: Intel HD Graphic Gen8.
Every story has a not-so-nice side, and now it's time to talk about the cons.
The Cons:
The Battery may not be very reliable. But this is something you can fix with a portable battery. But for $70 USD, it will last around 4 hours and 30 minutes. But if you follow our advice, you will make it last a lot longer.
The Camera is just fine. Its 2 MP front/back camera is just fine, just average. Nothing spectacular nor ugly.
Those are the two most relevant cons. As you can see, it has a lot more benefits, making it a good option for a low-budget.
Conclusion:
The principal attractiveness of this tablet is the price, and keeping that into account in our analysis, we can say that the Cube iWork 8 Ultimate offers far more value than other tablets in the same price range. You get a Windows 10 8-inch tablet with a solid performance for less than $100 – if that's not a deal, then what is?