Facebook blocked account photo tag solution
Internet marketing has changed so much in the last 3 years. Not that I was in the game at the time, but reading through other internet marketers stories, it sounds like the good ship left the dock by now. Today's environment is almost 10 times tougher to make conversions/sales than it used to be 18 months ago.
It makes total sense, however, I mean, with all the spammers running amok on social media, belts had to be tightened. The situation forced Facebook to come up with stringent measures to curb spamming and restore some kind of sanity.
But we aren't all spammers, are we?!
I like to think I'm not. What happens to the rest of us when we want to post a link on our Facebook pages and share it 50 times across several Facebook groups in one day?
For starters, Facebook will block your account and/or ban your URL. Worst still, depending on the severity of your 'offense', your account could get irreversibly blocked.
It's not always spammers' fault, Facebook has been criticized especially lately for 'forcing' users to pay for outreach, doesn't matter if your target audience is already following your page or not, if you haven't noticed, their algorithm limits how far your posts are going to reach your followers/likers.
So even though you may have a couple thousand Facebook likes on your page, a huge chunk of your fans are still not going to see your posts on their timeline. To get around this issue, you need an actionable strategy.
So how do you avoid getting your Facebook account locked?
One of the most effective methods I've seen in action involves:
creating multiple Facebook accounts (in order to limit activities and still be able to target more)
getting each account to join about 20 groups in your niche
loading these accounts on Jarvee and automating the posting process.
Let's look at that once again. Let's say you've created 10 Facebook accounts and had each one of them join 20 groups. You want each account to post 20 times/day in their respective groups. I think 20 times/day is a fairly safe number, but who knows what Facebook is thinking?
Right, that should amount to around 200 posts/day. Depending on how attractive your campaign is, if you get at least 2 click-throughs from each link, you'll be doing 400+ views/day from Facebook alone. That's not so bad, is it?
The thing I love the most about using Jarvee is a feature in it that when turned on it saves photos of each account's Facebook friends alongside their names so that in future you will easily be able to bypass the photo tag prompt with the help of Jarvee.
Now let's get back to what this post is about: bypassing Facebook's photo tag prompt when your account is blocked.
how to bypass "

identify photos of friends"

on facebook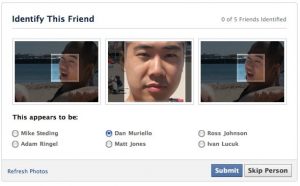 I have more than 300 friends on my spare Facebook account that I use for Internet Marketing related activities. When I used to be confronted with the issue of Facebook temporarily locking my account until I can identify photos of my friends, it used to take weeks until I would get lucky once in a while. I would exceed the hourly limit and would be forced to try again the next day. How frustrating the process was.
When I thought about writing this Facebook bypass solution, I checked to see just how many people were experiencing the same just to be sure it's worth sharing. So if any one of the following queries brought you here:
Facebook identify friends in photo

identify photo of friends

Facebook identify photos of friends (hourly limit exceeded)

identify photos of friends bypass

Facebook identify photos of friends time limit

Facebook identify tagged photo of friends verification

Facebook identify tagged photo of friends verification process

Facebook can't identify photos of friends

Facebook security check identify photos of your friends
…well, I found a trick that I use every time this happens, and I want to share it with you today.
Here's how to unlock your Facebook account:
Log into your regular account and navigate to the profile of the account that is locked.
Note down the date of birth (day, month, year).
Log out of your account
Now you need to change your IP address to indicate that you're in Japan. You can easily do this using any VPN app. I personally use TunnelBear.
Next, attempt to log into the locked account. You will be prompted to state your date of birth. Type in what we noted down at #2.
Your account should be unlocked and you'll be asked to type in a new password. That's it.
What's interesting is, I have attempted this with my IP changed to many other countries but it never worked. It appears this works only if you switch to Japan. Hhmm!
Well, there you have it. Let me know what you think in the comments section.