A quick review of Jarvee and how you can use it to drive traffic to your website
I've been automating my social media (Instagram, Twitter, Pinterest, Quora …) growth for the past few years using different social media automation tools. Many of these tools, Instagress and Mass Planner are no longer available.
Today I can confidently state there isn't a tool available in the market today that can do half of what you can achieve with Jarvee.
One article may not be enough to show you what Jarvee can do for your social media pages but I have shared a few tutorials on this blog that can help you out (simply type Jarvee in the search function above).
I encourage you to get the 5-day free trial (they won't even ask for your credit card) and spend a couple of hours checking out some of the features on there. You can write to me on Skype: Diablo2562 if you need guidance.
What is Jarvee?
Jarvee is currently the most advanced social media automation tool that can efficiently automate your activities on the following social media platforms:
Facebook
Instagram
Pinterest
Twitter
Quora
YouTube
Tumblr
LinkedIn
Tik Tok (coming soon!)
Jarvee is updated frequently to keep up with changes made by social media platforms. These updates usually also contain new features that are added almost on a weekly basis. This is the reason why it's difficult to write all the features of Jarvee in one article.
For anyone looking to grow their business without the need for hiring a social media manager Jarvee is the go-to tool of choice. If you run your own social media management agency, then your work is about to get a lot easier with Jarvee.
You really don't have to take my word for it – simply download the 5-day trial and test it out for yourself.
Getting Free Likes On Your Posts
Another cool feature on Jarvee that I really like to use is Like Exchange. With this feature, you can set up your Instagram account to exchange likes with others. You don't even have to use your main account, I personally have accounts dedicated just for this.
So what happens is, whenever you publish a post on your main accounts, these posts will automatically receive free likes to give them a boost in the Instagram algorithms so that you'll get more exposure than you're accustomed to.
Social Exchange Feature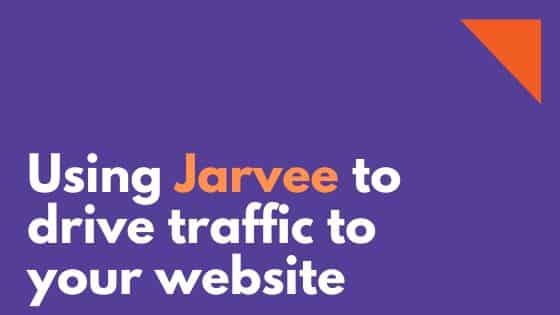 This feature allows you to enjoy the following activities on autopilot:
automatically get retweets and/or Likes(favorites) on Twitter whenever you tweet. You can set it to receive up to 100 likes and 100 retweets per post.
automatically get likes and shares on Facebook whenever you post.
automatically get views and likes on your YouTube channel whenever you publish a video.
automatically get likes on LinkedIn.
you can get your answers automatically upvoted on Quora whenever you post. This can help you drive traffic to your website because answers that have the most upvotes are usually ranked at the top on Quora.
automatically get your posts on Pinterest repinned. Jarvee can also automatically fetch posts from your blog using RSS and publish them on Pinterest where they will be picked and get auto repinned. An easy way to drive traffic to your blog/website without needing to do so much.
Can you use Jarvee on Mac?
While Jarvee is designed to run on Windows, Mac users can easily make use of it by installing it on a FREE VPS provided by Amazon. This is the best option for both Mac and Windows users. This will allow for Jarvee to run 24/7 even when your Mac or Windows computer is turned off.
I have created this FREE Amazon VPS tutorial for Mac OS, and Windows PC users so that you can have the tool run 24/7 without the need for leaving your PC running. If you need a powerful VPS for cheap, reach me on Skype Diablo2562 and I'll connect you to a reliable provider I currently use.
Here's how you can get started real quick:
Visit the homepage, scroll to the bottom and click on

START YOUR FREE TRIAL NOW

.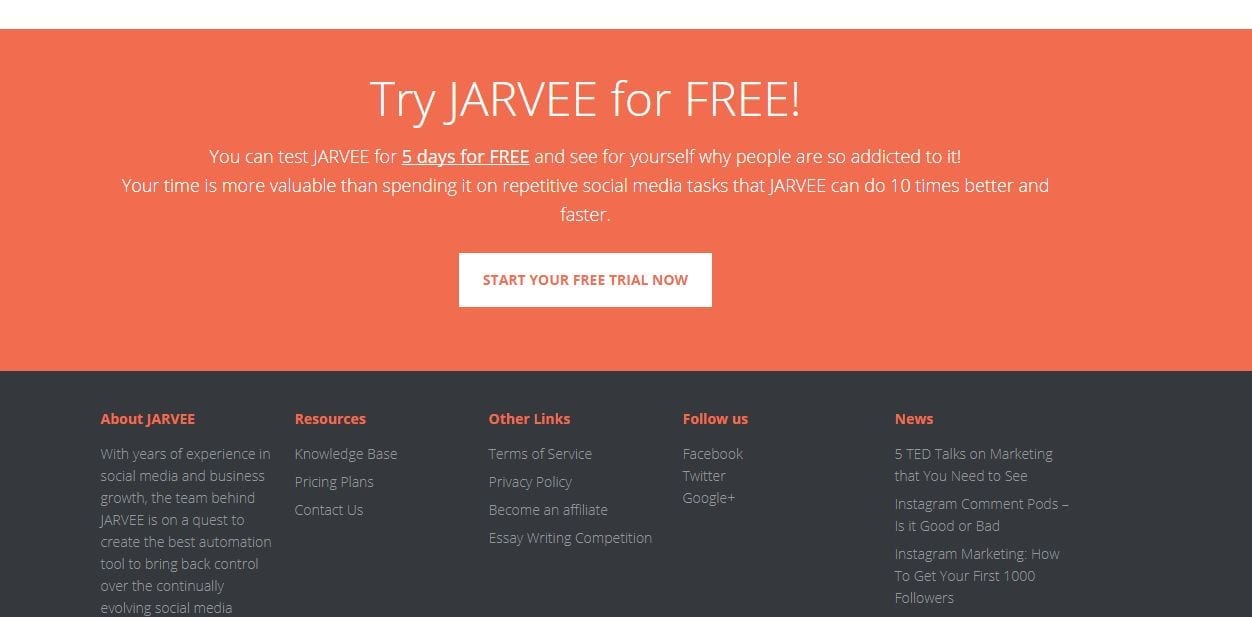 2. Select any package (Starter, Professional, Premium or Business)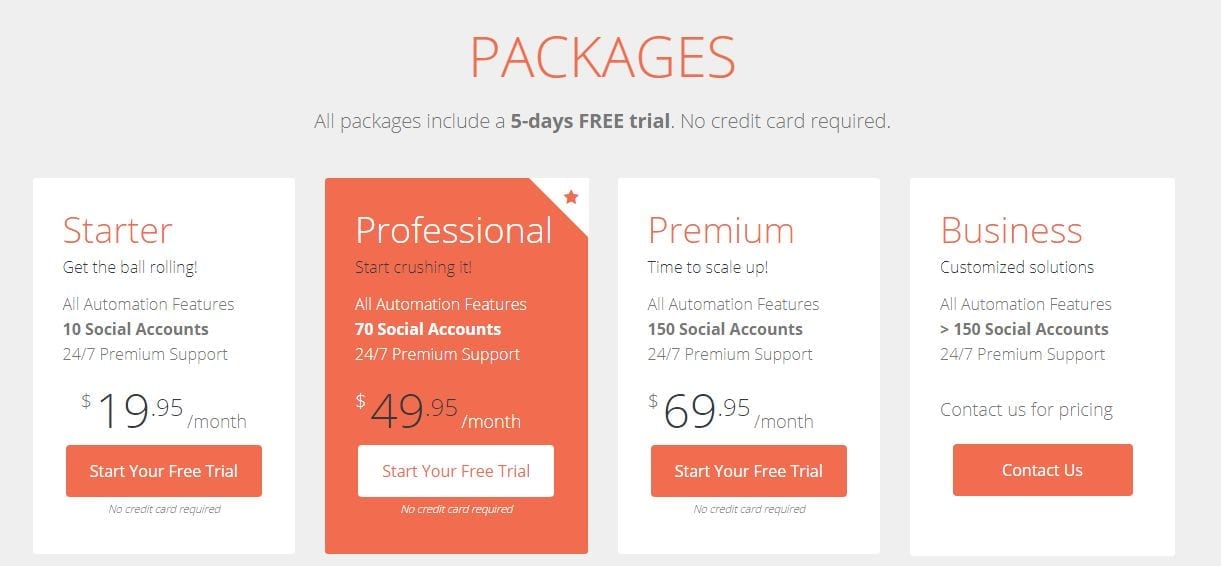 3. Enter and confirm your email like below: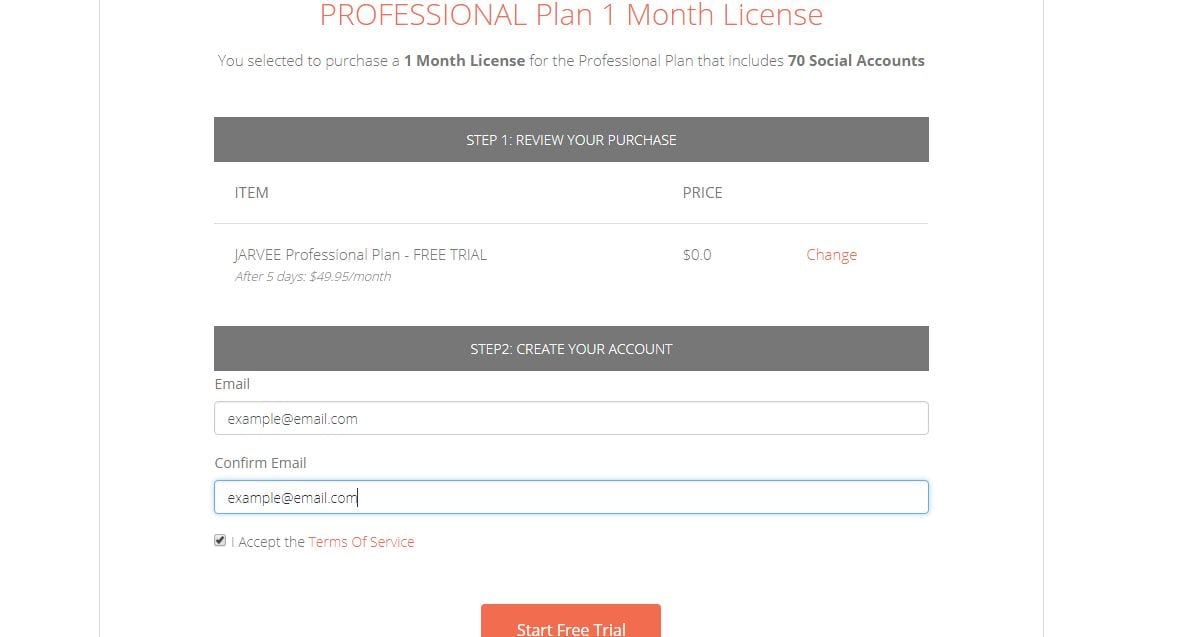 4. After clicking on Start Free Trial you will be led to the thank you page (image below). The email containing the download link and your login details will arrive shortly after.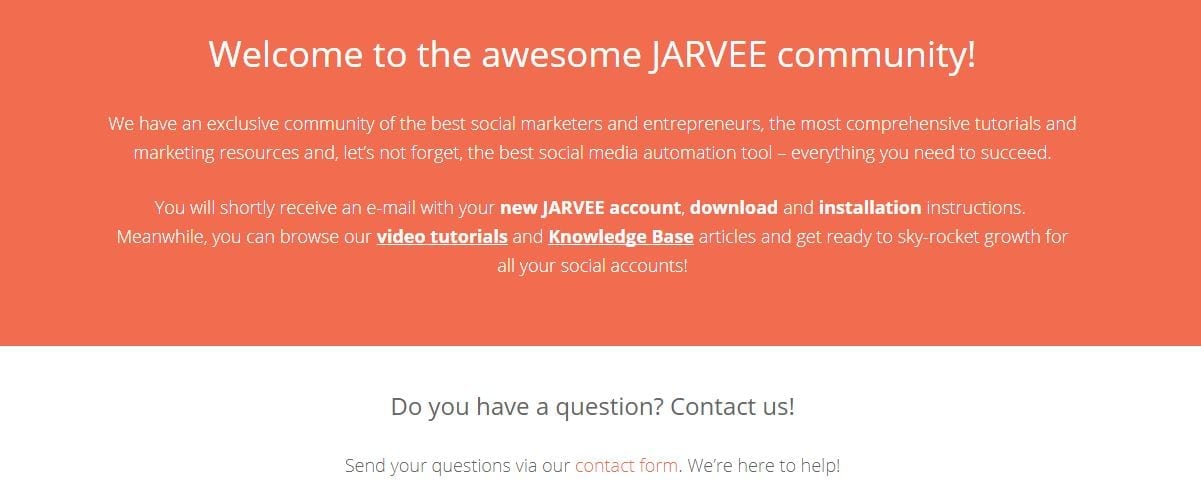 5. Email with Download Link and Login Details: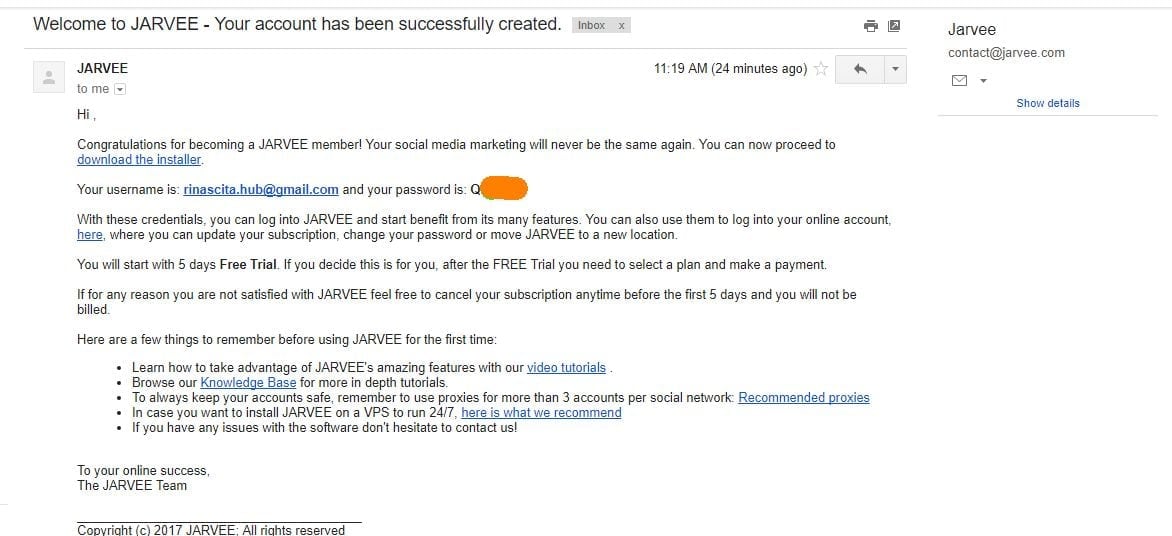 Tutorial for Setting up your social media account on Jarvee
Once you've downloaded and installed Jarvee, use the login details you received in the email to log in.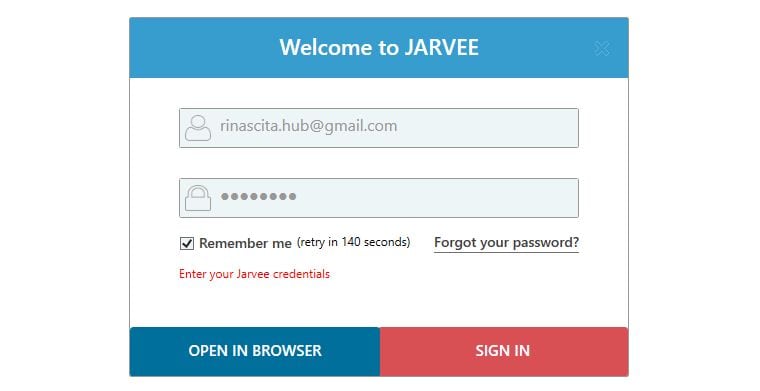 To set up your social media account on Jarvee, click on SOCIAL PROFILES on the left sidebar. Now click on ADD PROFILE and select which social media platform you want to automate on.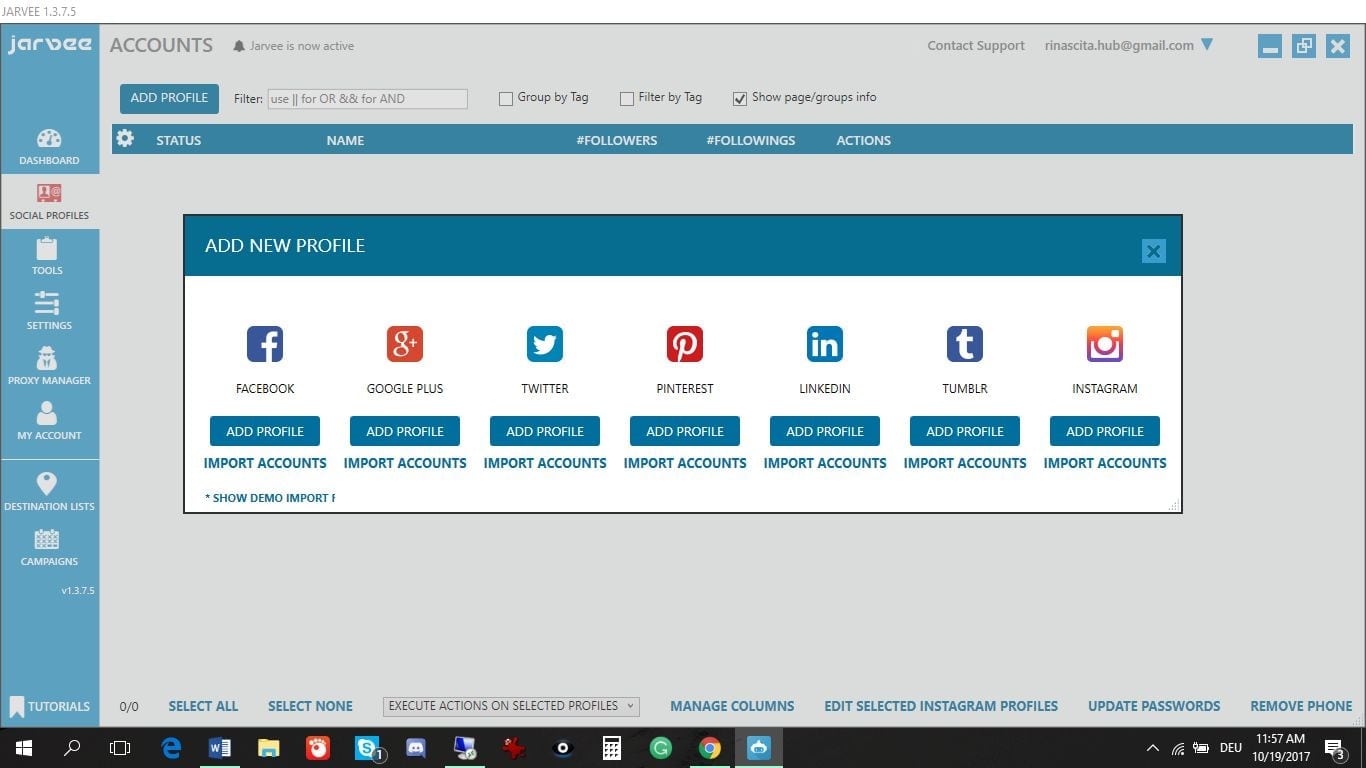 I wanted to add my Instagram account so that's what I picked. Here, you'll just need to enter your username and password and you're good to go!
PS: If you're planning to run more than 5 Instagram accounts or if you plan to run Jarvee on a VPS, it's safer to use proxies. I recommend going for social media proxies.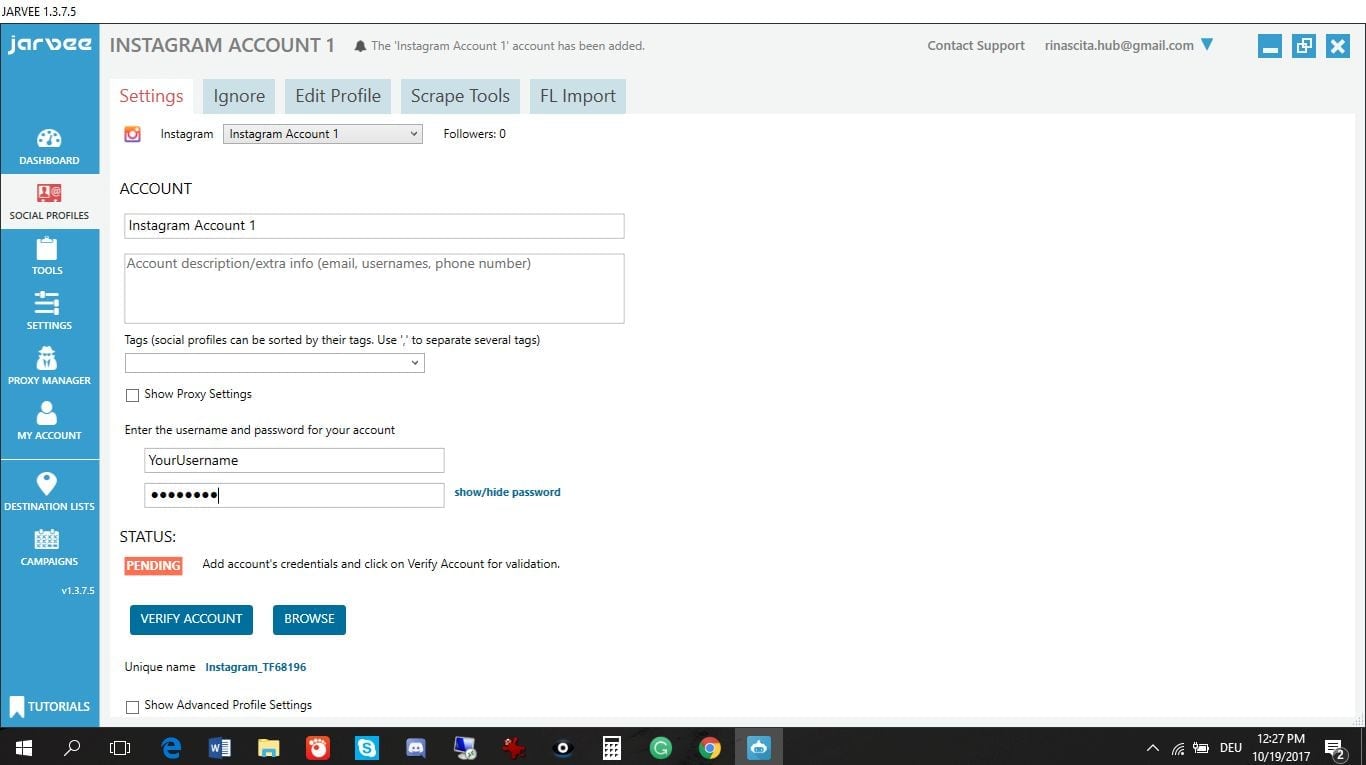 Once you've added your username and password and clicked VERIFY ACCOUNT, the status will change to VALID. You can now move onto TOOLS on the left menu bar. Now click on the account you've added and will be able to see all you can do with Jarvee (see images below).
Here's an example of what the FOLLOW feature offers you: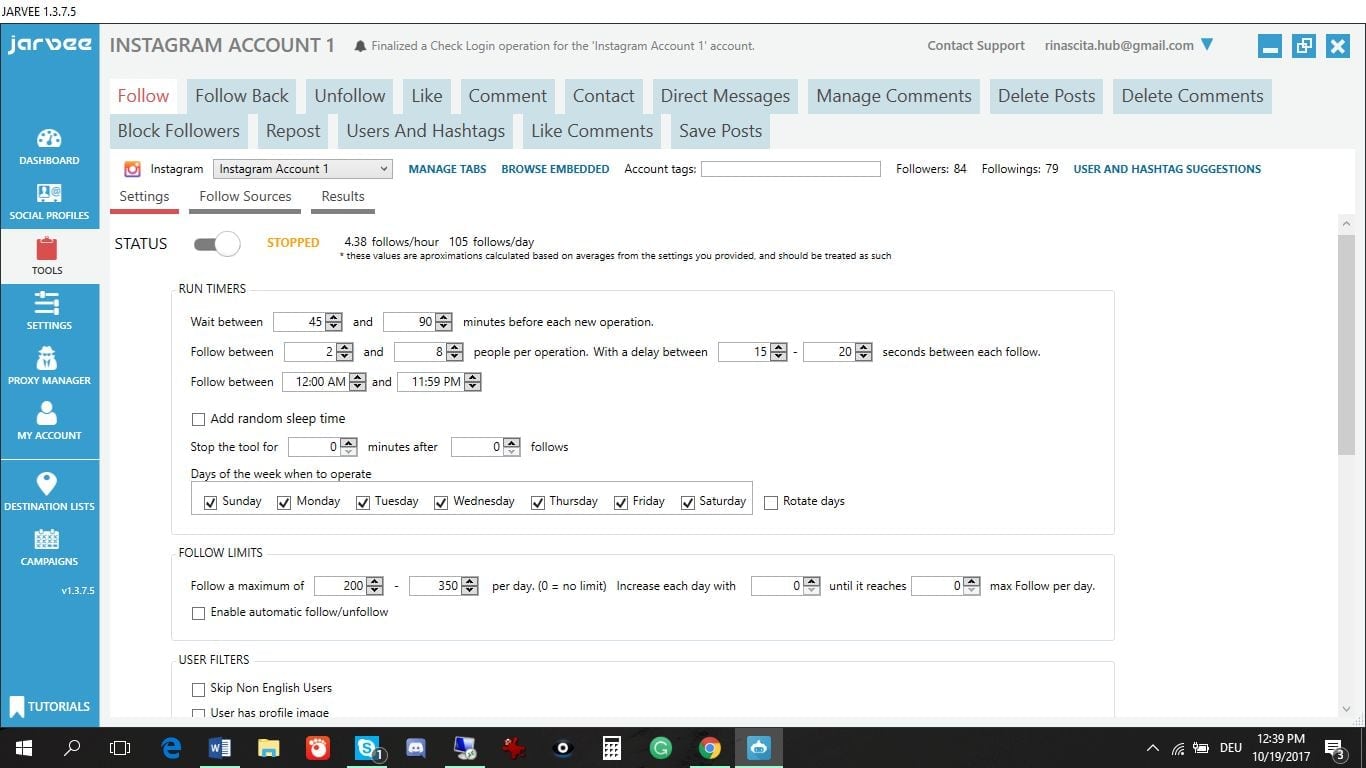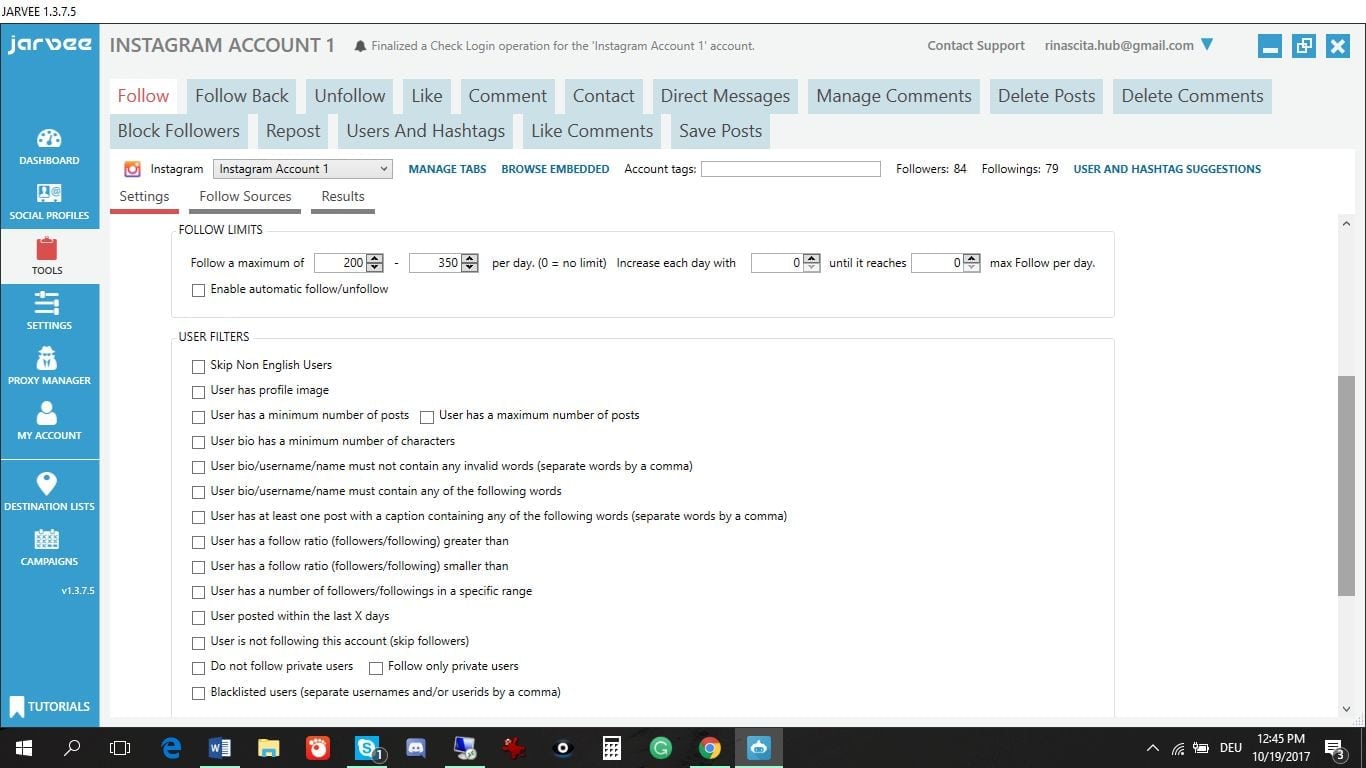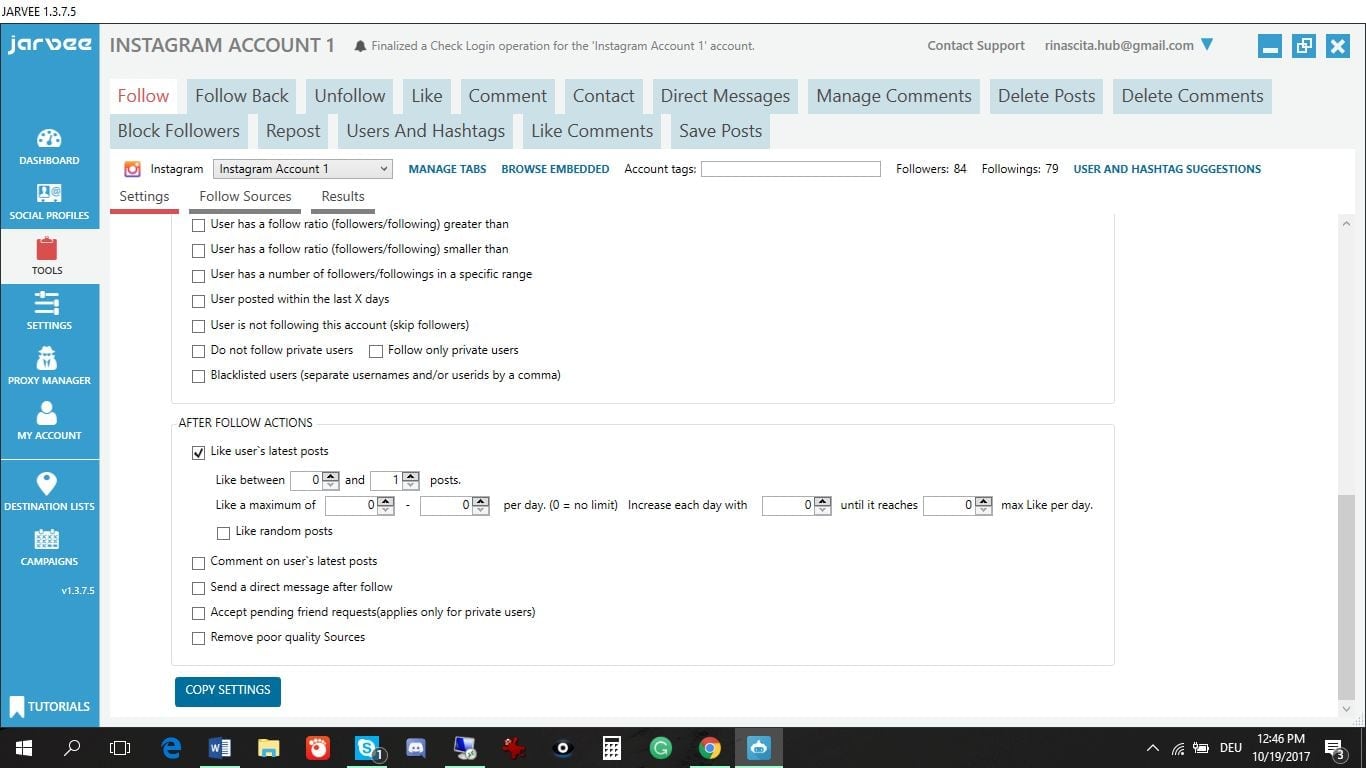 If you need help setting up Jarvee, you reach me on Skype: Diablo2562
Until next time!